US equities began the week with a show of force as they surged higher on the back of broad market strength. That said, the Nasdaq 100 will have to weather upcoming data reports if it is to continue. 4 Defensive Stocks Trading With Low Price-Sales Ratios, Stocks: COST,UL,PEP,WMT, release date:Sep 28, 2020 During Wednesday's Morning trade, Shares of International Business Machines Corp (NYSE:IBM), gained 1.48% to $139.90. The firm opened its current trade at $137.92, and as of now, it is trading at $139.90. The total volume […] The AUD/USD pair has bounced off over a double bottom support area of 0.7014 level, and now it's likely to face immediate resistance at 0.70
The Nasdaq 100 pushed higher to start the week after four consecutive weekly declines
Encouragingly, stock market strength was quite broad with the financial and energy sectors leading
Still, the tech-heavy index will have to weather an earnings report from Micron on Tuesday and jobs data due Friday
The Nasdaq 100 climbed 1.87% to start the week in a continuation of Friday's charge as the index looks to conclude a 4-week slide. In a broad-based rally, typical winners like Apple and Microsoft were joined by the financial and energy sectors which topped sectoral performance in the S&P 500. While attributing the rally to a single catalyst is rather presumptuous, some analysts highlighted weekend discussions regarding another round of covid stimulus as a contributing factor.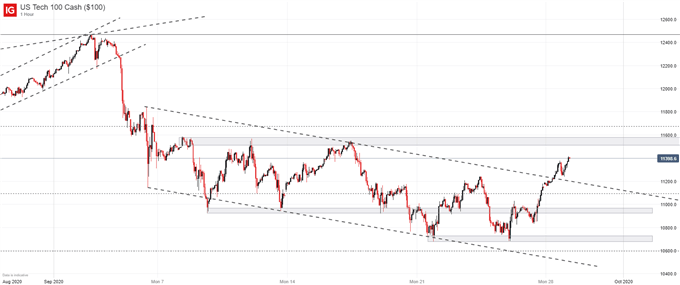 While it is difficult to source the rally to a single event, a bullish break higher on the price chart is an encouraging development in pursuit of further gains. After gradually stepping lower since early September, the boisterous price action over the last two trading days has allowed the Nasdaq 100 to break above the upper bound of a descending trendline around 11,200.
That said, the technical level was a projection at best – enjoying only two points of contact – and more formidable resistance might reside slightly overhead near the 11,600 level which coincides with swing-highs established earlier this month. Either way, the technical picture will take cues from the fundamental landscape which will await the release of Micron earnings Tuesday and US jobs data Friday.
How to Value a Stock: A Trader's Guide to Stock Valuation
As the first member of the semiconductor sector to report earnings each quarter, I sometimes liken Micron to a canary for the rest of the industry. Beleaguered by the US-China trade war, regulation regarding Huawei and cyclicality factors in its product offerings, Micron has juggled numerous concerns in recent reports and investors have taken note.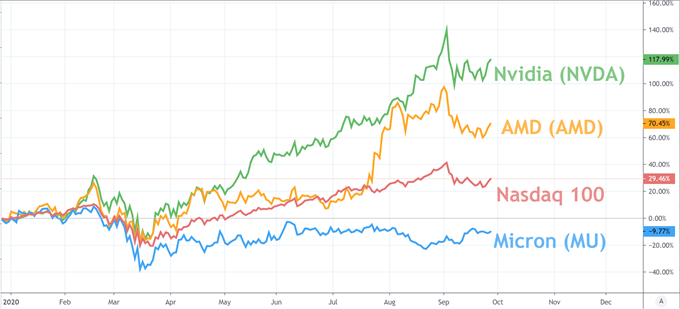 As a result, the stock is a laggard among its peers but its ability to offer insight into sectoral trends should not go unnoticed. Thus, Nasdaq 100 traders will likely keep a keen eye out for takeaways from the report due Tuesday afternoon as it could distort broader Nasdaq price action heading into the latter half of the week. Following Micron, the US non-farm payrolls report should grab the spotlight. In the meantime, follow @PeterHanksFX on Twitter for updates and analysis.
–Written by Peter Hanks, Strategist for DailyFX.com
Contact and follow Peter on Twitter @PeterHanksFX
Source: www.dailyfx.com
Author: Peter Hanks
4 Defensive Stocks Trading With Low Price-Sales Ratios
According to the GuruFocus All-In-One Screener, a Premium feature, the following defensive stocks were trading with low price-sales ratios as of Sept. 28.
Walmart
Shares of Walmart Inc. (NYSE:WMT) were trading around $136.70 with a price-sales ratio of 0.72 and a price-earnings ratio of 21.80.
The U.S.-based retailer has a $387.37 billion market cap. The share price has risen at an annualized rate of 11.15% over the past decade.
Warning! GuruFocus has detected 6 Warning Signs with COST. Click here to check it out.
List of 52-Week Lows
List of 3-Year Lows
List of 5-Year Lows
The discounted cash flow calculator gives the stock a fair value of $67.10, suggesting it is overpriced by 103%.
The company's largest guru shareholder is Bill Gates (Trades, Portfolio)' foundation with 0.41% of outstanding shares, followed by Ken Fisher (Trades, Portfolio) with 0.39% and Jim Simons (Trades, Portfolio)' Renaissance Technologies with 0.27%.
PepsiCo
On Monday, PepsiCo Inc. (NASDAQ:PEP) was trading around $131.58 per share with a price-sales ratio of 2.72 and a price-earnings ratio of 26.91.
The food and beverage company has a market cap of $182.18 billion. The stock has risen at an annualized rate of 9.25% over the past 10 years.
The discounted cash flow calculator gives the stock a fair value of $52.33, suggesting it is overpriced by 151%.
With 0.47% of outstanding shares, Pioneer Investments (Trades, Portfolio) is the company's largest guru shareholder, followed by Yacktman Asset Management (Trades, Portfolio) with 0.27% and Diamond Hill Capital (Trades, Portfolio) with 0.19%.
Unilever
Unilever PLC (NYSE:UL) was trading around $60.59 on Monday with a price-sales ratio of 2.79 and a price-earnings ratio of 24.23.
The company, which operates in the consumer packaged goods industry, has a market cap of $158.82 billion. The stock has risen at an annualized rate of 10.21% over the past decade.
The discounted cash flow calculator gives the stock a fair value of $31.82, suggesting it is overpriced by 90.41%, while the Peter Lynch earnings line gives the stock a fair price of $28.53.
With 0.20% of outstanding shares, Hotchkis & Wiley is the company's largest guru shareholder, followed by Simons' firm with 0.01%.
Costco
Costco Wholesale Corp. (NASDAQ:COST) was trading around $347 per share with a price-sales ratio of 0.96 and a price-earnings ratio of 41.51.
The company has a market cap of $153.20 billion. The stock has risen at an annualized rate of 19.58% over the past decade.
The discounted cash flow calculator gives the stock a fair value of $137.76, suggesting it is overpriced by 151%, while the Peter Lynch fair value is $53.42.
The company's largest guru shareholder is Warren Buffett (Trades, Portfolio)'s Berkshire Hathaway with 0.98% of outstanding shares, followed by Fisher with 0.74% and Spiros Segalas (Trades, Portfolio) with 0.44%.
Disclosure: I do not own any stocks mentioned.
Largest Insider Trades of the Week
5 Cyclical Companies Outperforming the S&P 500
5 Popular Stocks Gurus Are Buying
Tiziano Frateschi
Visit Tiziano Frateschi's Website
Currently 0.00/5
1
2
3
4
5
Rating: 0.0/5 (0 votes)
Source: www.gurufocus.com
Author: Tiziano Frateschi
Wednesday's Morning trade News Update: International Business Machines Corp (NYSE:IBM)
During Wednesday's Morning trade, Shares of International Business Machines Corp (NYSE:IBM), gained 1.48% to $139.90. The firm opened its current trade at $137.92, and as of now, it is trading at $139.90. The total volume traded for the day is 1.43M shares, as compared to its average daily volume of 4.97M shares. The stock is floating in a range of $137.50 $140.30. The stocks hold the market capitalization of $137.01B.
Today, IBM (NYSE: IBM) declared that it has reached a definitive agreement to acquire The Weather Companys B2B, mobile and cloud-based web properties, counting WSI, weather.com, Weather Underground and The Weather Company brand. The TV segment – The Weather Channel – will not be attained by IBM, but will license weather forecast data and analytics from IBM under a long-term contract. The combination of technology and expertise from the two companies will serve as the foundation for the new Watson IoT Unit and Watson IoT Cloud platform, building on a $3B commitment made by IBM in March 2015 to invest in related offerings and services.
The planned acquisition would bring together IBMs powerful cognitive and analytics platform and The Weather Companys dynamic cloud data platform, which powers the fourth most-used mobile app daily in the United States and handles 26 billion inquiries to its cloud-based services each day. The deal would extend the reach of IBMs cloud data services capabilities and expand The Weather Companys business capabilities and consumer reach on a global scale. The Weather Companys cloud-based data platform will allow IBM to collect an even larger variety and higher velocity of global data sets, store them, analyze them and in turn distribute them and empower richer and deeper insights across the Watson platform.
The Weather Companys extremely high-volume data platform, coupled with IBMs global cloud and the advanced cognitive computing capabilities of Watson, will be unsurpassed in the Internet of Things, providing our clients noteworthycompetitive advantage as they link their business and sensor data with weather and other pertinent information in real time, said John Kelly, senior vice president, IBM Solutions Portfolio and Research. This powerful cloud platform will position IBM to arm entire industries with deep multimodal insights that will assist enterprises gain clarity and take action from the oceans of data being generated around them.
The Weather Company and IBM formed a planned alliance earlier this year to integrate real-time weather insights into business to improve operational performance and decision-making. Through the alliance, IBM licensed The Weather Companys cloud data platform and collaborated with The Weather Companys B2B division to deliver joint industry solutions, data services packages and APIs that enable businesses and developers to integrate real-time weather insights into business.
Upon closing, IBM will acquire The Weather Company product and technology assets that comprise the worlds leading meteorological data science experts, precision forecasting capabilities and a high-volume cloud platform that ingests, processes, analyzes and distributes enormous data sets at scale in real time. The companys sophisticated models analyze data from three billion weather forecast reference points, more than 40 million smartphones and 50,000 airplane flights per day, allowing it to offer a broad range of data-driven products and services to more than 5000 clients in the media, aviation, energy, insurance and government industries.
Short-Term Price Target Update: The mean estimate for the short-term price target for the firm stands at $149.17, according to 18 brokers. The higher price target for IBM is $170.00, while the lower price target is $125.00. In the past 52-weeks, the company shares have declined -14.52% and marked new low $137.33 on Oct 21, 2015.
International Business Machines Corporation provides information technology (IT) products and services worldwide. The company's Global Technology Services segment provides IT infrastructure and business process services, such as outsourcing, processing, integrated technology, cloud, and technology support.
DISCLAIMER:
This article is published by www.stocksnewswire.com. The content included in this article is just for informational purposes only. Stocksnewswire.com takes sensible consideration to ensure that the data given in this article is up to date and accurate. The news, prices, opinions, research, analysis, and other information published in this article are obtained from sources believed to be reliable.
Neither Stocksnewswire.com nor any of Stocksnewswire.com partners make any representation or guarantee as to the fulfillment or precision of the information contained in this article.
Investors must consult their own additional due diligence with any potential investment or highlighted company before making any decision on behalf of information offered by Stocksnewswire.com.
Information contained in this article may contains forward-looking information within the meaning of Section 27A of the Securities Act of 1933 and Section 21E of the Securities Exchange Act of 1934, counting statements regarding the predictable continual growth of the market for the corporation's products, the corporation's ability to fund its capital requirement in the near term and in the long-term; pricing pressures; etc.
Any statements that express or involve discussions with respect to predictions, expectations, beliefs, plans, projections, objectives, aims, assumptions, or future events or performance may be forward-looking statements. Forward-looking statements are based on expectations, estimates, and projections at the time the statements are made that involve a number of risks and uncertainties, which could cause actual results or events to differ materially from those presently anticipated. Forward looking statements may be identified with such words as expects, will, anticipates, estimates, believes, or by statements indicating certain actions may, could, should/might occur.
Investors Focused Stocks: Great Basin Scientific I…Highly Traded Stocks: Apple (AAPL), National Bank…Another Opportunity To Buy These Stock: Apple (AAP…Stock's Trend Analysis Report: Oracle Corporation …Traders Watch list: Micron Technology, Inc. (NASDA…Stocks in Focus: Marathon Oil Corporation (NYSE:MR…Stocks to Watch: Sprint Corp (NYSE:S), Boeing Co (…Stocks Under Consideration: Southwest Airlines Co …Stocks on Trader's Radar: Kinross Gold Corporation…
Source: stocksnewswire.com
Author: About Travis Garlick
1759 Articles
AUD/USD Choppy Trading Continues – A Quick Trade Plan! – Forex News by FX Leaders
The AUD/USD pair closed at 0.70244, after placing a high of 0.70865, and a low of 0.70055. Overall, the movement of the AUD/USD pair remained bearish throughout the day. In an earlier trading session, the AUD/USD pair surged above the 0.70800 level, as it attempted to reverse its five-day bearish streak. However, the struggle of the AUD/USD pair failed, as the gains in the US dollar continued, and the safe-haven appeal remained in the market.
Another reason behind the deep losses in the AUD/USD pair was the escalation in US-China tensions. The concerns of a new cold war, which were raised at the United Nations General Assembly (UNGA), exerted renewed pressure on the riskier Aussie. This led to the 6th consecutive day of losses in the AUD/USD pair on Friday.
At the UNGA meeting last week, the United States and China kept squabbling with each other on the issue of the coronavirus. Whereas, the US blamed China for the global spread of the coronavirus pandemic and called for holding the dragon nation accountable for the global economic losses, China rejected the blame, and accused the US of creating more troubles for the world.
Meanwhile, the UN Secretary-General, Antonio Guterres, pleaded for unity between member states and warned that the dispute between the world's two largest economies was moving in the wrong direction, and that they were heading towards a new Cold War. These tensions kept the risk sentiment under pressure, and the riskier Aussie suffered, ultimately adding to the losses in the AUD/USD pair.
On the data front, the figures for the Core Durable Goods and the Durable Goods Orders for August were released on Friday. The reports showed that both had declined to 0.4% from the expected 1.0% and 1.1% respectively, weighing on the US dollar. However, this failed to reverse the downward movement of the AUD/USD pair. Despite negative macroeconomic data from the US, the greenback continued to gain, due to its safe-haven status. The rising uncertainty about the economic recovery, due to depressing macroeconomic figures, strengthened the safe-haven appeal. This weighed further on the AUD/USD pair, which dropped to its lowest level since July 20.
Meanwhile, Australia's coronavirus situation is improving, as the daily numbers of infected people starts to decline. However, concerns were raised at to whether Australia will see a third wave of the coronavirus, as a professor and advisor to the WHO, Marylouise McLaws, said that if the restrictions were lifted too early, as a result of the decreased number of coronavirus infections, the pandemic could once again spread quickly. These worrying comments kept the local currency under pressure, and the AUD/USD continued to take a knock.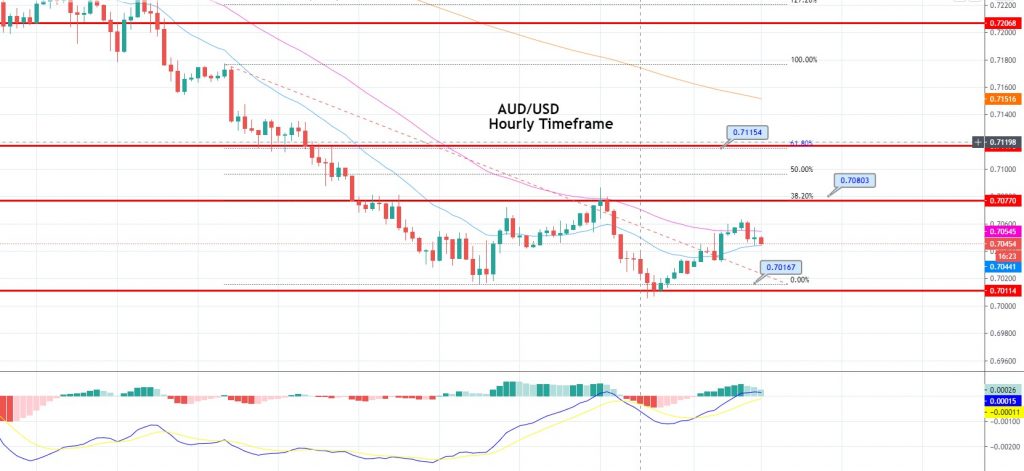 Daily Technical Levels
Support Resistance
0.7031 0.7046
0.7022 0.7054
0.7015 0.7062
Pivot Point: 0.7038
The AUD/USD pair has bounced off a double bottom support area at the 0.7014 level, and now it is likely to face immediate resistance at 0.7084 and 0.71190, along with a support level of 0.7035. A bullish bias seems dominant today, over 0.7045. Good luck!
Source: www.fxleaders.com