UConn announced its initial plan to bring students back to campus for the fall Wednesday, with wide-ranging changes designed to secure the university community from the COVID-19 pandemic. OurCrowd, the world's largest global venture investment platform will host the OurCrowd Pandemic Innovation Conference on June 22 to explore the latest technological solutions to the coronavirus crisis, including vaccination, treatment, diagnostics and prevention of the disease. The sessions will also Concern about data security, power outages, and poor internet service fuels a return to offices. This transition must be handled strategically, with thorough consideration for all aspects of employees' well-being. As we're being allowed to re-enter the workplace following months in quarantine, we seem to have more questions than answers about how to get back to our office desks safely. So perhaps back to work will start to look more like back to school.
UConn plans to bring students back to campus in the fall—but university life will hardly resemble what it was before the coronavirus pandemic hit.
In an initial plan announced Wednesday, UConn President Thomas Katsouleas announced wide-ranging changes designed to restore campus life while securing the university community against COVID-19. Classes will be a mixture of online and in-person learning, masks will be required in public and common spaces, dining halls will serve only take-out, and classrooms and residence halls will have reduced capacity to ensure social distancing, among other measures.
Residence halls in Storrs and Stamford will be open and students living on campus must return to campus two weeks before the start of classes on Aug. 31 to allow for testing and a quarantine period.
"This is new for all of us," Katsouleas wrote in a letter to students, alumni and the UConn community.
The first day of classes will be Aug. 31, with some classes online, some in-person, and others a mix of online and face-to-face, Katsouleas wrote in the letter released Wednesday. Classroom capacities will be reduced to ensure six feet of social distancing.
For example, a class of 20 students must be held in a room that accommodates 60. Students in classes may be divided up, attending an in-person class on different days of the week. A university website on the new plan states that "all new and returning students will experience the inspiring academics, vibrant student life, and rich support that are the hallmarks of a UConn education while keeping health and safety at the forefront."
The university will work to accommodate students and faculty who opt for a fully online experience for the semester.
Students will not return after Thanksgiving break and the end of the semester, including final exams, will be online. Those unable to return home after Thanksgiving will be able to petition to stay, but they cannot leave campus for the break.
Every member of the UConn community will be required to wear a mask in while in public and common spaces like classrooms, according to the plan. Katsouleas said that the university has enough masks on hand to supply its entire community and that those who cannot wear a mask due to a health condition would be accommodated.
Housing and dining procedures will see significant changes, though the fees for those services will not be altered. There will be no eating in dining halls, which will be open for take-out services only.
Residence halls in Storrs and Stamford will be open and students living there must return to campus two weeks early to allow for testing and a quarantine period. There will be a new housing assignment process for those residence halls, which students will not need to reapply for. Housing assignment information will be released to students in July.
UConn said it still developing testing protocols for the larger student body and its staff, but that health screening and monitoring "will be continuous." Some employees may be able to continue telecommuting in order to maintain social distancing.
Breaking News Newsletter
As it happens
Get the latest updates on Coronavirus and other breaking news events happening across Connecticut
A separate space will be designated for students who might fall ill during the semester and need to be quarantined.
At Storrs, the library and recreation center will be open, with social distancing measures in place, and bus services will continue to run. The use of the Student Union is still being evaluated.
In the letter, Katsouleas acknowledged the human toll of the pandemic in Connecticut and across the world.
"We will never forget this awful experience, but maybe in some way it has made us more grateful for what we have," he wrote. "In time, perhaps we will emerge stronger and wiser because of the painful lessons we have learned."
Katsouleas said that the "draft plans" would be submitted to the UConn Board of Trustees and then to the state government in the coming weeks.
Source: www.courant.com
Author: Eliza Fawcett
OurCrowd Pandemic Innovation Conference to Host Global Leaders, Startups and Investors Online
June 22 forum features tech solutions to global crisis, $100m OurCrowd Pandemic Innovation Fund
OurCrowd, the world's largest global venture investment platform will host the OurCrowd Pandemic Innovation Conference on June 22 to explore the latest technological solutions to the coronavirus crisis, including vaccination, treatment, diagnostics and prevention of the disease. The sessions will also cover non-healthcare innovations addressing the changing nature of work and life brought about by the 'Pandemic Pivot' occurring in the global economy. The online conference will also introduce OurCrowd's new $100 million Pandemic Innovation Fund, which will invest in compelling startups addressing the societal and medical realities of pandemics. Investors from over one hundred countries are expected to attend online, including some of the world's biggest investors.
The online conference will be broadcast from TV studios in Israel and will feature leading investors, entrepreneurs, medical experts and business leaders from around the world. Online attendees will be able to meet directly with startup CEOs and topic experts in online breakout sessions. There will be live Q&As with guest speakers and the chance to network with other attendees from around the world in real time. As an added bonus, the conference will close with the premiere of "When The World Stops Ending," the new music video by viral music sensation Dave Carroll.
The Conference will build upon the excitement and the crowd that was present at the OurCrowd Global Investor Summit this past February. The Summit, held annually in Jerusalem, is Israel's largest business event and the world's largest crowdfunding event in the world, which this year saw more than 23,000 registered to attend from around the world. Thousands of attendees are expected to join the OurCrowd Pandemic Innovation Conference online on June 22.
"This conference is about providing global investor support to the remarkable entrepreneurs who are on the front lines working hard to solve the problems humanity is facing with the Pandemic. These entrepreneurs are racing to the vaccine, are building faster and more accurate testing, developing new therapeutics, and delivering remote healthcare services. These people and their companies need the resources of far-sighted investors so they can help to fix the world," said OurCrowd CEO Jon Medved.
Alec Ellison, OurCrowd's US Chairman, added: "It's not just medical companies that we will highlight at the Pandemic Innovation conference. The post-COVID world will look different and require innovative technology solutions, whether it's working from home, distance learning, increased cybersecurity, robotic process automation – these will all be part of our "new normal and will be featured front and center at the Conference."
Among the topics to be addressed are:
The Race for a Vaccine: Top researchers such as Prof. Joseph Jacobson, Head, MIT Molecular Machines Research Group and leading entrepreneurs such as Sigal Tal, Chief Medical Officer of MigVax, leading vaccine startup
Meeting the Challenge of a Global Pandemic: From testing and treatment to remote work and cybersecurity, experts from tech, business, and government, such as Ruth Atherton, Director, Bill & Melinda Gates Foundation, and Dr. Paul Rothman, CEO Johns Hopkins Medicine, weigh in on what's to come
The Top 10 Pandemic Tech Trends: Stav Erez, Partner Labs/02 accelerator, and telemedicine entrepreneur Dr. Jonathan Wiesen, reveal what will be hot and actionable going forward in a changed world
Investing in a Time of Crisis: Three of the world's top investors, Scott Bessent, Founder & CIO, Key Square Group; Jeremy Levine, Partner, Bessemer Venture Partners; and Deven Parekh, Managing Director, Insight Venture Partners provide exclusive insights into ensuring your portfolio survives and thrives during a global challenge
Among the startups showcased are:
data.world – the world's largest open data community, created a dedicated hub for up-to-date COVID-19 data so members can work together to fight the pandemic. The company's cloud-native enterprise data catalog maps siloed data to business concepts, creating a body of knowledge anyone can find, understand, and use.
Ripple: Makes a great-tasting, high protein, plant-based alternative to dairy that addresses the need for food supply chain continuity during the pandemic and beyond.
SaNOtize – Approved by Health Canada for multi-center Phase II trial of its Nitric Oxide Releasing Solution (NORSTM) for the prevention and early treatment of COVID-19.
Sight Diagnostics – Compact complete blood count analyzer that provides lab-grade results with 2 drops of finger prick blood sample in under 10 minutes.
Barcode Diagnostics – Multiple-screening platform for detection of SARS-CoV-2 infection in large populations, using individualized barcoding technology.
Trellis – delivers Autonomous Food Supply Chains powered by smart data and AI. Its Cloud/AI SaaS platform helps food & beverage producers to integrate data from field to market to eliminate agriculture waste and boost production efficiency in order to conserve global resources.
MigVax – Developing the MigVax-101 COVID-19 oral subunit vaccine for humans based on a proven platform developed over 4 years that was shown to be a highly effective oral vaccine against IBV (Infectious Bronchitis Virus) in poultry.
The conference will be streamed across several time zones with two start times so that attendees around the world will be able to join. Registration provides access to both. Content will be the same for both broadcasts.
Eastern Hemisphere: London: 7am-10am | Jerusalem: 9am-12pm | India: 11:30am-2:30pm | Hong Kong: 2pm-5pm | Sydney: 4pm-7pm
Western Hemisphere: San Francisco: 8am-11am | New York: 11am-2pm | London: 4pm-7pm | Jerusalem: 6pm-9pm
Register now
About the conference: The OurCrowd Pandemic Innovation Conference will bring the global ecosystem together online on June 22. The Conference will feature top speakers, unusual content, direct access to startup entrepreneurs, and outstanding networking. Top investors, entrepreneurs, venture capitalists, corporate executives, and others will get extraordinary insight into investment and partnership opportunities, with exclusive exposure to cutting-edge startups, the entrepreneurs behind them, and the corporate leaders deploying them. The theme of the conference, Innovation in a Pandemic, reflects the reality of the global crisis, how breakthrough technologies are addressing challenges from prevention and cure to social distancing and food supply, and what the tech investing world will look like in the future. The Conference seeks to create online the powerful experience of the annual OurCrowd Global Investor Summit, the fastest-growing tech conference in the world, which saw over 23,000 people register from 186 countries in February 2020. OurCrowd, the most active venture investor in Israel, sits at the center of the global startup ecosystem and is uniquely positioned to connect all the players. The Conference will take place twice on June 22 to ensure access for attendees from around the globe. Eastern Hemisphere Broadcast: 9 a.m.–12 p.m., Israel time. Western Hemisphere Broadcast: 6 p.m.–9 p.m., Israel time. The same content will be in each broadcast. For more information and to register: https://events.ourcrowd.com/pandemic-conference/
About OurCrowd: OurCrowd is a global venture investment platform that empowers institutions and individuals to invest and engage in emerging companies. The most active venture investor in Israel, OurCrowd vets and selects companies, invests its capital, and provides its global network with unparalleled access to co-invest and contribute connections, talent and deal flow. OurCrowd builds value for its portfolio companies throughout their lifecycles, providing mentorship, recruiting industry advisors, navigating follow-on rounds and creating growth opportunities through its network of multinational partnerships. With $1.4 billion of committed funding, and investments in 200 portfolio companies and 20 venture funds, OurCrowd offers access to its membership of 48,000 individual accredited and institutional investors, family offices, and venture capital partners from over 183 countries to invest alongside, at the same terms. OurCrowd's portfolio is diversified across sectors and stages, ranging from seed and series A through late stage and pre-IPO firms. Since its founding in 2013, OurCrowd portfolio companies have been acquired by some of the most prestigious brands in the world, including Uber, Canon, Oracle, Nike, and Intel. To register and get involved, visit www.ourcrowd.com.
For press materials: http://blog.ourcrowd.com/PandemicInnovationConference/
View source version on businesswire.com: https://www.businesswire.com/news/home/20200610005871/en/
Contacts
Leah Stern, OurCrowd Dir. of Communications / leah@ourcrowd.com / +44 747 019 6826
Source: finance.yahoo.com
Call Centers Discover WFH Doesn't Work for Them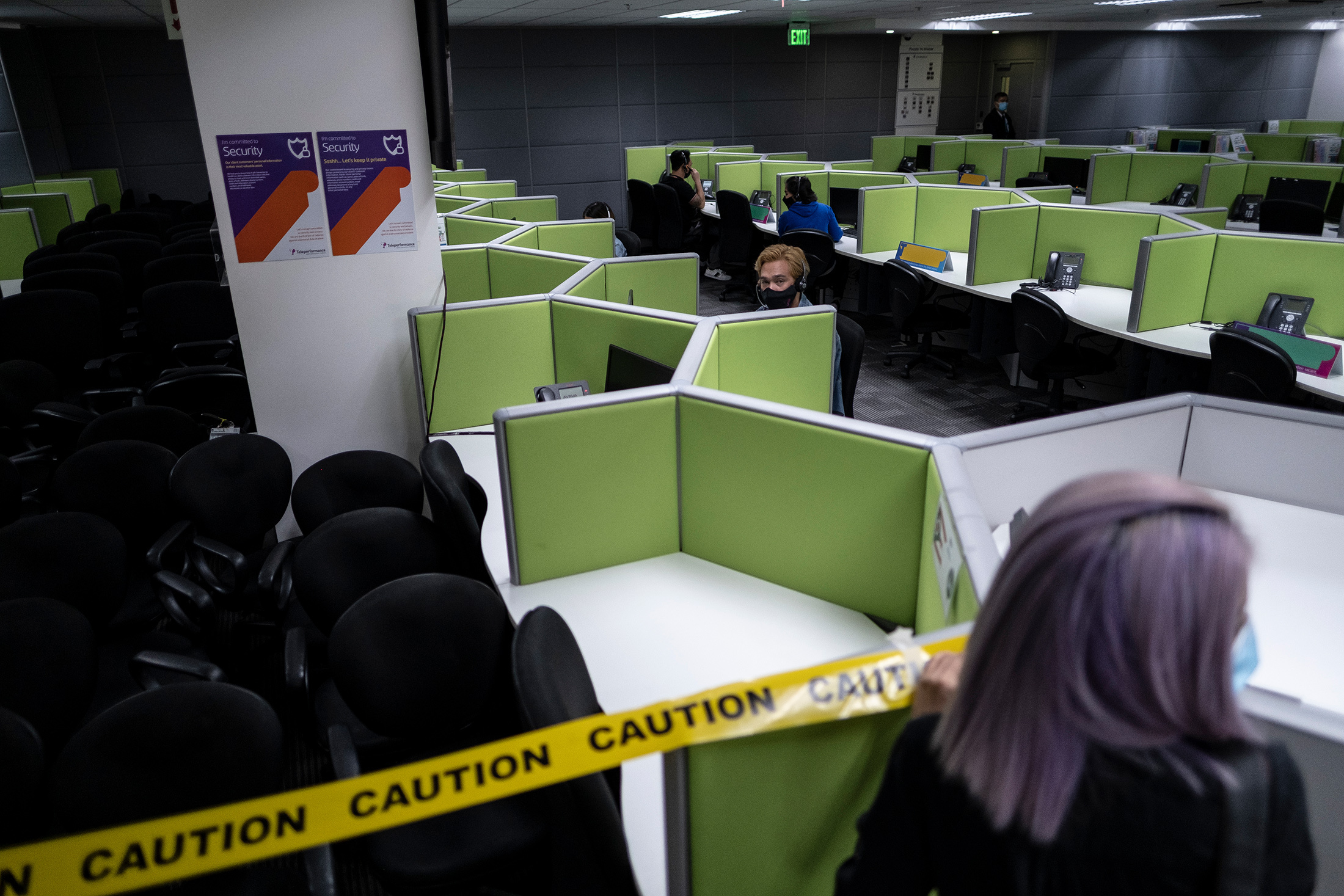 Safety tape is placed across work areas at a call center in Manila on June 8.
Photographer: Veejay Villafranca for Bloomberg Businessweek
Photographer: Veejay Villafranca for Bloomberg Businessweek
For Americans with questions about their bank accounts, mobile phone service, or e-commerce orders, getting answers has long involved talking on the phone with someone in the Philippines, where English-speaking operators handle queries, complaints, and other calls. U.S. companies outsourcing this kind of customer service benefit from lower labor costs while counting on their Philippine operators to keep customers' confidential information safe within the walls of the call centers.
Now the coronavirus is testing that arrangement. After the Philippine government imposed a strict quarantine in March, call centers had permission to keep skeleton crews at their offices, but they had to send thousands of other employees to work from home. Even as lockdowns end in the island nation, social distancing rules remain in effect. Many staffers won't be returning to call centers and instead will be answering customer questions from their residence.
That decision has forced Alorica Inc., a major operator of call centers in the country, to work with clients to revise their agreements about what kinds of information workers can handle outside the office. The closely held company based in Irvine, Calif., has about 40,000 employees in the Philippines, half of its total workforce, and must limit occupancy at its 22 sites there to 50% of capacity to reduce the risk of workplaces becoming Covid‑19 hot spots.

(From left) Disinfectant is sprayed on a call center agent's hands; an employee has their temperature checked prior to entering a Teleperformance office in Manila.
Photographer: Veejay Villafranca for Bloomberg Businessweek
Some jobs, therefore, must go off-site, says Bong Borja, Alorica's president of Asia-Pacific operations. "The ones that are really sensitive, we are trying to keep in the office," he says. "If there's no credit card information, credit information, health information—those are ones that can be done at home."
The call center business is a crucial one for the Philippines, accounting for about 8% of gross domestic product and directly employing 1.3 million people, according to HSBC Holdings economist Noelan Arbis. So the nation is relying on Alorica and other operators to quickly come up with solutions to keep the industry growing.
Reopening the offices safely won't be easy, says Karen Harris, New York-based managing director of the Macro Trends Group at consulting firm Bain & Co. "These call centers are typically densely occupied, which makes it challenging to protect workers' health," she says. Just as the act of singing seems to spread the virus through droplets in the air, Harris says, talking on the phone for hours may be higher-risk. "You can imagine that speaking all day would raise the risk of transmission."
As many continue to work from home, staffers are having to become more self-reliant when they have questions about their work, says Migz Moreno, who can't disclose the name of his employer because he isn't authorized to speak with the media. Without managers around, "if you need any support, it's not given instantly," he says. "You have to troubleshoot yourself sometimes."
Moreno works late at night and is on his own while the rest of the household is asleep. The isolation is a big change from his old way of working, in an office with hundreds of colleagues nearby. "It's only you," he says. "You don't have anyone to talk to."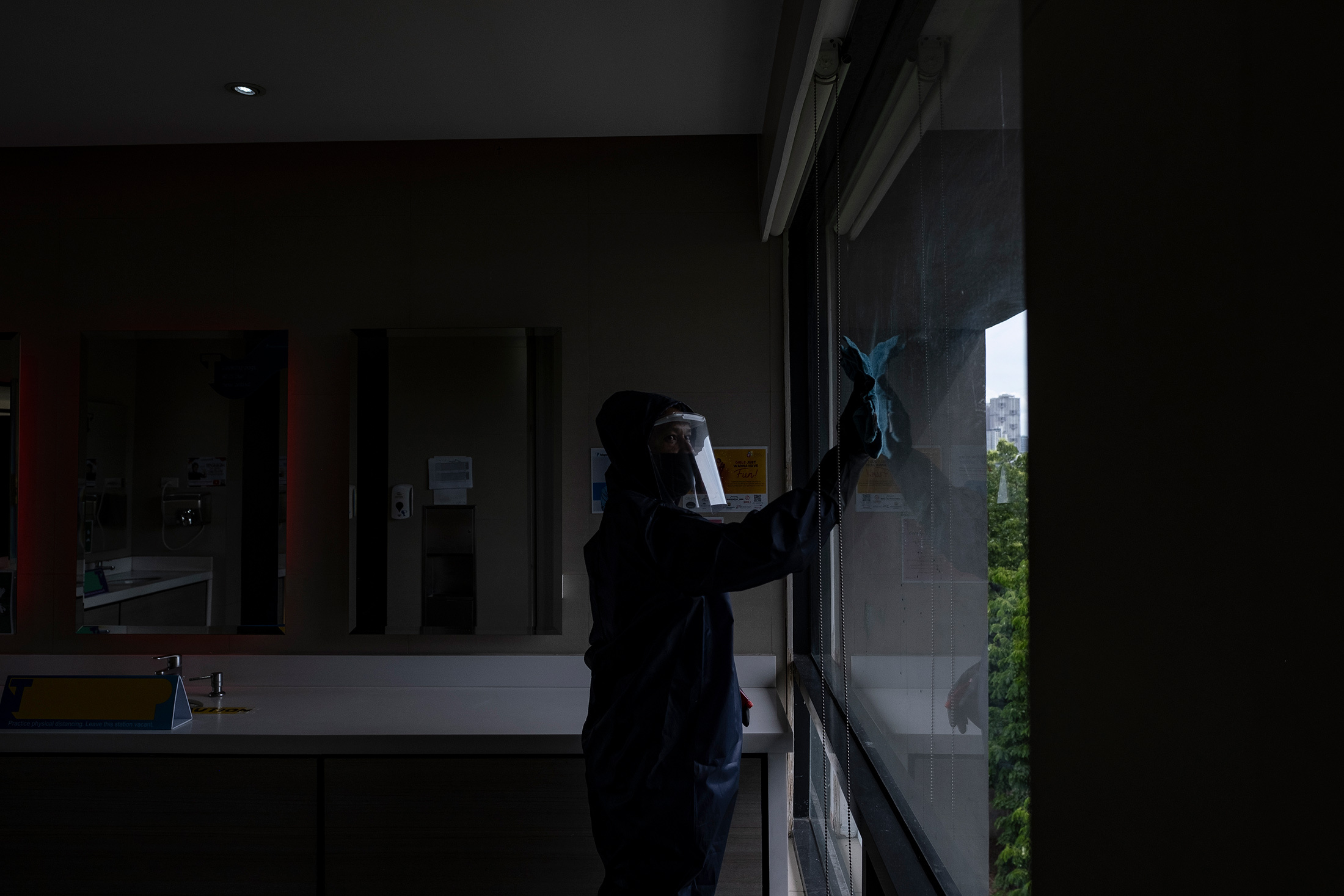 A worker sanitizes an employee comfort room. Teleperformance is moving several of the social events it organizes for staff members, such as yoga classes and karaoke nights, online.
Photographer: Veejay Villafranca for Bloomberg Businessweek
Working from home isn't a viable long-term option for others. Paris-based Teleperformance has 47,000 employees in the Philippines, about 14% of the company's workforce, and many live in places with unreliable internet connections and unstable electricity supplies.
"Our clients are going to ask us to bring people back simply because the infrastructure of work-from-home in the Philippines is not the best environment for contact center work," says Mike Lytle, chief operations officer for Teleperformance in the country. "If there is a four-hour power interruption, in our facility we have backup generators that ensure we don't have problems."
That's one reason Teleperformance is moving ahead with expansion plans, including a new office opening later this year that will house 2,000 workers. To meet social distancing needs, the facility will have studios for virtual training of new hires and coaching of current employees, work that managers used to do one-on-one. The company is also shifting several of the social events it organizes for staff members—many of them in their 20s with limited opportunities to socialize, because they work such odd hours serving customers in different time zones—with everything, including yoga classes and karaoke nights, moving online.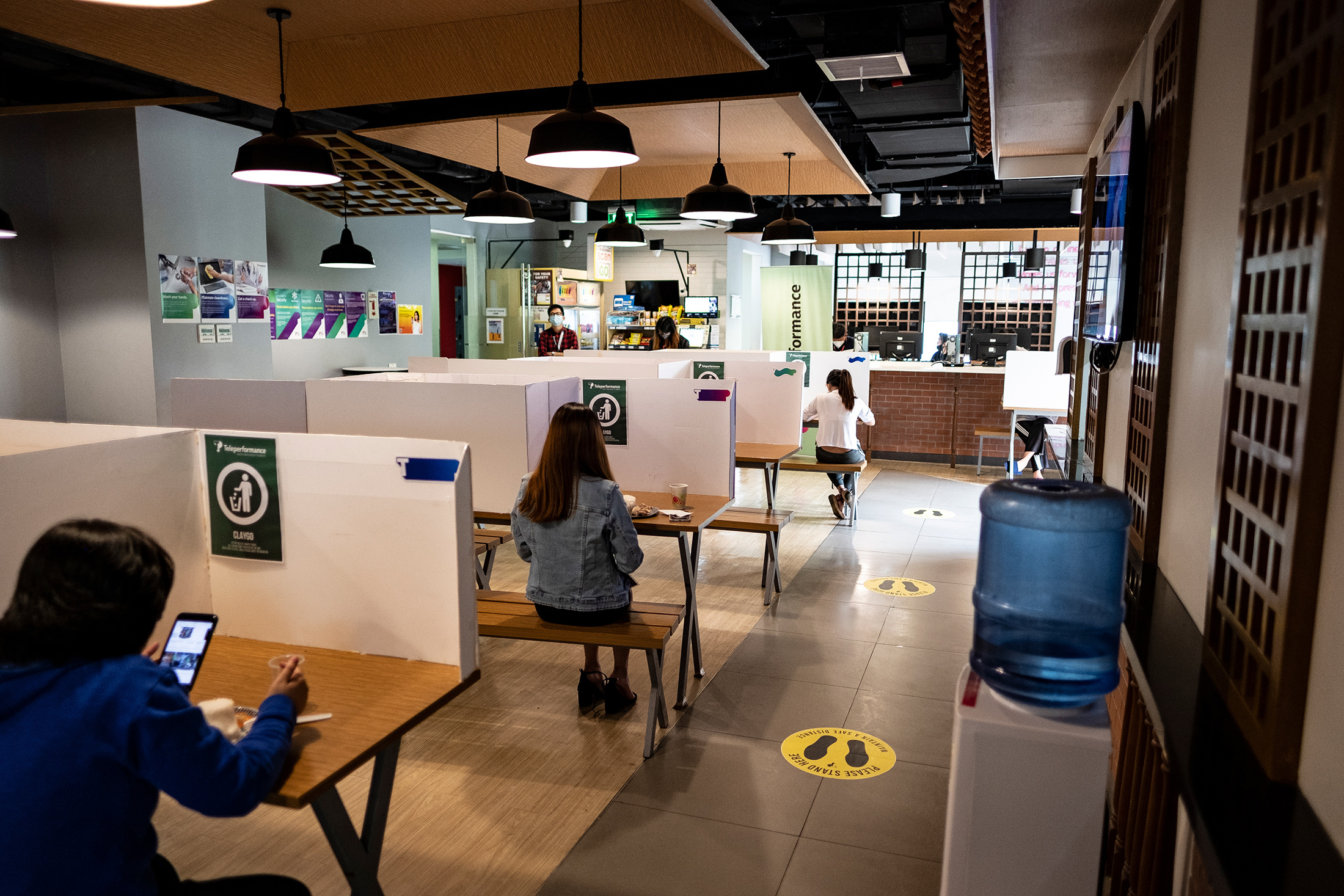 New wooden dividers and social distancing reminders are seen inside the call center's employee cafeteria.
Photographer: Veejay Villafranca for Bloomberg Businessweek
Regardless of whether call center employees work from home or a central office, the industry could face a growing risk if clients hit by coronavirus-slowed economies try to cut costs by replacing Philippine operations with chatbots powered by artificial intelligence, says Bain's Harris. "Recessions have historically accelerated automation," she says. "Habits may have shifted, which gives companies some freedom to use those potentially less expensive services. The economic pressure makes it more compelling."
For now, Philippine call center staffers will need to get used to the new workplace rules. After the government eased the lockdown, Alorica employees returning to the office received small welcome packages that included both washable and disposable masks, disinfectant, and guidelines on how to maintain social distance. One worker, Kevin Borja, 27, got something more: a reprimand from a security guard for getting too close to a colleague.
Source: www.bloomberg.com
Author: Bruce Einhorn
More stories by Bruce Einhorn
Council Post: Three Strategies For A Smooth Return To Work In The New Normal
Jim Link is Chief Human Resources Officer of Randstad North America, one of the world's largest HR services providers and staffing firms.
Getty
When COVID-19 first hit the U.S., company leaders rapidly moved to temporarily close their businesses and shift operations online, entailing a massive adjustment in the way workforces functioned. Today, HR leaders are working to ensure the smoothest and safest return to work possible — not just in the immediate future, but beyond.
There's no question that the workplace will never quite be the same again. We've entered a new normal in which employee health and physical distancing will need to be at the forefront of every leadership decision. This is certainly a departure from the thinking that drove workplace interaction up until March 2020, where workplaces were changing to encourage more face-to-face collaboration, with many companies even tearing down walls in favor of open office plans.
Now, we must find ways to maintain a collaborative, interactive work spirit while balancing the need for social distancing to ensure employees stay healthy upon their return to physical workspaces. Of course, there isn't a one-size-fits-all solution, but here are three guiding principles to keep in mind.
When it comes to safety, teamwork is key.
Combatting a highly infectious global pandemic required all of us to work together in a collaborative manner — we called it social distancing. Likewise, when you return to the office, health and safety measures will only be effective if people work together to plan, implement solutions and continually learn.
For starters, then, you should make sure a variety of company leaders take part in the planning and implementation process as decisions are made around safely returning to work. Also, be sure you clearly communicate why these changes are being implemented to your employees. After all, it's important for them to understand risk controls are highly dependent on consistent behavior from the entire workforce — otherwise, those controls won't be effective. Ultimately, both employers and employees alike must embrace their shared commitment to ensuring the reliability and effectiveness of controls at all levels.
Strengthen mental health resources.
In addition to physical danger, the pandemic has created mental health challenges for many employees. The sudden shift to remote work meant all the factors typically causing workplace burnout intensified. Many workers struggled to continue working while also caring for children at home. Others faced the anxieties around physical and financial health related to the pandemic. Add isolation and loneliness, and you have the recipe for workplace burnout — along with declining productivity.
As an HR leader, be sure your managers have resources to help employees who need to decompress. Hold training on how to navigate and talk about mental health in the workplace. You should also make sure that your company offers benefits and resources related to mental health, and that those benefits and resources are communicated clearly and often to your workforce.
Keep the lines of communication open.
HR leaders can do more than just monitor the status of safety activities across the organization to make sure they're working (and employees are staying healthy). You should also ask for employee feedback about the transition back to work. Send out regular surveys employees can complete quickly and anonymously to give feedback about their experience. Some key questions should generate input on both physical and mental health. For example:
• How safe do you feel in our redesigned workspace since transitioning back to the office?
• Is there anything we could be doing differently to make you feel safer?
• Do you know where to go for help with issues while transitioning back to the workplace?
• Is your manager being flexible around any challenges you're experiencing?
As HR leaders, we're eager to see workplaces reopen and to have all of our colleagues return to some sense of normalcy. However, this transition must be handled strategically, with thorough consideration for all aspects of employees' well-being. Employees must be given tools — encompassing both physical and mental health — to help them thrive in this new normal. Otherwise, employee engagement and productivity will suffer.
Forbes Human Resources Council is an invitation-only organization for HR executives across all industries. Do I qualify?
Source: www.forbes.com
Author: Jim Link
How to Be Safe at Work
I remember when "Workplace Wellness" meant I'd be conducting a series of workshops on health issues to encourage employees to adopt better lifestyle habits at home so that they'd stay healthy and call in sick less often. But now, the focus is on wellness at work so that we can get in and out of our jobs without catching anything and bringing it home.
As we're being allowed to re-enter the workplace following months in quarantine, we seem to have more questions than answers about how to get back to our office desks safely. It took weeks of practice to adapt to working from home — including creating new schedules, home schooling, frequent snacking, no showering, Zoom meetings and even procrasti-baking. But no one prepared us for the precautions we might need to take to navigate the same office spaces we may have worked in for years. Our offices may never look the same again.
[Read: Immunity-Boosting Smoothie Recipes.]
The New Workspace
Elevator buttons on floors, keyless entries, washroom faucets and flushers that work automatically, temperature checking and, of course, mask-wearing are just a few of the modifications we'll be seeing when we go back to our desks. Employers are working hard to keep us healthy at work, and depending on what state you live in, there may be specific guidelines regarding sanitation procedures and whether you will need to wear a mask at your desk or in communal spaces or both.
But as much as we want to get back to our pre-COVID-19 lives, many of us are skeptical about leaving our shelters. Roseann Capanna-Hodge, psychologist, integrative mental health expert and owner of Dr. Roseann & Associates in Connecticut, coined the term "Re-Entry Panic Syndrome" to capture the emotion we may be feeling when it comes to leaving the security of our homes.
Capanna-Hodge told me that "even people who may not have had a history of anxiety could be feeling panic right now or some level of discomfort about whether their work environment is safe enough for them to return to."
[See: Foods That Can Support Your Immunity.]
Getting to Work
Even if our work stations are pristine, we have to feel comfortable with transportation options that will get us to and from our jobs. Capanna-Hodge agrees that "people are worried about public transportation because traveling in close quarters brings a higher risk of catching something."
Capanna-Hodge's advice for mitigating this problem is to take care of your own health, eat a nutritionally-rich diet, wear masks, wear gloves and, if it makes you feel better, bring wipes to clean any surface you're sitting on or touching. Above all, "don't touch your eyes, nose, mouth or face," she underscores, even if you're using a car service or carpooling.
If you feel the need to take further precautions when you get home from work, Capanna-Hodge suggests that you "do whatever procedures you need to make yourself feel comfortable, like showering when you get home, which could be a good way to clean your nasal passages. Good hygienic practices can help to reduce transmission of disease and support the immune system to help fight infection and reduce stress levels."
If you enjoyed schmoozing with co-workers around the water cooler, sharing lunches or meeting in the office cafeteria, you may have to hang onto those memories for a while until we can break bread together again. For the time being, eating at your desk or — if you work in an area where you're able — going outdoors to a park bench will be your best options.
Dr. Jonathan Spero, CEO of InHouse Physicians, a company that helps global corporations implement policies promoting the health and well being of their employees, says, "it's clear that everyone is taking food very seriously, so it'll be awhile before you see an office salad bar or a buffet again."
Spero feels that corporations may have food services bringing in pre-packaged lunches for their employees including individually wrapped foods like sandwiches. He thinks that the typical gathering in your office kitchen and using a communal coffee pot — or microwave or fridge — will be on hold for the foreseeable future. Some companies are permitting foods to be ordered in and dropped off, but only by certain restaurants, without the need for employees to leave their buildings. He recommends bringing your own lunch to work.
[See: 10 Healthful Snacks That Won't Break the Calorie Bank.]
Bring Your Own Lunch
So perhaps back to work will start to look more like back to school. It's likely that lunch may need to be brought in instead of ordered out, so if you're preparing meals for your kids, it would be wise to put some aside for yourself. Prepping food from home may seem like it'll take you more time, but it could also save you money and even save some calories by packing less fried, salty and expensive choices than a restaurant meal might bring.
You might have to put down some cash to have the right equipment on hand. Consider lunchboxes that contain freezer packs to keep your food cold, so you're not keeping them in the communal fridge. In addition, thermoses for a hot meal, coffee or soup can be handy — or a COVID backpack (yes, I've seen them) with separate compartments for your containers and your computer.
Pre- or post-quarantine, I have always been a fan of keeping go-to snacks — or emergency lunches — stashed in a desk drawer. A jar of nut butter, whole grain crackers, unsalted nuts, healthy energy bars and dried or freeze dried fruits and veggies could satisfy hunger with a combo of protein, carbs and healthy fats to get you through your day without leaving your desk.
Melissa Altman-Traub, a registered dietitian nutritionist in the Philadelphia area, suggests keeping some items at your desk like, "a coffee pot that can be used for coffee or tea, a mug heater, your own coffee mug, dish soap and dish rag."
To take a break, Altman-Traub says, "consider online conferences with coworkers from your desk to keep things social — or take a walk outside." Now that the weather is warmer, perhaps a picnic on a nearby bench while social distancing with a friend could provide a mealtime escape.
Don't be Mask-Bullied
As we become desensitized to precautions and people start feeling more comfortable sharing space again, they may ditch their distances and stop wearing their masks. But if you're still on your own high alert and you want to maintain the strategies that keep you feeling secure, don't let anyone bully you into letting your guard down until you're ready.
Spero points out that "now until November, we'll be on a positive trend, where things are going to be getting better and better with business back to a new normal, but around December/January, we'll see a resurgence of colds and influenza and most likely another, but smaller, wave of COVID."
Part of this predicted bump is because, by then, restrictions will have further loosened, the weather will be colder and more activities will have moved indoors and cold and flu season kick up.
That time of year will also bring a resurgence of angst, concern and confusion, not knowing whether a sneezing workmate has the flu, a common cold or COVID-19. Hopefully by then we'll be in a better place to safeguard our workspaces and protect ourselves.