Well, today's the day, folks–after months of anticipation, the Bitcoin halving is here: today, just past 20:30 GMT, the rewards that Bitcoin miners receive in exchange for the work they do to add transactions to the blockchain will be cut in half.
The Most Diverse Audience to Date at FMLS 2020 – Where Finance Meets Innovation
What does this mean for the Bitcoin network? Predictions about the consequences of the halving range far and wide–but there are several popular narratives among cryptocurrency analysts.
At present, the price of Bitcoin has taken a bit of a hit: BTC peaked around $9700 on Sunday, May 10th; at press time (Monday, May 11th), that figure had shrunk to $8,675, falling as low as $8,466 within the last 24 hours (although it's important to note that Bitcoin is up roughly 40 percent since the beginning of the year, outperforming both gold and USD.)
One of the most popular beliefs in cryptocurrency circles about halving events is that they are great for the price of Bitcoin: that–sooner or later–the halving will cause the Bitcoin price to explode.
This belief stems from the fact that cutting the mining reward in half contributes to greater scarcity of BTC as the number of users on the networks continues to grow. At this present (pre-halving) moment, 1800 BTC are produced every day through miners; post-halving, that figure will shrink to just 900 BTC per day.
Late last week, Jose Llisterri, co-founder of cryptocurrency derivatives exchange Interdax, explained to Finance Magnates that over time, this reduction in the supply of Bitcoin leads to a reduction in sell pressure: "[this] adds up over time and acts as an upward force on the price of Bitcoin," Llisterri explained.
But how long would it take for this price increase to manifest in Bitcoin's price? In the past, "we saw BTC reach fresh highs 12 months after the first halving in 2012, and 18 months after the second halving in 2016," Llisterri said.
This time around, a post-halving price boost could take even longer: "if we have progressively longer cycles for bitcoin, we could see a fresh high 18-24 months after May, meaning Bitcoin could reach a new all-time high between October 2021 and May 2022."
Of course, there has been quite a bit of discussion over how the COVID-19 outbreak will influence the effects of the pandemic. Some analysts believe that the QE and other stimulus efforts by governments will be a good thing for Bitcoin; others believe the pandemic could have a long-term dampening effect on the price of BTC.
While it's possible that halvings may be great for Bitcoin's price in the long term, there's one part of the crypto industry that is likely to take a serious hit as the result of the halving: miners.
After all, when the halving occurs, miners' profits will literally be cut in half overnight. Assuming that a BTC price bump eventually does come, mining operations could become more profitable once again–but it may be a while.
CCI Traders Launches New Educational Webinars SeriesGo to article >>
Therefore, large mining pools with state-of-the-art equipment and lots of cash on hand aren't necessarily the ones who should be concerned: instead, it's the small- and medium-sized Bitcoin mining operations–operations that may also be relying on outdated equipment–that may eventually be forced to shut down.
Nathan Nichols, managing partner at Imperium Investments, told Finance Magnates last week that he believes that the upcoming halving "will hurt the majority of miners".
As the cost of producing BTC continues to rise, these miners may be forced to sell off their equipment and their Bitcoins, perhaps at a loss: "with high costs comes the pressure to sell off a miner's BTC inventory since power expenses must be paid in fiat," Nichols said.
Interestingly, Bitcoin's hash rate–the amount of computing power used to power the network–was at 120.635 million TeraHash/second (TH/s) at press time, just under its yearly peak of 123.2m TH/s, which was achieved last week. This could either indicate that more miners are entering the network, or that miners already on the network are cranking up their machines full-blast ahead of the halving. A number of analysts believe that price follows hash rate.
No matter what happens as a result of the halving in terms of price movements or changes in the mining industry, however, BlockFi co-founder and chief executive Zac Prince made an important point about the halving in a Finance Magnates webinar last week: that the halving "creates a phenomenal marketing opportunity for the space."
Indeed, "the halving doesn't matter that much in terms of fundamentals," he said, but "[…] everyone's going to be hearing about Bitcoin. It's going to be all over the press; it already is now."
And indeed, the halving does seem to have brought an increased amount of attention to Bitcoin: data from Google Analytics shows that the number of searches for the word "Bitcoin" has increased considerably within the last several weeks.
Bitcoin also got quite a positive piece of press from China Central Television, a state-owned television network in China.
The article, which spoke of the "skyrocketing [price] of Bitcoin" ahead of the halving, was especially surprising given China's vexatious relationship with Bitcoin and cryptocurrencies more generally in the past. and pointed out that legendary hedge fund manager, Paul Tudor Jones, had proclaimed to his investors the benefits of the cryptocurrency.
Whoa , first time saw a chinese national media talking about bitcoin pump!! The finance section of CCTV(biggest national televisions in China ) posted an article about bitcoin today , the article said bitcoin 3rd halving is close and its price pumped up to $10,000 on May 8th . pic.twitter.com/NNKJUezgnU
— molly (@molllliy) May 10, 2020
Source: www.financemagnates.com
Author: Rachel McIntosh
Cryptocurrency EOS fell by 21%
on May 10, 2020in Business
EOS cryptocurrency was trading at a price of $2,3268 at 19:40 (16:40 GMT), according to the index Investing.com on Sunday, fell by 20.76% during the day. It was the most spectacular fall in the value of cryptocurrencies since March 12.
The fall provoked a reduction of the market capitalization of EOS to $2,2159 B, or 0.00% of the total capitalization of all cryptocurrencies. While earlier peaks capitalization of EOS was $17,5290 B.
In the past 24 hours the EOS was trading in the range of $2,3235 to $2,7545.
In the last 7 days cryptocurrency EOS felt the fall of the within lost of 15.85%. The EOS amount of currency traded in the last 24 hours before the date of publication of this material was $4,9433 B or 0.00% of the total volume of all cryptocurrencies. The course was varied in the range from $2,3235 to $2,8443 in the last 7 days.
At the moment EOS is still below 89,87% from their peak values, amounting to $at 22.98, which was reached April 29, 2018..
Bitcoin is trading at $8.474,3, according to the index Investing.com fell by 15.09% during the day.
The Ethereum cryptocurrency was trading at $the 183.50, according to the index Investing.com this fall by 15.97%.
The market capitalization of Bitcoin is $158,5983 B or 0.00% of the total capitalization of cryptocurrencies, while the capitalization of cryptocurrency Ethereum is $20,7050 B or 0.00% of total market capitalization.
Natasha Kumar has been a reporter on the news desk since 2018. Before that she wrote about young adolescence and family dynamics for Styles and was the legal affairs correspondent for the Metro desk. Before joining The Times Hub, Natasha Kumar worked as a staff writer at the Village Voice and a freelancer for Newsday, The Wall Street Journal, GQ and Mirabella. To get in touch, contact me through my [email protected] 1-800-268-7116
Source: thetimeshub.in
Author: By Natasha Kumar
Bitcoin Might Benefit From A US-China Cold War
US President Donald Trump (L) sits with Japan's Prime Minister Shinzo Abe (C) and China's President … [+] Xi Jinping as they attend a meeting on the digital economy at the G20 Summit in Osaka on June 28, 2019. (Photo by Jacques Witt / POOL / AFP) (Photo credit should read JACQUES WITT/AFP/Getty Images)
Recently, an internal Chinese state report was released, prepared by a thinktank long associated with China's intelligence agency (the Ministry of State Security or MSS for short) which hinted at the possibility of conflict with the United States. It concluded that anti-Chinese sentiment was at its highest since the Tiananmen Square Massacre. Back then, international powers sanctioned China and the Chinese state was isolated. Since then, China has emerged and grown into the world's second largest economy.
A source with knowledge of the letter compared it to the Novikov telegram. Novikov was the Soviet ambassador to the United States during the immediate post-war period. In 1946, he dispatched a message to Soviet Foreign Minister Molotov warning of America's foreign policy, presaging the decades-long Cold War between the Soviet Union and the United States of America.
There are signs of a coming economic decoupling everywhere you look and a potential cold war. China is doubling down on censoring criticism of its handling of the COVID-19 pandemic. It has reportedly detained the maintainers of Terminus2049, an independent online repository that hosted censored news articles about the COVID-19 outbreak. Local authorities are now using the police to threaten the relatives of the victims of the COVID-19 pandemic in Wuhan who want to sue the government.
Meanwhile, tensions have risen as countries and organizations such as Sweden, the United States, the European Commission and Australia have asked for an independent investigation into the origins of the pandemic while China has pushed back.
How might Bitcoin and other cryptocurrencies fare in a US-China trade war that worsens? There are some notable downsides. It's possible that faced with a larger break in economic ties, China might impose stricter capital controls on its population and redouble efforts on its own central bank digital currency, trying to cut off China and its citizens from the broader cryptocurrency ecosystem.
It's also possible that Bitcoin will suffer short-term price decreases, since it has taken on more of a speculative position given institutional investor interest.
Yet, there are some surprising ways Bitcoin and cryptocurrencies might actually see an upside with a US-China cold war.
The first notable one is that it is likely existing fiat and capital gateways between the largest and second largest economies would become significantly disrupted. Already, in Hong Kong, credible fears have arisen that with the coming "economic storm", that the "One Country, Two Systems" framework that helped Hong Kong form a credible capital bridge between China and the rest of the world might be in the process of being abandoned.
China's economy still has a large export-driven component to it — though it has receded from a 2008 peak of about 36% of GDP, at 20% of GDP, exports still represent a significant chunk. Those businesses and exporters are not all suddenly going to be able to shift from the extra margins export gives them without significant economic pain. There will be a need for cross-border capital flows as existing capital bridges decay — something cryptocurrencies might play a role in. After all, cryptocurrencies trade at a premium on Asian exchanges, and has a slightly inverse correlation with the Chinese Yuan.
Secondly, as both parties start retrenching towards spheres of economic influence, with China likely gravitating towards Southeast Asia, Africa and Belt and Road countries and the United States trying to patch up relationships with its North American, South American and European counterparts, both spheres are going to suffer from less economic growth because they will not be able to take advantage of comparative advantage and free trade across the board.
This is likely going to be a deliberate choice when it comes to certain industries: for example, you might want to keep medical supplies and their manufacturing strictly within the bounds of your closest political sphere of influence.
Yet the effect of this in aggregate will be a likely global decrease in growth rate right as economies are struggling out of the gate thanks to the effect of COVID-19 lockdowns. The Great Depression was worsened and extended by the effect of tariffs and economic tension between different partners — as well as tightening monetary policy. It is a lesson writ large for those that manage the monetary system, one of the only analogues central bankers are going to find for the current situation and one they go to readily (Ben Bernanke, for example, was noted for calling upon his research into the Great Depression to guide choices he made in the 2008-2009 Great Recession).
What this will mean in the short-to-medium term and perhaps over a longer time horizon if economic growth doesn't pick up is that there is going to be loose monetary policy, which should have inflationary effects as the monetary base increases to try to stimulate growth. This will help support investment assets like cryptocurrencies for institutional investors — and help advance a very stark contrast between the deflationary economics of cryptocurrencies and inflationary policies of monetary authorities. Billionaire investor Paul Tudor Jones made this argument as he was loading up on Bitcoin, saying that the cryptocurrency reminded him "of the role gold played in the 1970s [as an inflationary hedge]."
Finally, as more and more business and services are forced to move online due to multiple lockdowns, the potential for digital means of exchange to power larger parts of the economy will remain quite large. With tension between China and the United States, a global standard for digital currency from a central bank will succumb to competition between two different standard-bearers who are quickly becoming fierce geopolitical rivals. This may help accelerate cryptocurrencies as consumers look towards a truly global cross-border payments system.
A potential worsening of the US-China trade war and subsequent cold war would have many unforeseen consequences. Yet, packed within the effects are both some downside risks for cryptocurrencies and Bitcoin — as well as some surprising and strong upside factors.
Source: www.forbes.com
Author: Roger Huang
Faucet crypto login
Source: frutaseladio.com
Infinito and Paxful Form Strategic Partnership for Safe, Feeless Access to Cryptocurrencies Globally

SINGAPORE, May 11, 2020 – (ACN Newswire) – Infinito, the leading multi-crypto wallet for users to easily start investing and earning more with digital assets, today announces its strategic partnership with Paxful, a peer-to-peer bitcoin (BTC) marketplace that aims to provide financial inclusion around the globe.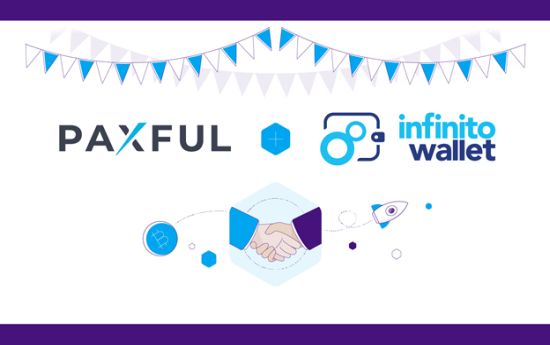 From now, users of Infinito Wallet can directly purchase Bitcoin at best prices from other crypto users around the world safely, without having to pay any transaction fees. This is made possible thanks to the seamless integration of Paxful's web-based Virtual Bitcoin Kiosk on the Infinito Wallet platform. From 11th May 2020, there is also a limited-time 3% rebate in ETH for all purchases made via Paxful service on the wallet.
The strategic integration between Infinito and Paxful unlocks convenient payment methods for Infinito Wallet users to buy Bitcoin (BTC) with 167+ fiat currencies including USD, VND, GBP, CNY, CAD, and more. The most in-demand payment methods supported by Paxful are bank transfer, gift cards, online wallets, domestic wire transfer, and many more.
To simplify and fully optimize the in-wallet crypto purchasing experience, buyers are instantly matched with sellers who are offering the best price on Paxful's platform based on the currency and payment method chosen. Purchased funds are seamlessly sent to the buyer's wallet address, removing the hassle of transferring funds between different platforms.
A Strategic Partnership to Penetrate New Regional Markets
Additionally, both Infinito and Paxful are looking to penetrate Vietnam, a highly potential market with a rapidly growing Bitcoin investor community of 6 million people and counting. The two platforms are reportedly working on a unique "crypto investment competition" type game that will allow newcomers to try their hands at crypto before investing in the real thing, while the user community at large can take part in fun trading competitions, with prizes, to discover the best crypto traders.
"We're extremely pleased to be Paxful's first-ever crypto wallet partner to enable Bitcoin ownership for even more people all over the world and penetrate the Vietnam market. This shared vision between Paxful and Infinito for a simple, fair, and secure economy for all empowered by cryptocurrencies has driven us to build a safe and accessible platform to purchase Bitcoin," shared Jack Nguyen, Director of Infinito. "We hope that our joint efforts will bring about greater accessibility to Bitcoin for the masses, especially for people still foreign to the concept of digital assets."
"As we continue our work in emerging markets, this unique partnership with Infinito aims to bring bitcoin to the masses and promote the usability of cryptocurrency," said Ray Youssef, CEO, and co-founder of Paxful. "Together, we enable people everywhere to directly purchase Bitcoin at the best prices without having to pay any transaction fees. We're excited to see how this will drive financial access and more opportunities for people worldwide."
Amidst the global financial crisis caused by the Covid-19 pandemic, BTC and cryptocurrency have been gaining great traction as more people ferret for different means to diversify their income streams. Bitcoin ownership globally is growing fast and both Infinito and Paxful have reported sharp increases in crypto purchasing volume on their respective platforms, especially from Vietnamese users.
In Q1 of 2020, Paxful saw over a 43% increase in new user signups in Vietnam compared to Q4 of 2019, with a massive 262% increase in trading volume. Vietnamese seller volume also grew by 69% while the volume of buyers rose by more than 115% on the platform, both with bank transfer as the leading payment method. Similarly, Infinito has reported a colossal 710% increase in buying amount from January to February 2020 for Vietnamese users alone and over 107% increase for global users.
About Infinito
Infinito Wallet is a secure multi-crypto wallet that lets users easily start investing and earning more with digital assets. It supports over 2,000 top-ranking coins and tokens as well as decentralized applications. Infinito Wallet is frequently ranked amongst the best wallets for crypto communities.
– Official website: https://www.infinitowallet.io/
– Telegram: https://t.me/infinitowallet
About Paxful
Paxful is a people-powered marketplace for money transfers with anyone, anywhere, at any time. Their mission is to empower the forgotten four billion unbanked and underbanked around the world to have control of their money using peer-to-peer transactions. The company, founded in 2015, has over 3 million customers globally who you can instantly buy and sell bitcoin with – using over 300 different payment methods. As part of their mission Paxful also launched #BuiltWithBitcoin, a social good initiative with the goal of building 100 schools funded entirely by bitcoin all across emerging markets.
– Official website: https://paxful.com/
Copyright 2020 ACN Newswire. All rights reserved. www.acnnewswire.com
Source: us.acrofan.com