NEW YORK >> Stocks closed mostly higher on Wednesday, helped by big technology stocks, but news of tighter restrictions in New York State helped dent an earlier rally. November 12, 2020 Latest News A pair of good news items is keeping Piedmont's stock rally going. iRobot: Investing In The Future Li Auto looks simply electric ahead of its third-quarter earnings. Dive into this EV name, and LI stock, with these six facts.
NEW YORK >> Stocks closed mostly higher on Wednesday, helped by big technology stocks, but news of tighter restrictions in New York State helped dent an earlier rally.
The S&P 500 closed up 27.13 points, or 0.8%, to 3,572.66. The benchmark index is now just 8 points below the record high it set in September. The technology-heavy Nasdaq composite rose 232.57 points, or 2%, to 11,786.43.
The Dow Jones Industrial Average fell 23.29 points, or 0.1%, to 29,397.63. The index was dragged lower in part by American Express and Walt Disney, two stocks that shot up this week after news of a potentially successful vaccine sent travel, entertainment and tourism companies surging. The Dow declined shortly after news crossed that New York would put restrictions on bars, restaurants and gyms as COVID-19 infections rose in the state.
Enthusiasm about the economy's possible return to normal has vaulted stocks higher this week following encouraging but incomplete data on a potential vaccine for COVID-19. That pushed investors to shift dollars out of the old winners of the stay-at-home, virus-wracked economy and into beaten-down stocks that have a brighter future if people feel comfortable again going outside their homes.
Big Tech stocks had borne the brunt of this week's dramatic reordering, but they clawed back some of those earlier losses. Microsoft rose 2.6%, erasing much of its loss for the week, for example. Amazon gained 3.4% to pare its weekly loss.
Elsewhere in the market, some of the massive rotation that swept through early this week also eased off the accelerator. The S&P 500 was nearly evenly split between stocks rising and falling, while energy and bank stocks gave back a bit of their huge gains from Monday and Tuesday.
Tourism and entertainment stocks fell sharply, following the drops in American Express and Walt Disney. Delta Air Lines fell 5.5% and Wynn Resorts dropped 5.1%.
While several significant risks remain for Wall Street broadly, the optimistic case that investors are embracing is that one or more coronavirus vaccines could help corral the virus by the second half of next year, encouraging people to return to life as it was before the pandemic.
All that economic activity would come on top of the tremendous aid that the Federal Reserve and other central banks around the world are pumping into the economy through very low interest rates and massive purchases of bonds. Hope also remains that the U.S. government may eventually deliver some form of support for the economy, though its total size would likely be smaller than if Democrats had swept this month's elections.
Strategists along Wall Street are raising their forecasts for stock prices on expectations that political control of Washington will remain split between the parties. Republicans look set to keep the Senate, as long as runoff elections go their way in Georgia in January, while Democrats will hold the House of Representatives.
Democrat Joe Biden has clinched enough electoral votes to win the White House, clearing some of the uncertainty that weighed on the market through the vicious campaign. Even though President Donald Trump has refused to concede, investors are ignoring his complaints so far. They're instead working on the assumption that a split Washington under Biden could keep tax rates low while offering more steady and predictable policies.
Those expected results helped push strategists at Goldman Sachs to raise their forecast for the S&P 500 at the end of this year to 3,700 from 3,600. That would imply another 4.4% climb from Tuesday's closing level. They expect it to rally another 16% through 2021. But the biggest driver for that is the hope for a return to normal life, rather than what happens in Washington.
Source: www.staradvertiser.com
Author: By Stan Choe and Ken Sweet Associated Press
Stock futures open slightly higher as traders eye virus spread – Investing Signal
Stock futures ticked higher Thursday evening after the three major averages slid earlier in the day, as a record jump in COVID-19 cases, renewed stimulus concerns and tempered vaccine hopes all came into play.
Contracts on the Dow added 40 points to steady in late trading, after the index dropped more than 300 points, or 1%, during the regular session. Still, the index remains on track to post a more than 2.5% gain for the week, if levels hold through Friday's close.
In the U.S., the coronavirus situation worsened yet again as new cases soared to a one-day record of more than 150,000 on Wednesday alone, according to data from Johns Hopkins and Bloomberg. The surging case counts have led a number of individual states and localities to impose new restrictions and curfew to try and rein in the spread. Chicago on Thursday issued a new 30-day advisory urging citizens to stay indoors and avoid large gatherings.
"The market is grappling right now with some short-term pressures versus some longer-term hopes," Jack Manley, global market strategist at JPMorgan Asset Management, told Yahoo Finance on Thursday. "We got that really good news earlier this week on the vaccine, and that means that the light at the end of the tunnel that we always knew was kind of there, I think, has a little more of a firm position than it had prior to that announcement."
"At the same time though, we do have this new case activity, we're going through that third wave, it's worse than the second one which was, in and of itself, worse than the first," he added. "It may mean some unwinding of some of the reopening activity, it may hurt fourth-quarter growth a little bit. It may hurt fourth quarter profits a little bit. But at the end of the day, I still think the vaccine is the big news, it's the big picture item, and while I think it may be tough over the next few months as we go through this next wave of the pandemic, I think investors should still be pretty optimistic about what the future holds."
Hopes dimmed further that lawmakers in Washington might come up with a stimulus deal before the end of the year to help offset some of the expected additional economic strain from the pandemic. The Trump administration has reportedly offloaded its role in leading stimulus negotiations to Congress, leaving Senate Majority Leader Mitch McConnell and House Speaker Nancy Pelosi to re-start discussions after an already months-long impasse.
Earnings results also flowed in after market close Thursday. Shares of Disney (DIS) rose 3.5% after the company reported a narrower loss than feared and a bigger jump in subscribers than expected for its one-year-old streaming service Disney+. And Cisco's stock (CSCO) jumped more than 6.5% after hours on the heels of quarterly earnings and guidance that topped estimates, as corporate spending on networking equipment picked back up. Palantir (PLTR) shares ticked higher after the company topped sales expectations in its first-ever quarterly report as a public company, though net losses surged as compensation costs increased.
—
Here were the main moves in markets, as of 6:02 p.m. ET Wednesday evening:
S&P 500 futures (ES=F): 3,538.5, up 6 points or 0.17%
Dow futures (YM=F): 29,043.00, up 51 points or 0.18%
Nasdaq futures (NQ=F): 11,857.00, up 37 points or 0.31%
© Provided by Yahoo! Finance A trader speaks on a phone outside the New York Stock Exchange (NYSE) following Election Day in Manhattan, New York City, U.S., November 4, 2020. REUTERS/Andrew Kelly TPX IMAGES OF THE DAY
—
Follow Yahoo Finance on Twitter, Facebook, Instagram, Flipboard, LinkedIn, and reddit.
Find live stock market quotes and the latest business and finance news
For tutorials and information on investing and trading stocks, check out Cashay
Continue Reading
Source: investingsignal.com
Author: Editor
Why Piedmont Lithium Stock Popped 17% Today
Shares of start-up Piedmont Lithium (NASDAQ:PLL) popped more than 17% in early trading Thursday before giving much of that back and retracing to a much more modest 7.5% gain as of 12:55 p.m. EST.
It's hard to say for certain what sparked today's share-price move at the lithium miner. On the one hand, Piedmont announced yesterday that it has begun "test work" on a spodumene concentrator pilot project. Piedmont will be aiming to transform 50 tons of mineralized pegmatite into spodumene concentrate containing at least 6% lithium oxide useful for the production of rechargeable batteries.
These samples can then be provided to Pidemont customer Tesla (NASDAQ:TSLA) for further testing, preparatory to the latter's agreement to begin buying in excess of 50,000 tons of spodumene concentrate annually from Piedmont beginning after July 2022.
Alternatively (or complementarily), Piedmont stock may be reacting to news about Tesla itself, reported yesterday by Electrek, to the effect that Tesla has roughly doubled its output at Gigafactory Shanghai to 23,000 cars produced in the month of October.
Image source: Getty Images.
On the one hand, Piedmont is making progress toward its goal of being ready to supply Tesla's lithium needs when the companies' supply agreement goes into effect a couple of years from now. On the other hand, Tesla's production rate is ramping up, so it will need more (and more) lithium from Piedmont to support its growing production.
Either way you look at it, the news today is good for Piedmont Lithium.
Source: www.fool.com
Author: Rich Smith
Early Stage Investing … on Steroids – Investors News
In his prime, few athletes dominated a sport like Wayne Gretzky dominated professional hockey.
© Provided by InvestorPlace Coupa Software Earnings: COUP Stock Unmoving After Q4 Beat
Gretzky is hockey's all-time leader in points, the sport's key production metric. But more incredible than Gretzky's point total is how far it is beyond the totals of other elite players — more than 49% higher than second place.
Outperforming other Hall of Fame players by such a large margin is unheard of in professional sports. The competition among world-class performers — all extremely talented, all batting for fame, respect, and money — is so intense that first place is typically just barely better than second and third place.
Standing just six feet tall and weighing 185 pounds, Gretzky wasn't a big player who bullied his way to success. He had phenomenal agility and coordination, but his greatest advantage was his mind. He was the athletic equivalent of a chess grandmaster. He saw the game and where it would progress like nobody else. Gretzky had a superhuman knack for being in the right place at the right time.
You've surely heard his most famous quote on strategy. It's been repeated thousands of times. The late great Steve Jobs loved and lived by it.
Gretzky said the secret to his success was skating to where the puck would be, not to where it was or to where it had been.
Let me translate this brilliant line of thinking and apply it to business and investing: If you want to get ahead or get rich, focus on what will happen, not what is happening right now.
That's the way to build true wealth …
Nobody can truly know the future.
But the most successful investors and entrepreneurs study their markets, spot potential opportunities, and place their bets on what they believe customers will want in the future. The rewards for careful study and outthinking the competition are extraordinary.
Looking around the corner and seeing where the puck will be — not where it is — can allow you to make huge capital gains as an early hypergrowth investor.
Getting to big opportunities ahead of the crowd can be lonely, sure. But it's where the big money is made.
Imagine investing in internet stocks in the early 1990s, for example.
You could have made more than 10,000% in internet plumbing company Cisco Systems (NASDAQ:CSCO) … and more than 9,000% in software maker Microsoft (NASDAQ:MSFT).
A 9,000% gain turns a $10,000 investment into $900,000.
This kind of monster investment return can set up you and your family for decades. It can allow you to buy vacations … cars … homes … and just about anything else you want.
Those kinds of investment gains are possible when you invest in businesses and technologies that change the world. The greater the change, the greater the gains.
The key is getting in early … and that's where most investors fall short.
I'll never knock a 100-fold return … or a 9,000% winner. Ever. That kind of gain is absolutely incredible.
Gains like these are the investing equivalent of skating to where the puck will be. Getting into early stage trends before the masses … and years before Wall Street has ever heard about them.
Those are the kind of investment themes we follow here in MoneyWire. The hypergrowth trends that will change our future … the way we live and work and play.
And we have been very successful. We've had multiple investments double, triple, and even more.
But I've uncovered a way to take our early stage investing one step further … it's like early stage investing on STEROIDS.
We've made those gains in publicly traded stocks. Imagine what we can do investing in companies before they're public.
That's the excitement and potential of private equity.
In 1968, the wealthy and connected investor Arthur Rock invested $10,000 in a little-known startup called Intel (NASDAQ:INTC). It was developing computer processors that would change the world.
Rock's small $10,000 stake grew to be worth more than $1 billion. That's a 10,000,000% return!
Or take WhatsApp, a free messaging application for smartphones. A $25,000 investment in its private seed round would've turned into $68 million. That's a 2,750-fold return.
What could you do with $68 million? How would that kind of money change your life?
Backing private businesses is the highest upside investment you can possibly make. It's going one step further than early stage investing — which reaps incredible rewards on its own.
It's more like investing in a company at inception.
Until recently, this world of private investing was off limits to the average investor. It was a secret. Only the richest and wealthiest could access it … and they just kept getting richer and richer.
Now it's our turn.
On Tuesday I held a special event that highlights the previously off-limits opportunity that's just opened up. I explain the kind of upside that's possible … and I tell you exactly how to get involved now.
If you missed it, I urge you to watch the replay now.
To take advantage of the opportunities ahead, I also launched a brand-new service called Private Deal Group. And I've already recommended three private companies that are set to generate incredible wealth for their earliest backers.
You can be one of those angel investors.
If you want to set yourself up for the kind of gains that mean you never have to work again, click here to learn more.
On the date of publication, Matthew McCall did not have (either directly or indirectly) any positions in the securities mentioned in this article.
Matthew McCall left Wall Street to actually help investors — by getting them into the world's biggest, most revolutionary trends BEFORE anyone else. Click here to see what Matt has up his sleeve now.
Source: investorsnews.net
Li Auto News: 6 Things for LI Stock Investors to Know
A trio of Chinese electric vehicle companies is revving up their engines, and they are ready to win! Nio (NYSE:NIO), Xpeng (NYSE:XPEV) and Li Auto (NASDAQ:LI) continue to race higher thanks to the booming market for electric cars and impressive growth in China. But what exactly has LI stock soaring more than 20% today?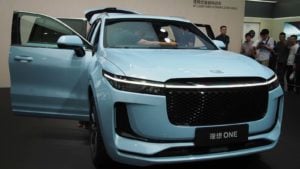 Importantly, it may appear at first glance that there is no real news surrounding Li Auto. Nio has been climbing higher after announcing new battery advancements, and Xpeng just reported estimate-beating earnings. But what about LI stock? Why are investors chasing it up so much on Thursday?
The easiest answer is that the company will report earnings Friday at 8:00 a.m. Eastern. After Nio and Xpeng made waves, investors are likely betting that Li Auto will similarly deliver. However, there is also a lot to like about the up-and-coming EV name.
Here are a few things investors should know about LI stock:
Ahead of its third-quarter 2020 earnings report, analysts are calling for a per-share loss of 8 cents on revenue of $290.87 million.
Earlier in November, Li Auto rose on a different catalyst. Like its Chinese EV peers, it reported impressive deliveries for the month of October.
What did the report look like? Well, it delivered 3,692 of its Li ONE model, which was up from 3,504 during September.
Although Li Auto is newer to the public markets than Nio, it is an exciting name to watch. After coming public in July 2020 its stock has increased 90%.
One of its areas of specialty is extended-range vehicles, which pair batteries with gasoline-powered range extenders. According to Li Auto, this helps boost the appeal of EVs while China builds out its battery charging network.
Another interesting distinction is that Li Auto focuses on young, convenience-minded consumers. It takes inspiration from Tesla (NASDAQ:TSLA) and even Star Wars.
If Li Auto meets or beats analyst expectations, it could send LI stock and its peers flying higher again. Also, look for any guidance on earnings, revenue or future vehicle deliveries to be a powerful catalyst.
So in other words, treat it how you would any other quarterly report. As you do this, you just have to know that Wall Street is seriously in love with LI stock and its electric vehicle peers. Why? The company has plans to eventually launch a catalog of SUV models, improve the BEV charging network in China and really take on Nio.
But even beyond that, the allure of electric vehicle companies is strong. Every investor just wants to find the next Tesla — or the next Nio.
On the date of publication, Sarah Smith did not have (either directly or indirectly) any positions in the securities mentioned in this article.
Sarah Smith is a Web Content Producer for InvestorPlace.com.
Source: investorplace.com
Author: By
Sarah Smith, InvestorPlace Web Content Producer