NOT FOR RELEASE, DISTRIBUTION OR PUBLICATION, DIRECTLY OR INDIRECTLY, IN OR INTO THE UNITED STATES, CANADA, JAPAN, AUSTRALIA, SOUTH AFRICA, NEW ZEALAND,… (Bloomberg) — Hertz Global Holdings Inc. warned prospective new stock investors they're all but certain to be wiped out as the car renter proceeds with an improbable share sale in the midst of its bankruptcy.Equity holders will not see a recovery from any bankruptcy plan unless those with more senior What looked last week like a blip in the global stock recovery turned into a sharp selloff Monday morning, as virus-case numbers from Beijing to Florida fueled concerns of a second wave of infections. This stock has dominated the headlines of late. Coronavirus may have sparked a global cleaning fetish that is boosting iRobot's business. The calls for racial equity and justice have reached the investing industry, responsible for wealth creation and accumulation. However, for racial equity investing to become the norm, experts say that we are still far from the tipping point.
multilang-release
NOT FOR RELEASE, DISTRIBUTION OR PUBLICATION, DIRECTLY OR INDIRECTLY, IN OR INTO THE UNITED STATES, CANADA, JAPAN, AUSTRALIA, SOUTH AFRICA, NEW ZEALAND, HONG KONG, SINGAPORE OR ANY OTHER JURISDICTION IN WHICH THE RELEASE, DISTRIBUTION OR PUBLICATION OF THIS PRESS RELEASE MAY BE UNLAWFUL, WOULD REQUIRE REGISTRATION OR ANY OTHER MEASURES
Press Release
Stockholm 15 June 2020
Sinch evaluates the conditions to carry out a directed new share issue
Stockholm, Sweden – Sinch AB (publ) – XSTO: SINCH
Sinch AB (publ) ("Sinch" or the "Company") has mandated Carnegie, Danske Bank and Handelsbanken Capital Markets (together, the "Joint Bookrunners") to evaluate the conditions for carrying out a directed issue of approximately SEK 700 million, through an accelerated book building process. The Company intends to mainly use the potential issue proceeds to increase the Company's financial flexibility for new acquisitions.
The Company has engaged the Joint Bookrunners to evaluate the conditions to carry out a directed new share issue of approximately SEK 700 million, directed to Swedish and international investors of institutional character through an accelerated book building process (the "Bookbuilding"). The subscription price and the total number of new shares in the new share issue will be determined through the Bookbuilding. The Bookbuilding will commence immediately after the announcement of this press release. The directed new share issue is contingent on a resolution, based on the authorization given by the annual general meeting on 15 May 2020, by the board of directors, which, alongside pricing and allocation is expected to occur prior to the beginning of trading on Nasdaq Stockholm at 09.00 CET on 16 June 2020. The board of directors may decide to extend or shorten the application period and can at any moment decide to terminate the Bookbuilding and thus refrain from carrying out the directed new share issue. The Company will announce the outcome of the new share issue in a subsequent press release after completion of the Bookbuilding.
The Company intends to mainly use the proceeds to increase the Company's financial flexibility for new acquisitions. Today, the Company announced the acquisition of ACL Mobile Limited, a leading provider of cloud communications services in India and Southeast Asia for a total cash consideration of SEK 655 million. Moreover, Sinch is continuously evaluating potential acquisitions. The increased financial flexibility that a potential share issue would entail would strengthen the Company's position as a relevant and competitive buyer.
With the new share issue, the board of directors intends to deviate from the shareholders' preferential right to secure the most time- and cost-effective capital raising possible, with the purpose of financing further value creating acquisitions and to broaden the Company's shareholder base. By establishing the subscription price in the new issue through the Bookbuilding, it is the board of directors' assessment that the subscription price will be on a market level.
In connection with the new share issue, the Company has entered into a lock-up undertaking, with customary exceptions, regarding future share issues for a period of 90 calendar days as from today. In addition, Cantaloupe AB, Neqst D1 AB and Salvis Investment Limited, who currently hold approximately 32 percent of the shares in the Company have undertaken, with customary exceptions, not to sell any shares in the Company for a period of 90 calendar days as from today.
Advisers
In conjunction with the directed new share issue, the Company has engaged Carnegie, Danske Bank and Handelsbanken Capital Markets as Joint Bookrunners. Gernandt & Danielsson is legal advisor to the Company. Baker McKenzie is legal advisor to the Joint Bookrunners.
For further information, please contact
Thomas Heath
Chief Strategy Officer and Head of Investor Relations
Sinch AB (publ)
Mobile: +46-722-45 50 55
E-mail: thomas.heath@sinch.com
About Sinch
Sinch brings businesses and people closer with tools enabling personal engagement. Its leading cloud communications platform lets businesses reach every mobile phone on the planet, in seconds or less, through mobile messaging, voice and video. Sinch is a trusted software provider to mobile operators, and its platform powers business-critical communications for many of the world's largest companies. Sinch has been profitable and fast-growing since its foundation in 2008. It is headquartered in Stockholm, Sweden, and has local presence in more than 30 countries. Shares are traded at NASDAQ Stockholm: XSTO:SINCH. Visit us at sinch.com.
This information is information that Sinch AB (publ) is obliged to make public pursuant to the EU Market Abuse Regulation. The information was submitted for publication, through the agency of the above mentioned contact person, at 17.31 CET on 15 June 2020.
Important information
This press release is not and does not form a part of any offer for sale of securities. Copies of this communication may not be made in, and may not be distributed or sent into, the United States, Australia, Canada, Japan, South Africa, New Zealand, Hong Kong, Singapore or any other jurisdiction in which distribution of this press release would be unlawful or would require registration or other measures. The distribution of this announcement in other jurisdictions may be restricted by law and persons into whose possession this announcement comes should inform themselves about, and observe, any such restrictions.
The securities referred to in this announcement have not been and will not be registered under the U.S. Securities Act of 1933, as amended (the "Securities Act"), or under the securities laws of any state or other jurisdiction of the United States and, accordingly, may not be offered or sold in the United States except pursuant to an exemption from, or in a transaction not subject to, the registration requirements of the Securities Act and in compliance with applicable state securities law. The Company does not intend to register any part of the directed new share issue in the United States or to conduct a public offering of shares in the United States.
The securities referred to herein have not been and will not be registered under the applicable securities laws of Canada, Japan, Australia, South Africa, New Zealand, Hong Kong or Singapore and, subject to certain exemptions, may not be offered or sold in or into or for the account or benefit of any person having a registered address in, or located or resident in, Canada, Japan, Australia, South Africa, New Zealand, Hong Kong or Singapore. There will be no public offering of the securities described herein in Canada, Japan, Australia, South Africa, New Zealand, Hong Kong or Singapore.
This press release is not a prospectus for purposes of Prospectus Regulation (EU) 2017/1129 of the European Parliament and of the Council of 14 June 2017 and its delegated and implemented regulations (the "Prospectus Regulation") and has not been approved by any regulatory authority in any jurisdiction. The Company has not authorized any offer to the public of securities in any EEA Member State and no prospectus has been or will be prepared in connection with the directed new share issue. In any EEA Member State, this communication is only addressed to and is only directed at qualified investors in that Member State within the meaning of the Prospectus Regulation.
In the United Kingdom, this document and any other materials in relation to the securities described herein is only being distributed to, and is only directed at, and any investment or investment activity to which this document relates is available only to, and will be engaged in only with, "qualified investors" who are (i) persons having professional experience in matters relating to investments who fall within the definition of "investment professionals" in Article 19(5) of the Financial Services and Markets Act 2000 (Financial Promotion) Order 2005 (the "Order"); or (ii) high net worth entities falling within Article 49(2)(a) to (d) of the Order (all such persons together being referred to as "relevant persons"). In the United Kingdom, any investment or investment activity to which this communication relates is available only to, and will be engaged in only with, relevant persons. Persons who are not relevant persons should not take any action on the basis of this press release and should not act or rely on it.
Any investment decision in connection with the directed new share issue must be made on the basis of all publicly available information relating to the Company and the issued shares. The information contained in this announcement is for background purposes only and does not purport to be full or complete. No reliance may be placed for any purpose on the information contained in this announcement or its accuracy or completeness. This announcement does not purport to identify or suggest the risks (direct or indirect) which may be associated with an investment in the Company or the new shares.
None of the Company, the Joint Bookrunners or any of their respective affiliates directors, officers, employees, agents, affiliates or advisers is under any obligation to update, complete, revise or keep current the information contained in this press release to which it relates or to provide the recipient of with access to any additional information that may arise in connection with it.
Forward-looking statements
This press release contains forward-looking statements that reflect the Company's intentions, beliefs, or current expectations about and targets for the Company's future results of operations, financial condition, liquidity, performance, prospects, anticipated growth, strategies and opportunities and the markets in which the Company operates. Forward-looking statements are statements that are not historical facts and may be identified by words such as "believe", "expect", "anticipate", "intend", "may", "plan", "estimate", "will", "should", "could", "aim" or "might", or, in each case, their negative, or similar expressions. The forward-looking statements in this press release are based upon various assumptions, many of which are based, in turn, upon further assumptions. Although the Company believes that the expectations reflected in these forward-looking statements are reasonable, it can give no assurances that they will materialize or prove to be correct. Because these statements are based on assumptions or estimates and are subject to risks and uncertainties, the actual results or outcome could differ materially from those set out in the forward-looking statements as a result of many factors. Such risks, uncertainties, contingencies and other important factors could cause actual events to differ materially from the expectations expressed or implied in this release by such forward-looking statements. The Company does not guarantee that the assumptions underlying the forward-looking statements in this press release are free from errors and readers of this press release should not place undue reliance on the forward-looking statements in this press release. The information, opinions and forward-looking statements that are expressly or implicitly contained herein speak only as of its date and are subject to change without notice. Neither the Company nor anyone else undertake to review, update, confirm or to release publicly any revisions to any forward-looking statements to reflect events that occur or circumstances that arise in relation to the content of this press release, unless it is not required by law or Nasdaq First North Growth Market rule book for issuers.
Information to distributors
Solely for the purposes of the product governance requirements contained within: (a) EU Directive 2014/65/EU on markets in financial instruments, as amended ("MiFID II"); (b) Articles 9 and 10 of Commission Delegated Directive (EU) 2017/593 supplementing MiFID II; and (c) local implementing measures (together, the "MiFID II Product Governance Requirements"), and disclaiming all and any liability, whether arising in tort, contract or otherwise, which any "manufacturer" (for the purposes of the MiFID II Product Governance Requirements) may otherwise have with respect thereto, the shares in Sinch have been subject to a product approval process, which has determined that such shares are: (i) compatible with an end target market of retail investors and investors who meet the criteria of professional clients and eligible counterparties, each as defined in MiFID II; and (ii) eligible for distribution through all distribution channels as are permitted by MiFID II (the "Target Market Assessment"). Notwithstanding the Target Market Assessment, Distributors should note that: the price of the shares in Sinch may decline and investors could lose all or part of their investment; the shares in Sinch offer no guaranteed income and no capital protection; and an investment in the shares in Sinch is compatible only with investors who do not need a guaranteed income or capital protection, who (either alone or in conjunction with an appropriate financial or other adviser) are capable of evaluating the merits and risks of such an investment and who have sufficient resources to be able to bear any losses that may result therefrom. The Target Market Assessment is without prejudice to the requirements of any contractual, legal or regulatory selling restrictions in relation to the directed new share issue. Furthermore, it is noted that, notwithstanding the Target Market Assessment, the Joint Bookrunners will only procure investors who meet the criteria of professional clients and eligible counterparties.
For the avoidance of doubt, the Target Market Assessment does not constitute: (a) an assessment of suitability or appropriateness for the purposes of MiFID II; or (b) a recommendation to any investor or group of investors to invest in, or purchase, or take any other action whatsoever with respect to the shares in Sinch.
Each distributor is responsible for undertaking its own target market assessment in respect of the shares in Sinch and determining appropriate distribution channels.
Every care has been taken into consideration when translating this press release into English. In the event of differences between the English version and the Swedish original, the Swedish version shall apply.
Formats available:
Source: www.globenewswire.com
Author: Sinch AB
Hertz Warns Stock Buyers Will Need Miracle to Avoid Wipeout
(Bloomberg) — Hertz Global Holdings Inc. warned prospective new stock investors they're all but certain to be wiped out as the car renter proceeds with an improbable share sale in the midst of its bankruptcy.
Equity holders will not see a recovery from any bankruptcy plan unless those with more senior claims, including bondholders, are paid in full, Hertz said as it offered as much as $500 million of common stock. That would require "a significant and rapid and currently unanticipated improvement in business conditions," the company said.
Hertz shares plunged as much as 37% on Monday, though the stock is still well above where it initially traded after the company filed for Chapter 11. A bankruptcy court judge signed off on the equity sale last week after the company pledged to alert buyers about the potential they could be wiped out.
Jefferies LLC, which is leading the share offering, will get as much as 3% of gross proceeds and as much as $200,000 for its lawyers, according to the filing. A lawyer for Hertz acknowledged during last week's court hearing that the move to sell stock while in bankruptcy probably is unprecedented.
Hertz previously said in a court filing that a share sale could raise as much as $1 billion in cash. But that was based on the almost tenfold increase in its stock from 56 cents on May 26 to $5.53 on June 8. The shares changed hands for as little as $1.77 on Monday.
The offering is proceeding even as the New York Stock Exchange has started the process of delisting the stock. Hertz has appealed but acknowledges in the prospectus for its offering that a delisting still a risk.
In the filing, Hertz said it does not anticipate making lease payments on its rental cars for May or June, but will be required to start paying in full beginning in July unless the court decides otherwise. The company's inability to work out a deal with the owners of its vehicles for leniency in April and May pushed it into bankruptcy.
Hertz also has plenty of other bills to pay. The company estimates in its initial monthly operating report filed with the court that it plans to spend $1.28 billion over the 12 weeks ending Aug. 21.
Hertz has a lot of debt to repay before equity holders will see any money. Its bonds alone are about $2.3 billion underwater, and that amount doesn't even include what is owed to the banks and any lease payments, interest or depreciation that the courts could make the company return to owners of securities backed by its rental cars.
The used-vehicle market also makes the company's job of satisfying creditors tougher. Vehicle prices have recovered in the past month but are still down from last year. Hertz has been selling cars at deep discounts to shrink its fleet to better match depressed levels of demand and to raise cash.
Hertz's vehicles are being sold online for an average for $1,389 below market value for used cars with comparable equipment and miles, a 43% bigger discount than what its vehicles sold for in April, according to a study by iSeeCars.com, which helps consumers find deals on used autos.
(Updates share move in the third paragraph. An earlier version of this story corrected the website in the last paragraph.)
For more articles like this, please visit us at bloomberg.com
Subscribe now to stay ahead with the most trusted business news source.
©2020 Bloomberg L.P.
Source: finance.yahoo.com
Author: David Welch and Crystal Kim
Stocks' Storm Builds With a V-Shaped Recovery Looking Doubtful
What looked last week like a blip in the global stock recovery turned into a sharp selloff Monday morning, as virus-case numbers from Beijing to Florida fueled concerns of a second wave of infections.
Futures on the S&P 500 tumbled as much as 3.3%. The Stoxx Europe 600 index was down as much as 2.6% in early trading in London. And Asian stocks lost about 2.4%, on track for the worst day since March 23.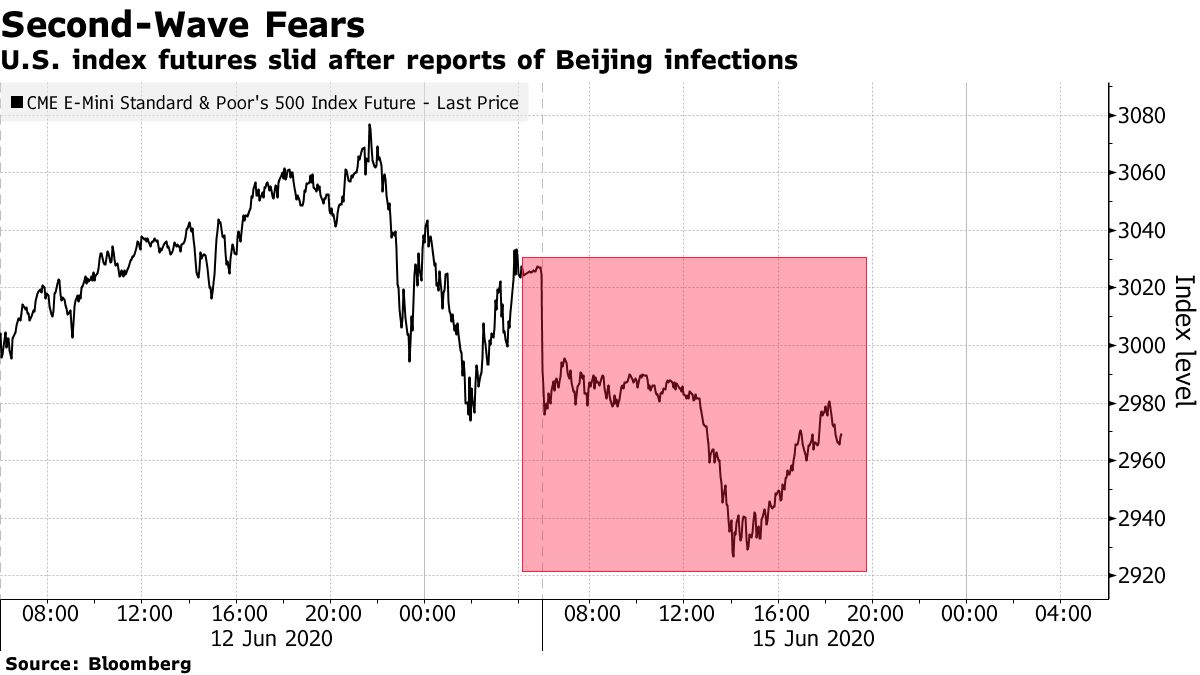 China is facing the biggest test of its containment strategy after a spike in cases linked to a vegetable market in the capital. Tokyo, which recently lifted its alert, on Sunday saw a resurgence in cases. Along with the threat of fresh, if localized, lockdowns looms the question of whether policy makers have much stimulus ammunition left in the wake of massive easing earlier this year.
"People are correcting the optimistic view they held," said Mamoru Shimode, chief strategist at Resona Asset Management in Tokyo. "A V-shaped recovery wasn't possible in the first place, but people had been quick to buy stocks on optimism."
Second Wave Tests Near-Consensus on 'Buy the Dip': Taking Stock
Risk sentiment got no help from Chinese economic data Monday that showed the world's second-largest economy had a smaller rebound in May than economists had expected. Retail sales continuing to drop and industrial output rising less than forecast.
Here's a selection of comments on the state of markets from analysts and investors:
"It is reports of new virus cases that suggest caution is appropriate right now," Patrick Bennett, a strategist at Canadian Imperial Bank of Commerce in Hong Kong, wrote in a note to clients on Monday. "We often say China is an easy touchpoint for markets, whether that be for good or bad news. In the present situation and in wake of a sharp risk-off move in equity markets last week," if scrutiny on China is rekindled, markets will continue to trade with an overall negative tone, he added.
The question is whether "Monday's correction has more legs to it," Sebastien Galy, senior macro strategist at Nordea Investment Funds wrote in a note to clients Monday. So-called value-at-risk gauges, along with the Vix measure of volatility in U.S. stocks "have moved significantly higher, forcing risk reductions across the board." Lags until execution of those trades means "pressure on markets may last 'till Thursday," he said.
"Such dislocations are often an opportunity," Galy said. "We remain constructive on our equity outlook, though it might take a week for markets to calm down."
Takeo Kamai, head of execution services at CLSA Securities Japan:
The "selloff may have been triggered by CTAs selling U.S. futures," he said, referring to Commodity Trading Advisors. It "tells you how fragile the market rally was. But as for today, investors may seem to have their focus on the possible second-wave information out from Beijing and Tokyo."
Amy Wu Silverman, strategist at RBC Capital Markets, in a note Saturday:
"After a steady climb since late March, last week's move was a wake-up call for retail and institutional investors alike," she said of the slide in stocks that featured a near 6% drop on Wall Street Thursday. "Veteran investors have experienced bumpy markets before. How will the newly minted Covid at-home day traders react to the first major hiccup since the late March bottom?"
Silverman said the "Robinhood effect" — the impact of trading by novice investors over the Robinhood Financial platform — "has been fascinating and a bit frightening to watch." She recommended put options on names popular on Robinhood.
Khiem Do, head of greater China investments at Barings in Hong Kong:
"In terms of the impact of these second waves on the global economy and financial markets, while certain geographical areas are likely to be affected, the overall and dominating trend in the coming few months is that the global economic re-opening will continue." Do pointed to experience that officials have gained in battling the coronavirus for months now.
"Long-term investors should use weak correction periods as an opportunity to add to quality growth-sensitive assets."
"We feel it is more buy on dip because the Fed is still accommodative," said Kerry Goh, chief investment officer at Kamet Capital Partners Pte. in Singapore. "We are less focused on regional allocation and instead on the sectoral winners and losers. Here, the tech and healthcare sectors are resilient. We took some profit off the table last week, that's why we are less worried."
— With assistance by Joanna Ossinger, Eric Lam, Heejin Kim, Blaise Robinson, and Ishika Mookerjee
(Adds another comment)
Source: www.bloomberg.com
Author: By
Abhishek Vishnoi
,
Shoko Oda
, and
Gregor Stuart Hunter
Why Is Everyone Talking About Gilead Sciences Stock?
Since the start of the coronavirus pandemic and the race to find a vaccine or treatment for the disease began, a few stocks have consistently made it to the top of the news cycle. Gilead Sciences (NASDAQ:GILD) is one of them. While the broader stock market took a nosedive in March as the coronavirus swept across the globe, Gilead Sciences was one of the very few pharmaceutical companies that remained resistant to the recession.
In fact, Gilead shares rose while other stocks dropped in the bear market plunge. Currently, Gilead stock is priced right around 15% below its 52-week high and 20% above its 52-week low. The company reported excellent first-quarter earnings results at the end of April, with gross revenue up by 5% on a year-over-year basis. Domestic and global sales also received a boost in the first quarter of 2020, with U.S. sales totaling almost $4 billion and sales in other markets reaching $1.4 billion.
As impressive as Gilead's performance has been amid a struggling global economy, this isn't the only reason everyone's been talking about this stock.
Image Source: Getty Images
Gilead first launched studies of its antiviral drug remdesivir as a potential treatment for patients infected with the novel coronavirus on Feb. 26. The U.S. Food and Drug Administration (FDA) had just accepted the company's investigational drug filing to use remdesivir as a coronavirus treatment. At the time, the company stated it was launching two phase 3 open-label human trials, mainly focusing on patients in Asian countries and other locations where the rate of infection was high. To date, studies have been conducted at over 180 trial sites globally.
On April 10, the first wave of data on the efficacy of remdesivir from a cohort analysis of 53 critically ill coronavirus patients was released and published in the New England Journal of Medicine. Gilead's April 10 press release noted the following findings:
Nearly two-thirds of patients … were on mechanical ventilation at baseline. … Treatment with remdesivir resulted in an improvement in oxygen support class for 68 percent of patients … over a median follow-up of 18 days from the first dose of remdesivir. More than half of patients on mechanical ventilation were extubated … and nearly half of all patients … were discharged from the hospital following treatment with remdesivir.
On April 29, the first concrete findings from two studies on remdesivir came through. One set of findings was from a placebo-controlled study run by the National Institute of Allergy and Infectious Diseases, while the other was data from one of Gilead's phase 3 human trials of the drug studying critically ill patients who had been hospitalized with COVID-19. The findings from both studies were positive, with the data from Gilead's in-house study revealing that severely ill coronavirus patients who had taken remdesivir in a five-day dosage period made similar strides toward recovery as patients administered the drug over a 10-day treatment course.
Shortly after the release of this encouraging data, Gilead announced on May 1 that the FDA had issued an emergency use authorization (EUA) for remdesivir. The EUA means that hospitals across the country have FDA authorization to use remdesivir to treat individuals severely ill with COVID-19 on either the five or 10-day dosage duration, depending on the patient's condition. Gilead noted that the U.S. government would be overseeing the distribution of the drug to hospitals in cities with the highest infection rates, and that "…hospitals with intensive care units and other hospitals that the government deems most in need will receive priority in the distribution of remdesivir."
On June 1, the much-awaited results of Gilead's second phase 3 human study, this one of moderately ill coronavirus patients, were released. The trial dosed participants with moderate cases of COVID-19 on five and 10-day regimens of remdesivir, in co-occurrence with the standard of care treatment. A third group received the standard of care only. Both the five and 10-day dosage regimens produced positive outcomes for moderately ill coronavirus patients. However, the most notable improvements were recorded in moderately ill COVID-19 patients who took remdesivir for five days, as they "…were 65 percent more likely to have clinical improvement at Day 11 compared with those in the standard of care group."
Gilead has pledged to donate about 1.5 million doses of remdesivir to ongoing clinical trials and through its expanded access and compassionate use programs. Japan approved the use of the drug on May 7 and is the first country to do so. Elsewhere, remdesivir is still being used as an investigational drug. Singapore just granted conditional approval of remdesivir.
Another bit of news that captured investor attention last week was Bloomberg's report that multinational pharmaceutical and biopharmaceutical company AstraZeneca (NYSE:AZN) was in talks with Gilead about a prospective merger. Given Gilead's current market valuation just under $100 billion, and AstraZeneca's astonishing $140 billion valuation, it's no surprise that investors were champing at the bit at the prospect of what would be the largest ever pharma merger.
The hype was short-lived, it would seem, as The Times reported on June 8 that the idea of a potential merger had effectively been scrapped. One possible reason for this rapid shift is the fact that AstraZeneca is working on its own manufacturing deals in the race to get a COVID-19 vaccine in the hands of the public, one of which is in partnership with the University of Oxford. While it's highly possible that Gilead could be eyeing potential merger opportunities for down the line, the company's strong product portfolio and core valuation make this stock one to watch regardless.
I previously maintained that Gilead Sciences stock is not one for risk-averse investors, the chief reason for this being that the hype surrounding remdesivir may be overinflating shares. Of course, investing with a long-term mindset is about striking that intricate balance of risk vs. reward.
There's also been measured skepticism about the long-term effect that remdesivir could have on Gilead's top and bottom line since the company has essentially been giving the drug away free of charge. While the company's future pricing of the drug remains unknown, some analysts are starting to predict blockbuster success for remdesivir.
In early June, SVB Leerink analyst Geoffrey Porges changed his previously modest assessment of the drug's future profit potential, stating that he projects remdesivir sales could hit $7.7 billion by the year 2022. Porges stated that remdesivir could cost approximately $5,000 per course in the U.S. market and $4,000 per course in Europe. We should know more about Gilead's pricing structure for the drug in the coming months. One thing's for sure, though. If sales of remdesivir get anywhere close to Porges' valuation, investors could be sitting on a veritable gold mine.
Source: www.fool.com
Author: Rachel Warren
Why iRobot Stock Just Popped 14.5%
Shares of Roomba maker iRobot (NASDAQ:IRBT) raced out of their charging station this morning and are up 14.5% as of 11:55 a.m. EDT after the company released a "business update" describing the "substantially stronger-than-expected quarterly revenue" it collected in Q2 2020. It seems that in a time of quarantine and stay-at-home orders, iRobot has booked "stronger-than-expected orders … as consumers worldwide are increasingly relying on Roomba robot vacuums and Braava robot mops to address their home floor care needs," which is plumping out the top line nicely.
Image source: Getty Images.
iRobot's Q2 report, covering the period through the end of June, isn't due out till late next month. But already management is feeling optimistic that it will be kind of a blowout. And honestly, beating expectations shouldn't be too hard. Analysts who cover the company are forecasting a 30% sales decline at iRobot, with revenue of less than $183 million translating into a per-share loss of $0.71.
iRobot, however, says investors can expect sales ranging from $260 million to $270 million — on par with or even better than what iRobot booked a year ago, before coronavirus came on the scene. Gross margins on these revenues are expected to be "better-than-planned," resulting in "a return to operating profitability for the quarter."
This appears to be more than just a "Roomba story," too, in which homebound customers who can no longer rely on their weekly housekeeping service buy a few Roombas to do some light sweeping until things get back to normal.
As iRobot CEO Colin Angle noted, "maintaining a clean home has become a higher priority for many consumers as COVID-19 has forced people to spend more time in their homes." That word — "priority" — suggests to me that customers may be employing something closer to iRobot's whole line of cleaning robots, not just vacuuming Roombas but cleaner-dispensing Braava floor-mopping robots as well. And in that case, iRobot may not just maintain sales as a result of coronavirus, but grow them this year as well.
We still have to wait for July to find out what that means for iRobot's bottom line, but for now the news sounds pretty good.
Source: www.fool.com
Author: Rich Smith
Have We Reached The Tipping Point In Racial Equity Investing?
In the past few weeks, racial equity and justice have been the central rallying cry, across the world. This has prompted many individuals and institutions to speak out against racial injustice, not least in the investing industry. On June 10, Confluence Philanthropy, a membership network of foundations and impact investors, launched a pledge for racial equity. The pledge is a commitment to "discussing racial equity at our next investment committee meeting." As of June 13, 67 institutions have signed up, representing $533.96 billion in assets under management.
MANHATTAN, NY – JUNE 02: A massive group of protesters sit on the ground at Foley Square in a show … [+] of peaceful protest while they listen to a speaker. (Photo by Ira L. Black/Corbis via Getty Images)
The change has been long time coming, after decades of influencing and activism, but is it enough? "I was part of the conference and really urged Confluence to have the pledge be about adding racial equity to the Investment Policy Statement (IPS). Instead they decided the ask would be to have a conversation. I am happy to see them doing something and yet it didn't feel like enough during these times," says Kristin Hull, PhD of Nia Impact Capital, an impact investing firm actively advocating for racial and gender lens investing.
There is a sense of investors not going far enough. Citigroup is one of the largest financial institutions with close to $2 trillion of assets. Their Chief Financial Officer, Mark Mason, published a statement titled, "I can't breathe," shortly after the killing of George Floyd. He announced donations to "three organizations fighting injustice and inequality," and while he highlights issues of racism in the wider American society, he stopped short of discussing them in the context of the investment industry.
NAACP Legal Defense and Educational Fund (LDF) is one of the recipients of the donations pledged by … [+] Citi Group's CFO. President and Director-Counsel of LDF Sherrilyn Ifill spoke onstage during their 32nd National Equal Justice Awards Dinner in 2018. (Photo by Johnny Nunez/Getty Images for NAACP LDF)
Gillian Marcelle, PhD, an impact investing professional and racial justice advocate says: "We need to see an acknowledgement of the characteristics of inequity and inertia that are built into the system and a willingness to undertake serious change. This will involve giving up power, as well as transparency about who is making decisions at the end of the day."
The importance of the investment industry in redressing racial inequalities cannot be understated. According to Brookings Institution, the net worth of a typical white family is nearly ten times greater than that of a Black family ($17,150) in 2016. The racial wealth disparity has most likely sharpened during Covid-19 pandemic. The investment industry, responsible for wealth creation and accumulation in societies, needs to be an integral part of the solution.
But to be an integral part of the solution, the investment industry may need to ask some very hard and existential questions. "There is unease among white investors to talk about racial justice, and yet more than that, there is lack of awareness that the investment industry is a huge part of the problem," says Hull, who grew up white in Oakland, California. She spent a large part of her career as an elementary school teacher specifically working to address racial equity issues, and wrote her PhD dissertation on race and language and issues of equity. "I bring all of that experience into how I look at capital markets. Shortly after I became an impact investor, I realised that it was essential to incorporate a racial and gender lens."
For Marcelle, she believes that in order for racial equity investing to take root in the investment industry, it needs to recognize and reconcile with its roots in white supremacy. "Investors individually do not have to understand women or Black people or the majority world because they are doing extremely well in late stage capitalism without doing that work. There is little perceived incentive for change, as investors have accumulated lots of wealth at the expense of others and the planet. Then at particular points there are ruptures in that system and even if they pause—there is a mistaken belief that those in power know everything. That's how white supremacy works, in essence it's a belief in white superiority, and this is not pierced," she says.
A scene from New York Stock Exchange in 2019 – traders and financial professionals are mainly white … [+] men. (Photo by Drew Angerer/Getty Images)
The fact that the investment industry has sustained racial injustices is not new. Looking back at the financial crisis of 2008, there have been multiple studies showing how black homeowners were disproportionately affected by the foreclosure crisis. However, that did not prompt a widespread discussion around racial justice in the investment industry, though there is more attention now.
The Black Lives Matter movement has sparked systemic criminal justice reforms, and it has exerted increasing pressure on the investment industry to change too, though we are still far from the tipping point.
This is the first article in the series, racial justice in philanthropy and investing, following the previous article on racial justice and impact investing.
Source: www.forbes.com
Author: Bonnie Chiu