News site SalmonBusiness claims aquatech firm Bluegrove has used non-existent strategic partnerships with Microsoft, among others, to inflate its valuation Ideanomics (IDEX) stock got a boost today following news that it's made an investment in electric vehicle (EV) company Solectrac. Sequential Brands (SQBG) is seeing a massive increase in its stock on Thursday following news of a collaboration with Reebok. Shares rose as economic data showed an improving economy and investors monitored negotiations in Washington over a fresh stimulus bill that could further support the recovery. Finalsite, a premier global education technology provider, today announced that HarbourVest Partners, a global private markets asset manager, has acqu
Norwegian aquatech startup Bluegrove — the parent group of several young firms led by consolidator CageEye — has used non-existent strategic partnerships with big-name companies including Microsoft to inflate its valuation as it pursues its series B fundraise, claims Salmon Business (SB).
Bluegrove, however, has refuted any wrongdoing and called into question the motivations of anonymous sources, from whom it insinuates SB received its information.
"Hydroacoustics" and aquaculture behavior analysis company CageEye has been acquiring other firms in its sector; farming equipment firm NorseAqua in 2019, and then subsea camera company Sealab in August 2020, bought from parent Sealab Ocean Group (SOG). NorseAqua, Sealab and CageEye are all grouped under Bluegrove, which is led by CEO Bendik Sovegjarto — who is also CageEye CEO.
However, early in September, Sealab founder Milan Markovic told Norwegian newspaper Finansavisen he believed he had been the victim of a hostile takeover, claiming "we have been robbed of our company, and we have been paid with monopoly money".
Markovic claimed that the deal between the firms valued Bluegrove at €190 million, and Sealab at €10m. This resulted in the Markovic family being paid for the firm they founded with a 2-3% stake in Bluegrove.
He also claimed the deal was driven by an artificial insolvency situation created by former SOG general manager Morten Sjoner Syrstad, who Markovic said he would be suing. Syrstad told Undercurrent News on Oct. 20 that nothing had been filed, "nor do I believe it will be filed, as there is no basis for this".
Markovic did not respond to a request for comment from Undercurrent.
Sovegjarto did speak to Undercurrent and said this situation was not directly linked to Bluegrove. "We have no part of that, we've only been on the buyer's side, acquiring a company that the board of the parent [SOG] — as elected by the majority shareholders — wanted to sell."
"They accepted our agreement and valuation — indeed, it is not in our interest to exaggerate our valuation, because that would make it difficult to do deals such as this," he said. "We offered Sealab's employees and shareholders a better future, at a time when they appeared to be unable to realize the value to survive on their own, and this was attractive to most of the sellers, but not all. We managed to save valuable customer relations, while we are patient in market acceptance."
Bluegrove's valuation was carried out by "a third party", but the firm declined to go into detail on who this was or what calculation it was based on, as it is not publicly listed and information on valuations "relates only to those who want to buy and sell stocks".
"What I can say is that we are experiencing interest from third parties and potential investors," Sovegjarto told Undercurrent. "Our valuation is based on what they and our owners think we're worth, exactly like for any other privately owned company. We and the investors see huge potential over the coming years, we have concrete plans to realize it and we are working hard to reach the important milestones we have set up."
At a shareholder meeting on Aug. 26, shareholders of Sealab asked for financial information and the basis for Bluegrove's high valuation, said SB. In response, SB said the shareholders were given a document from Sovegjarto, which SB has seen.
In it, the Bluegrove CEO refers to a draft strategic partnership agreement with Microsoft, said SB, quoting:
"Microsoft sees us as their entry into aquaculture and has confirmed with a 'non-binding confirmation letter' that they will enter the B round with an investment of €6m on a valuation of €210m. They will also donate shares to our newly founded Foundation so they can tell the world about this."
German chemical multinational BASF too was mentioned in this document as being interested.
"Furthermore, we have also entered into a strategic partnership with BASF, the world's largest chemical company, which wants to cooperate with us on the investment in shrimp. We have together a signed MoU [memorandum of understanding], where both financing development costs, as well as an investment of €3-5m are included," Sovegjarto wrote, according to SB.
Bluegrove also reportedly teased further large, well-known potential investors that couldn't be mentioned yet.
The letter to shareholders apparently revealed Bluegrove would seek €39m for its series B, and that it was working on the fundraise with DNB and Danske Bank. These two financial services firms would "lead the next round of capital raising", SB quoted Sovegjarto as saying.
This document, SB alleges, contained false information on financial relationships with big companies that were not as concrete as made out. This has inflated the company's value and may have attracted investors, SB said.
Before going on, it is worth noting that Sovegjarto told Undercurrent his firm has not published the documents in question and is unsure of what is contained in what was leaked to SB.
"We can say we are confident in what we're doing with professional entities, and we are working steadily towards ambitious goals with trust from our owners."
DNB Markets' corporate finance director Per Even Hauge told SB that while some meetings had taken place, "about six months or a year ago", it was not engaged and it did not have any kind of mandate to act for Bluegrove.
Danske Bank did not respond to SB.
Moreover, Microsoft told SB it did not have "any kind of additional or elevated partner status" with Bluegrove, though it confirmed CageEye was one of its partners in Norway.
"There are many benefits to being part of the Microsoft Partner Network. However, those extended to CageEye/Bluegrove are consistent with those extended to all our other partners."
BASF, meanwhile, declined to comment on the MoU, stating it "cannot comment on market rumors".
Bluegrove told Undercurrent it was in a "14-month process discussing eight strategic tracks within global aquaculture" with Microsoft.
"We have had multiple trips to Redmond [the firm's Seattle headquarters] and Microsoft has participated with many global teams and thought leaders in the process. We are hopeful we will reach an agreement soon, as Microsoft is a natural partner to discuss digital transformation, IoT, analytics, and complex storage and connectivity solutions within agri- and aquatech."
MoUs are a long process, he said, "and we have no signed definitive agreements or financial investments in place".
"We are looking forward to finishing our talks and having our farmers benefit from the best solutions to optimize their production in a sustainable way."
On BASF, it said it couldn't confirm or deny any relationship.
As for relationships with DNB and Danske Bank, Sovegjarto told Undercurrent his firm had "never gone public with any announcements about doing something with them".
"We've had meetings with DNB, six months to a year ago. As COVID-19 hit and we stopped the process, we never got to the point where we signed the actual agreement."
On whether having these partnerships signed and in place was crucial to Bluegrove's €210m valuation, the company said:
"We can't confirm or comment on speculations and interpretations of parts of documents that are not released by us. We have professional owners and investors who expect to be given updated and correct information and forecasts about their investment. We provide them with the best information, estimates, and analysis we have at any given time. Information sharing is obviously between us and them. Any documents shared with shareholders or potential investors are and have been scrutinized and questioned through rigorous processes."
SB also asked global aquaculture investment fund Aqua-Spark — which invested in CageEye in 2018 and remains a shareholder — whether Bluegrove's use of alleged strategic partnerships with Microsoft and BASF, and a funding mandate with DNB, to pique investor interest and raise capital was an issue in its eyes.
"We believe the company's work and commitment speak for itself," said Amy Novogratz, co-founder of Aqua-Spark. "We know everything that we need to know about their relationships with third parties, and as investors, we are confident that no false statements have been made by the company."
Contact the author [email protected]
Source: www.undercurrentnews.com
Author: By Neil Ramsden
Oct. 23, 2020 09:53 BST
EV News: Ideanomics Stock Gets an 18% Jolt From E-Tractor Bet
Ideanomics (NASDAQ:IDEX) stock got a boost today following news that it's made an investment in electric vehicle (EV) company Solectrac.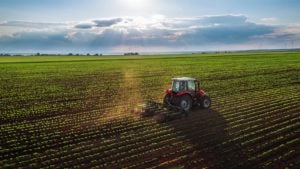 According to a news release, Ideanomics now holds a 15% stake in the EV company. The company notes that it spent $1.3 million to acquire its stake in the company. It also gains it a seat on the Solectrac Board of Directors.
It's worth noting that Solectrac isn't a typical EV company. Rather than making electric cars or trucks, it's work focuses on electric tractors. It has three models that target customers seeking tractors with less than 40HP.
Ideanomics notes that the current global tractor market is valued at $75 billion. By 2023, the North America tractor market is set to reach a value of $20 billion. The largest sector of this is tractors under 40HP, which matches Solectrac's current offerings.
Alf Poor, CEO of Ideanomics, said this about the EV news.
"We are very impressed with Steve and the Solectrac team and their deep knowledge of the agricultural sector. We have been interested in this industry for some time because we knew EVs could have an immediate impact without the need for extensive infrastructure. Solectrac is a pioneer in the electric tractor market and shares our motivation and passion for a cleaner tomorrow."
IDEX stock was up 18.2% as of noon Thursday and is up 25% since the start of the year.
On the date of publication, William White did not have (either directly or indirectly) any positions in the securities mentioned in this article.
Source: investorplace.com
Author: By
William White, InvestorPlace Writer
Sequential Brands News: SQBG Stock Skyrockets 98% on Reebok x Heely Collab
Sequential Brands (NASDAQ:SQBG) is seeing a massive increase in its stock on Thursday following news of a collaboration with Reebok.

According to a Sequential Brands news release, this team-up has the two companies releasing Reebok shoes that come equipped with Heely's. That means they can operate as normal sneakers, but can also switch to skates by leaning back on the heels.
The Reebok x Heely collaboration is available for purchase now. Customers can pick them up via Heely's website or from retailers around the world. The new shoes come out now so they will be available ahead of the holidays.
The Sequential Brands news release notes that the new crossover has Heely's offering shoes in 10 Rebook styles. The shoes will range in sizes 13 through eight for kids and nine through 13 for men. They start between $55 and $60 per pair.
Arta Isovski, senior vice president of Sequential Brands's Lifestyle Division, said the following about the news.
"We are so excited to be teaming up with a global, timeless brand like Reebok. Reebok was born from sport, and Heelys from adventure. Together we make a shoe that's ready to take on the world. We are especially proud to offer this collection in adult sizes, as many of our consumers grew up with both of these brands. Now they get to experience the merging of the two worlds to create one awesome collection."
SQBG stock was up 98.4% as of Thursday morning.
On the date of publication, William White did not have (either directly or indirectly) any positions in the securities mentioned in this article.
Article printed from InvestorPlace Media, https://investorplace.com/2020/10/sequential-brands-reebok-x-heely-news-boosts-sqbg-stock/.
©2020 InvestorPlace Media, LLC
Source: investorplace.com
Author: By
William White, InvestorPlace Writer
U.S. Stocks Close Higher as Investors Eye Stimulus Talks
U.S. stocks rose Thursday after economic data showed an improving economy and investors monitored negotiations in Washington over a fresh stimulus bill that could further support the recovery.
Investors have been laser-focused on the prospect of a new wave of U.S. fiscal stimulus, even as the prospects of a deal between House Democrats and Senate Republicans before the Nov. 3 presidential election remains unlikely.
"It's dominating the headlines, and markets are certainly still paying attention," said Andrew Hunter, senior U.S. economist at Capital Economics.
The S&P 500 rose 17.93 points, or 0.5%, to 3453.49. The Dow Jones Industrial Average climbed 152.84 points, or 0.5%, to 28363.66. The tech-heavy Nasdaq Composite rose 21.31 points, or 0.2%, to 11506.01.
Investors and analysts see a new injection of stimulus as key to reviving the U.S. economy, which is beginning to recover from its deep recession.
The number of Americans applying for unemployment benefits fell to 787,000 last week, according to data from the Labor Department, suggesting the number of layoffs are trending lower. And sales of previously owned homes in the U.S. rose to a new 14-year high in September, the National Association of Realtors said Thursday.
Still, with the effects of the last round of stimulus fading, some investors are preparing for the economy to plateau.
"As much as the data was good, I think we may see a little bit of a short-term sag in economic momentum in the fourth quarter," said Dave Donabedian, chief investment officer of CIBC Private Wealth Management.
Investors largely agree that more stimulus is coming at some point soon. "It would seem likely whoever wins that there'll be some form of fiscal stimulus in the next few months," said Tristan Hanson, multiasset fund manager at M&G Investments. "That seems to be the mood music."
Shares in beaten-down airlines, which could benefit from a stimulus package, rallied Thursday. Delta Air Lines rose $2.22, or 7%, to $33.72. Southwest Airlines added $2.09, or 5.2%, to $41.93. Airline executives said they are seeing tentative signs that consumers are traveling again, though the companies posted big losses in the third quarter.
Hilton Worldwide Holdings jumped $5.42, or 6.1%, to $94.39. MGM Resorts International rose $1.21, or 5.7%, to $22.62.
Corporate earnings also lifted shares of individual companies. Tesla rose $3.15, or 0.7%, to $425.79, after the electric-car maker reported its fifth consecutive quarter of profits after years of losses.
Shares of AT&T rose $1.56, or 5.8%, to $28.28, after the telecommunications company reported a third-quarter loss that missed expectations but revenue that beat forecasts.
Coca-Cola shares added 69 cents, or 1.4%, to $50.68, after third-quarter revenue beat expectations.
Align Technology, the S&P 500's best performer, jumped $117.42, or 35%, to $453.23, after the maker of Invisalign teeth aligners reported better-than-expected third-quarter earnings. It said dentist and orthodontist offices were reopening after Covid-related shutdowns.
Investors will also be watching for any surprises when the president and Democratic nominee Joe Biden meet Thursday night for the final debate before the election.
"If something big happens it could certainly be a big issue in the markets tomorrow morning," but the likelihood is low, said Mr. Hunter of Capital Economics.
Overseas, the pan-continental Stoxx Europe 600 fell 0.1%. The U.K.'s FTSE 100 was up 0.2% after the government set additional support for companies affected by new coronavirus restrictions. Europe has been struggling with a surge of new Covid-19 cases and fresh restrictions that threaten the region's economic rebound.
In Asia, stocks fell. Japan's Nikkei index dropped 0.7%, and China's Shanghai Composite nudged down 0.4%.
In commodity markets, Brent crude, the international benchmark for oil, rose 1.7% to $42.46 a barrel. Gold prices dropped 1.2% to close at $1901.10 a troy ounce.
Write to Ben Eisen at ben.eisen@wsj.com
Copyright ©2020 Dow Jones & Company, Inc. All Rights Reserved. 87990cbe856818d5eddac44c7b1cdeb8
Source: www.wsj.com
Author: Jem Bartholomew and Ben Eisen
Finalsite Announces Significant Investment from HarbourVest Partners
Source: www.businesswire.com