Overview Total trading volume at $223.3 million, which is lower than the 30-day average of $322.9 million as Bitcoin prices were relatively stable (within 0-1% for the day). Polkadot (DOT) was the third most traded crypto with $19.5 million. Polkadot finished the day +15% over USD. Melon (MLN) had the best returns, +19% over USD. OMG Network had the largest losses with -8.8%, but is still up over 250% since the beginning of the month. August 24, 2020  $223.3M traded across all markets today Crypto, EUR, USD, JPY, CAD, GBP, CHF, AUD XBT $11764. ↑0.9% $82.5METH $408.51 ↑4.5% $55.5MUSDT $1.0004 ↑0.01% $22.6MDOT $4.6150 ↑15% $19.5MLINK $15.153 ↓0.08% $12.6MXTZ $3.6790 ↑4.5% $7.25MXRP $0.2889 ↑1.4% $4.71MATOM $8.1950 ↓3.6% $4.0MUSDC $1.0001 ↑0.01% $3.46MLTC $62.095 ↑2.4% $3.24MALGO $0.6308 ↑2.6% $3.1MOMG $5.8549 ↓8.8% $2.68MBCH $290.94 ↑2.1% $2.35MADA $0.1237 ↑1.9% $2.18MOXT $0.4824 ↓5.4% $1.58MBAT $0.3968 ↓1.3% $1.56MWAVES $3.6549 ↑4.3% $1.51MXMR $93.830 ↑2.8% $1.41MSTORJ $0.3838 ↓2.7% $1.4MEOS $3.3895 ↑2.0% $1.15MXLM $0.1032 ↑0.31% $984KZEC $80.384 ↓5.0% $913KICX $0.6113 ↓2.6% $875KREP $24.177 ↓2.4% $789KQTUM $3.8264 ↓4.0% $760KSC $0.0040 ↓5.7% $699KCOMP $181.22 ↑7.0% $666KMLN $49.546 ↑19% $654KKAVA $4.1736 ↑0.5% $555KTRX $0.0251 ↑3.3% $526KDAI $1.0161 ↑1.1% $450KNANO $1.2902 ↓1.0% $299KPAXG $1939.6 ↓0.21% $281KXDG $0.0034 ↑0.5% $261KDASH $91.838 ↑0.3% $256KKNC $1.6865 ↓1.5% $246KLSK $1.9061 ↑1.8% $194KETC $6.8529 ↑1.3% $181KREPV2 $23.534 ↓0.16% $143KGNO $44.877 ↑0.16% $81.4K Crude oil price action has edged steadily higher over the last three consecutive weeks. The commodity remains buoyed by upbeat trader sentiment amid the absence of volatility, but will it last? CenturyLink, Inc. (NYSE:CTL) is about to trade ex-dividend in the next 3 days. You will need to purchase shares before… Stock futures drifted Monday evening after rallying to fresh record levels earlier in the day.
Melon (MLN) had the best returns, +19% over USD. OMG Network had the largest losses with -8.8%, but is still up over 250% since the beginning of the month.
The figures below break down the trading volume of the largest, mid-size, and smallest assets. Cryptos are in purple, fiats are in blue. For each asset, the chart contains the daily trading volume in USD, and the percentage of the total trading volume. The percentages for fiats and cryptos are treated separately, so that they both add up to 100%.
Spread percentage is the width of the bid/ask spread divided by the bid/ask midpoint. The values are generated by taking the median spread percentage over each minute, then the average of the medians over the day.
Source: blog.kraken.com
Crude Oil Price Bulls Eye Resistance as VIX 'Fear-Gauge' Falls
Oil price action could keep gaining ground as perceived market volatility vanishes
Crude oil bulls look to top technical resistance around the $43.00-price level
VIX Index might break lower if euphoric sentiment and trader risk appetite is sustained
Crude oil prices are trading modestly higher to start the week as the commodity aims to extend its advance. The price of oil has gained ground for the last three consecutive weeks and the move seems to largely mirror the tumble lower by the VIX. The VIX Index, or fear-gauge, reflects expected S&P 500 volatility over the next 30-days, and the gauge tends to hold an inverse relationship with risk assets like crude oil.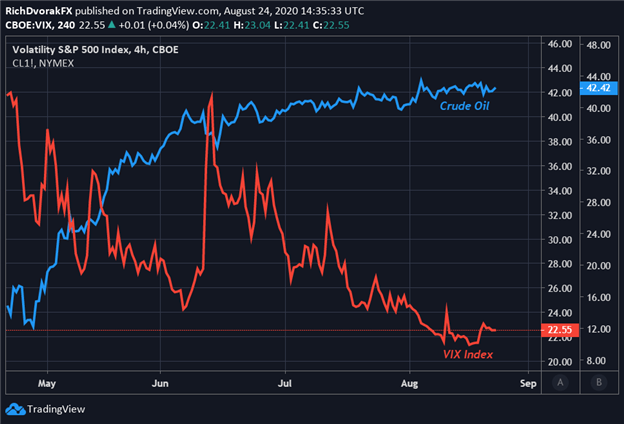 Chart created by @RichDvorakFX with TradingView
That said, there could be potential for crude oil price action to continue its climb amid falling volatility. This is considering a declining VIX Index generally indicates improving appetite for risk as expected market volatility – and demand for S&P 500 downside protection – diminishes. Likewise, as with stocks, the direction of crude oil is generally tied to risk appetite, economic activity, and prospects for global GDP growth.
However, a sharp reversal higher by the VIX Index would likely be associated with a breakdown in broader sentiment and economic conditions. In turn, this could correspond with bearish headwinds for oil prices. More information on the relationship between crude oil and volatility can be found in our quarterly crude oil forecast above.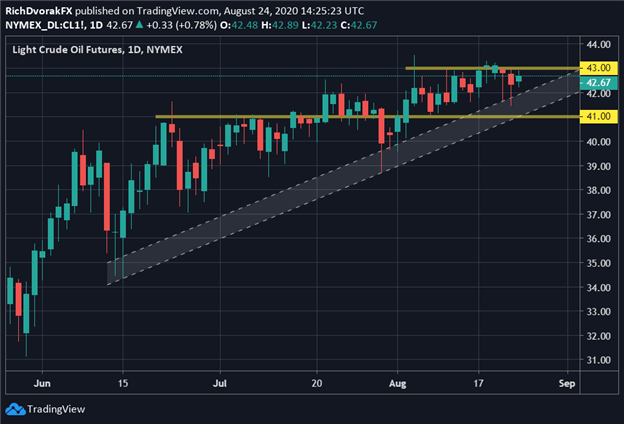 Chart created by @RichDvorakFX with TradingView
Crude oil prices nevertheless remain buoyed by a bullish trend extended through a series of higher lows since mid-June. Technical resistance facing crude oil price action stands out around the $43.00-price level and month-to-date highs. Eclipsing this barrier of resistance, combined with a sustained decline by the VIX Index, might hint at potential for crude oil prices to embark on another leg higher.
— Written by Rich Dvorak, Analyst for DailyFX.com
Connect with @RichDvorakFX on Twitter for real-time market insight
Source: www.dailyfx.com
Author: Rich Dvorak
Plug-in hybrids are flooding showrooms. But few Americans know what they are
Source: abcnews.go.com
Author: ABC News
Just Three Days Till CenturyLink, Inc. (NYSE:CTL) Will Be Trading Ex-Dividend
View photos
CenturyLink, Inc. (NYSE:CTL) is about to trade ex-dividend in the next 3 days. You will need to purchase shares before the 28th of August to receive the dividend, which will be paid on the 11th of September.
CenturyLink's next dividend payment will be US$0.25 per share, and in the last 12 months, the company paid a total of US$1.00 per share. Based on the last year's worth of payments, CenturyLink has a trailing yield of 9.1% on the current stock price of $11.01. Dividends are an important source of income to many shareholders, but the health of the business is crucial to maintaining those dividends. We need to see whether the dividend is covered by earnings and if it's growing.
Check out our latest analysis for CenturyLink
If a company pays out more in dividends than it earned, then the dividend might become unsustainable – hardly an ideal situation. Its dividend payout ratio is 88% of profit, which means the company is paying out a majority of its earnings. The relatively limited profit reinvestment could slow the rate of future earnings growth. We'd be concerned if earnings began to decline. Yet cash flows are even more important than profits for assessing a dividend, so we need to see if the company generated enough cash to pay its distribution. It distributed 37% of its free cash flow as dividends, a comfortable payout level for most companies.
It's positive to see that CenturyLink's dividend is covered by both profits and cash flow, since this is generally a sign that the dividend is sustainable, and a lower payout ratio usually suggests a greater margin of safety before the dividend gets cut.
Click here to see the company's payout ratio, plus analyst estimates of its future dividends.
historic-dividend
Companies with falling earnings are riskier for dividend shareholders. If earnings decline and the company is forced to cut its dividend, investors could watch the value of their investment go up in smoke. That's why it's not ideal to see CenturyLink's earnings per share have been shrinking at 3.6% a year over the previous five years.
Many investors will assess a company's dividend performance by evaluating how much the dividend payments have changed over time. CenturyLink has seen its dividend decline 9.8% per annum on average over the past 10 years, which is not great to see. It's never nice to see earnings and dividends falling, but at least management has cut the dividend rather than potentially risk the company's health in an attempt to maintain it.
Is CenturyLink worth buying for its dividend? We're not enthused by the declining earnings per share, although at least the company's payout ratio is within a reasonable range, meaning it may not be at imminent risk of a dividend cut. In summary, it's hard to get excited about CenturyLink from a dividend perspective.
If you want to look further into CenturyLink, it's worth knowing the risks this business faces. Every company has risks, and we've spotted 3 warning signs for CenturyLink (of which 2 are concerning!) you should know about.
A common investment mistake is buying the first interesting stock you see. Here you can find a list of promising dividend stocks with a greater than 2% yield and an upcoming dividend.
This article by Simply Wall St is general in nature. It does not constitute a recommendation to buy or sell any stock, and does not take account of your objectives, or your financial situation. We aim to bring you long-term focused analysis driven by fundamental data. Note that our analysis may not factor in the latest price-sensitive company announcements or qualitative material. Simply Wall St has no position in any stocks mentioned.
Have feedback on this article? Concerned about the content? Get in touch with us directly. Alternatively, email editorial-team@simplywallst.com.
Source: finance.yahoo.com
Author: Simply Wall St
Stock market news live updates: Stock futures hug the flat line after indices set new records
Stock futures drifted Monday evening following an equity rally to fresh record levels earlier in the day.
Industrials, financials and energy companies led the day's advances, with the 30-stock Dow ending higher by 1.4% to its first close above 28,000 since February.
The gains came as investors eyed the US Food and Drug Administration's emergency authorization to use convalescent plasma to treat Covid-19 in hospitalized patients, and a report that the Trump administration was considering fast-tracking approval for a UK experimental coronavirus vaccine. Airlines and other travel and leisure stocks, which investors have come to associate with improving vaccine development and business reopening prospects, steadied in late trading after surging earlier in the day.
After market close on Monday, S&P Dow Jones Indices announced that three new companies would be joining the Dow Jones Industrial Average, effective before market open on Monday, Aug. 31. Salesforce.com (CRM) is set to replace Exxon Mobil (XOM), with the oil major having been an index component for nearly a century. Honeywell International (HON) will replace Raytheon Technologies (RTX) and Amgen (AMGN) will replace Pfizer (PFE). Each of the companies joining the index added about 4% in late trading, while those exiting the index declined.
Meanwhile, a handful of software companies filed to go public on Monday, as investor appetite for risk assets – and tech stocks with high-growth potential especially – remained elevated. Among the companies filing was Snowflake, a cloud data platform expected previously speculated to go public this year, following a funding round that valued it at $12.4 billion in February. The company, while unprofitable, posted revenue growth that more than doubled over last year. Other software companies that filed their go-public prospectus on Monday included Unity Software, Sumo Logic and JFrog.
Looking ahead to Tuesday, earnings season will continue with publicly traded software names Autodesk (ADSK), Salesforce (CRM) and Intuit (INTU) poised to report quarterly results. Retailers including Nordstrom (JWN) and Best Buy (BBY) will also deliver quarterly reports Tuesday morning.
—
Here were the main moves in equity markets, as of 6:21 p.m. ET:
S&P 500 futures (ES=F): 3,427.75, up 0.25 points or 0.01%

Dow futures (YM=F): 28,230.00, down 9 points, or 0.03%

Nasdaq futures (NQ=F): 11,639.25, up 3 points, or 0.03%
A trader works on the floor at the New York Stock Exchange (NYSE) in New York City, U.S., November 30, 2018. REUTERS/Brendan McDermid
—
Follow Yahoo Finance on Twitter, Facebook, Instagram, Flipboard, LinkedIn, and reddit.
Find live stock market quotes and the latest business and finance news
For tutorials and information on investing and trading stocks, check out Cashay
Source: finance.yahoo.com
Author: Emily McCormickReporter