JPMorgan's strategists have reportedly found bitcoin's market structure to be more resilient than those of currencies, equities, Treasuries, and gold. In a new report on bitcoin's stress test, JPMorgan wrote that cryptocurrencies have "longevity as an asset class." … Thursday's selloff mania has caused a dent in the Peso's post-covid recovery but buyer support is still abundant The cryptocurrency dealer won't have to serve jail time but says he appealed to clear his name. However, lawmakers in the country might be moving to ban cryptocurrencies via a law.
JPMorgan's strategists have reportedly found bitcoin's market structure to be more resilient than those of currencies, equities, Treasuries, and gold. In a new report on bitcoin's stress test, JPMorgan wrote that cryptocurrencies have "longevity as an asset class."
In a new report entitled "Cryptocurrency takes its first stress test: Digital gold, pyrite, or something in between?" JPMorgan's strategists say bitcoin is looking "mostly positive," Bloomberg reported Friday. The report, led by head of U.S. interest rate derivatives strategy Joshua Younger and cross-asset research analyst Nikolaos Panigirtzoglou, shows that cryptocurrencies have "longevity as an asset class."
The report examines bitcoin, cryptocurrencies, and other financial assets as they plunged in March when the coronavirus pandemic exploded in the U.S., causing shutdowns that crippled the economy. While bitcoin crashed to under $4,000, it bounced back faster than most other assets and recouped most of its value by the end of April. Moreover, bitcoin's valuations did not diverge much from intrinsic levels during the March panic. "Though the bubble collapsed as dramatically as it inflated," the strategists wrote:
Bitcoin has rarely traded below the cost of production, including the very disorderly conditions that prevailed in March.
The JPMorgan strategists also found that the cryptocurrency's "price action points to their continued use more as a vehicle for speculation than medium of exchange or store of value," noting that bitcoin appears to have been correlated to riskier assets like equities.
Furthermore, the report describes that there were few signs of a flight to liquidity within the asset class, as most cryptocurrencies collectively fell in March. Concluding that bitcoin weathered its stress test well, the strategists wrote: "there is little evidence of run dynamics, or even material quality tiering among cryptocurrencies, even during the throws of the crisis in March."
The report also explores "liquidity, or the bid-offer spread of the order book, which is directly related to volatility. When the order book thins, a given transaction could result in a larger price change, and vice versa," the news outlet conveyed. "Though bitcoin saw among the most severe drops in liquidity around the peak of the crisis, that disruption unwound itself much faster than other asset classes." According to the publication, the strategists wrote:
The coin's market structure turned out to be more resilient than those of currencies, equities, Treasuries and gold.
JPMorgan has come a long way in its recognition of bitcoin. In September 2017, CEO Jamie Dimon called bitcoin a "fraud," only to regret saying it a few months later. Now JPMorgan Chase is even providing banking services to bitcoin exchanges: Coinbase and Gemini. Last month, the company agreed to pay $2.5 million to settle a class-action lawsuit for overcharging fees for crypto transactions.
What do you think about JPMorgan changing its views on bitcoin? Let us know in the comments section below.
The post JPMorgan: Bitcoin's Market Structure More Resilient Than Currencies, Equities, Treasuries and Gold appeared first on Bitcoin News.
Source: cryptomoneyteam.co
Author: By TeamMMG
USD/MXN Outlook: Risk-On Recovers Swiftly but Road Ahead is Bumpy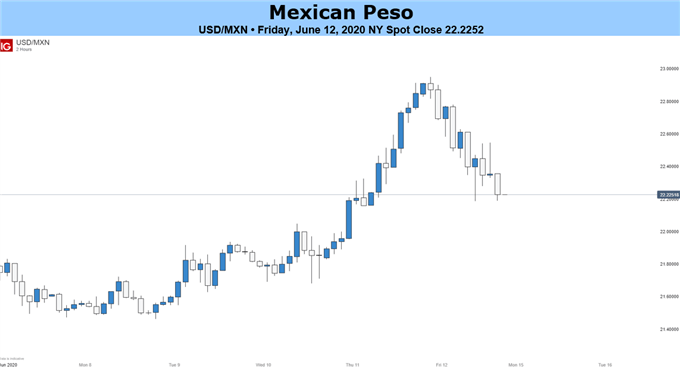 Risk-off sentiment has dominated this week, but markets seem to have recovered quickly
The road ahead is uncertain for risk-on assets as sentiment-driven moves can quickly be triggered
USD/MXN finds resistance at 22.90 where sellers take back control
Following Thursday's battering of the Mexican Peso along with other EM currencies, risk-on sentiment returned to finish off the week as Friday saw a recovery of two thirds of Thursday's losses, leaving USD/MXN just 3.6% higher in a week dominated by the Fed's bleak recession warning as Covid-19 cases re-emerge around the world. Also adding on to the weakness in the Peso was the tumble in oil prices, with spot US crude down 6.9% on the day, as a surprising rise in US inventories delivered another blow.
The dollar re-emerged as a sought after safe-haven when the Federal Reserve said on Wednesday that the impact of the coronavirus will be felt for years and would lead to a 6.5% contraction of the US economy in 2020, nothing we didn't already know. But markets had been venturing into the overbought territory for a while on hopes of a swift recovery once virus cases were under control, and a dose of reality was all it took to freak investors into moving their capital.
Bond yields, which had managed to rebound slightly in June, tumbled back down to monthly lows as investor's demanded a refuge from high yielding risky assets. Seeing this behaviour, the road ahead looks rocky for risk-on assets as markets continue to push higher despite a lack of fundamental support, and any economic warning can be taken as a catalyst for the next sentiment-driven move. Further corrections are to be expected but buyer support seems to hold steady for now, limiting a sustained depreciation on the near horizon.
On the Mexican side, shares plunged almost 4% on Thursday, tracking declines on Wall Street on the back of concerns over a second wave of infections. The dire economic data published in April might have marked the bottom, but expectation of further negative readings will put pressure on Mexican policymakers to add further stimulus to the economy, possibly adding some more support for the Peso in the near term.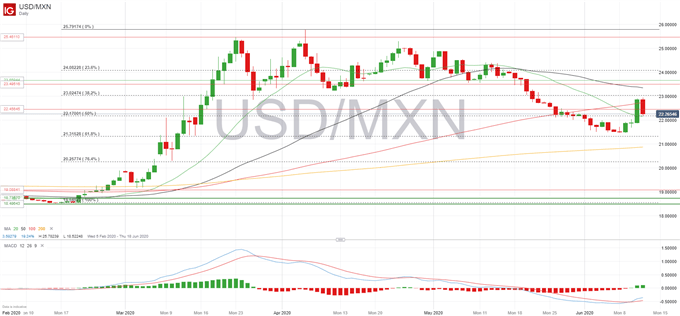 From a technical perspective, the rally in the Peso has come under fire and it's continuity is debatable as USD/MXN has crossed above it's 20 day moving average. Only a short-term pullback below 22.00 could see further downside pressure testing the 3-month low at 21.45, but the pair seems to have found support around the 50% Fibonacci retracement at 22.17, but immediate re-test of Thursday's highs is unlikely, leaving 22.90 as the next area of key resistance, followed by 23.49.
— Written by Daniela Sabin Hathorn, Market Analyst
Follow Daniela on Twitter @HathornSabin
Source: www.dailyfx.com
Author: Daniela Sabin Hathorn
Japan high court backs Mt. Gox chief Mark Karpeles' conviction for data manipulation
A high court on Thursday upheld a lower court's decision that the French head of Mt. Gox, a Tokyo-based bitcoin exchange that went bankrupt after a massive hacking attack, was guilty of manipulating electronic data but not embezzlement.
The Tokyo District Court last year sentenced Mark Karpeles to two years and six months in prison, suspended for four years.
The suspended sentence means the French citizen, will not have to serve jail time. He says he is innocent and appealed to clear his name.
Karpeles has insisted he did not pocket client funds that went missing when Mt. Gox collapsed in 2014. He said he is not yet sure what he will do next.
"Today's verdict was unfortunate, and I am reviewing its contents alongside my lawyers and will decide how to proceed from there in the coming days," he said late Thursday.
Karpeles was arrested in August 2015 and spent 11 months in detention while awaiting trial in a case that drew global attention, as cryptocurrencies were then relatively new.
Prosecutors had demanded 10 years in prison for the initial charges, which included breach of trust.
In last year's ruling, the district court said Karpeles had manipulated data to harm his clients. Karpeles' defense team argued that prosecutors did not understand how cryptocurrency exchanges worked and were trying to pin the blame for a massive cybercrime on Karpeles, who was just a victim trying to protect his clients.
Karpeles, a computer prodigy with an interest in Japanese animation and games, moved to Japan in 2009.
Source: www.japantimes.co.jp
Author: Internal Submission
Cryptocurrency Boom In India Sees Launch Of Several New Exchanges
A repeal of a "crypto ban" sparks cryptocurrency exchange boom in India
Banks still refuse to do business with crypto companies
Despite a draft law that would regulate crypto in the future, the founder of WazirX crypto exchange is confident the Indian government will not stop a booming sector
India sees a surge in new cryptocurrency exchanges after the country's Supreme Court reversed a circular from its central bank banning cryptoassets. But, lawmakers in the country might be moving to ban cryptocurrencies via a law.
The Reserve Bank of India (RBI), through a circular, previously banned all financial institutions in the country from providing services to crypto exchanges, effectively shutting the means for them to survive. However, this crypto ban was repealed by India's Supreme Court, the immediate effect of which was the legitimacy of crypto businesses.
Because of the reversed ruling, a number of crypto exchanges launched in India, including Tradehorn. In a statement, Tradehorn CEO Rahul Vinakiya said the company aims to service "new traders, who are absolutely new" to cryptocurrency and ultimately spread crypto awareness. Tradehorn plans to launch a mobile app soon.
Global exchanges like Binance and OKex have launched fiat on-ramps for Indian Rupees. Binance, the largest global crypto exchange by trade volume, partnered with WazirX (a Binance acquisition in 2019) to launch a fund aimed at sustaining blockchain development in the country. OKEx, on the other hand, partnered with Mumbai-based CoinDCX to launch leveraged futures in India.
Bitcoin is the best known virtual currency, but it may face a real problem next week Photo: AFP / INA FASSBENDER
However, even with the win, crypto companies found banks still do not want to do business with them. Thus, the companies petitioned for the RBI to establish clear regulations regarding crypto transactions.
But it seems uncertainty will remain in the Indian cryptocurrency scene for now. The country currently looks into banning cryptocurrencies altogether via a law, The Economic Times reported. This is different from the RBI's circular, which the Supreme Court repealed. Currently in draft form, this law will ban and punish any direct or indirect use of cryptocurrency. Repeated offense will be punished with imprisonment from five to ten years.
The news sparked negative reactions online, with a commenter on the Economic Times' website saying regulation is better than prohibition, while another person questioned why India could not do what other countries, like the United States, do in regulating cryptocurrencies.
Nischal Shetty, founder of WazirX, argued the Economic Times article "combined 2 things together" that could lead people to believe the old draft (which contains the outright crypro ban) was being pushed.
The WazirX founder said he is confident the Indian government will not stop a booming sector.
Source: www.ibtimes.com
Author: Vincent Mislos