In a sign of shifting fortunes in the energy business, green-oriented power company NextEra Energy on Friday sparred with petroleum giant Exxon Mobil for market capitalization supremacy. Crypto investors who use crypto exchange eToro can now earn staking interest on their investments Cardano and TRON holdings. The Los Angeles Angels, Cincinnati Reds, and Philadelphia Phillies are among the teams who make the most sense For some people, investing right now could do more harm than good.
NextEra, which owns two Florida electricity utilities and bills itself as the "world's largest generator of renewable energy from the wind and sun," finished Friday's session with a market capitalization of $137.7 billion.
NextEra actually overtook ExxonMobil during the session, but finished at a level just under the oil giant's market value of $139.4 billion. Chevron closed the day with a value of $132.9 billion.
Shares of NextEra have risen about 18 percent this year as policies to promote green energy and address climate change gain momentum and raise doubts about the longevity of petroleum.
But NetEra Energy remains a much smaller company than ExxonMobil.
In 2019, NextEra reported profits of $3.8 billion on revenues of $19 billion and has around 14,000 employees.
During the same period, ExxonMobil reported profits of $14.3 billion on revenues of $265 billion. The oil giant has 75,000 workers.
Source: techxplore.com
You Can Now Stake Cardano and TRON on eToro's Trading Platform
Crypto investors who use eToro can now automatically earn staking rewards.
The platform currently supports Cardano (ADA) and TRON (TRX).
Other exchanges that offer staking services include Coinbase, Bitfinex, and Binance.
Crypto investors who use crypto exchange eToro can now earn staking interest on their investments, according to an announcement from the company.
Cardano and TRON investors on eToro will earn 75%-90% of the company's monthly staking yield. For example, if staking brings a 6% ROI, investors will earn 4.5%-5.4% on their crypto holdings. The precise amount that investors will earn is based on the membership level that investors have purchased and the return that each coin generates.
Investors who hold eligible coins do not have to do anything to begin staking as eToro will distribute rewards automatically. Users need to meet certain conditions to be eligible for rewards: they must hold the coin in question for several days and earn at least $1 in rewards. They must also invest in actual cryptocurrencies—not contracts, copy trading, copy portfolios, or short positions.
Though only two tokens are currently supported, eToro plans to add staking support for other coins in the future, including NEO, Tezos, EOS, and possibly Ethereum 2.0.
Yoni Assia, founder and CEO of eToro, has called staking an "important development" that is difficult for many holders to take advantage of. "[That] is what we're enabling our global community of investors to do by offering this new service," Assia said in a Forbes interview.
eToro isn't the only exchange to offer staking services. Several other exchanges, including Coinbase, Bitfinex, and Binance have also introduced similar offers to investors over the past few years.
Exchange-based staking is often easier for cryptocurrency investors because rewards are usually automatically enabled, and investors do not need to withdraw funds to a separate wallet. Staking certain cryptocurrencies manually may require a large minimum investment, considerable technical knowledge, and commitment to keeping a node online.
That said, Cardano and TRON have already simplified staking through delegation features in their official wallets. It is not considerably more difficult to stake those tokens if they are stored outside of an exchange.
The information on or accessed through this website is obtained from independent sources we believe to be accurate and reliable, but Decentral Media, Inc. makes no representation or warranty as to the timeliness, completeness, or accuracy of any information on or accessed through this website. Decentral Media, Inc. is not an investment advisor. We do not give personalized investment advice or other financial advice. The information on this website is subject to change without notice. Some or all of the information on this website may become outdated, or it may be or become incomplete or inaccurate. We may, but are not obligated to, update any outdated, incomplete, or inaccurate information.
You should never make an investment decision on an ICO, IEO, or other investment based on the information on this website, and you should never interpret or otherwise rely on any of the information on this website as investment advice. We strongly recommend that you consult a licensed investment advisor or other qualified financial professional if you are seeking investment advice on an ICO, IEO, or other investment. We do not accept compensation in any form for analyzing or reporting on any ICO, IEO, cryptocurrency, currency, tokenized sales, securities, or commodities.
See full terms and conditions.
Source: cryptobriefing.com
Author: by
Mike Dalton
Francisco Lindor trade landing spots: Nine teams who could potentially make sense for the Cleveland shortstop
Cleveland's Wild Card Series loss against the New York Yankees this week ensured two things: 1) that their World Series dreams were over; and 2) that it was open season for speculation about shortstop Francisco Lindor and his 2021 employer. Lindor will qualify for free agency after next season, and it's safe to write that a long-term extension with Cleveland is unlikely.
The frugal ways of Cleveland's ownership group means the front office always has to operate with one eye on the present and one on the bottom line. It's less a matter of if Cleveland will explore Lindor's trade market, then, and more a matter of if they'll find a suitable offer. Even before the pandemic, teams were reluctant to part with good value in exchange for rental players — especially rental players making in upwards of $20 million, the way Lindor should in 2021. Now, with a season of lost gate revenue to consider, it seems to be a given that teams will drive a hard bargain with the hope of landing a star-caliber player for an unbefitting return.
Make no mistake, Lindor is still a star-caliber player. He's an elite defensive shortstop, and a dynamic switch-hitter who could well post a 30-30 season before leaving his prime. Lindor's offensive numbers in 2020 were not up to his standard (he had a 102 OPS+, below his 119 career mark entering the year), but ball-tracking metrics suggest he was better than his raw numbers indicate. He'll turn 27 in November, so interested teams should bet on him bouncing back.
With that established, it's time to ask: which teams are likeliest to be interested in Lindor?
We've identified nine clubs who would make sense to varying degrees. Below, you'll find those teams along with analysis on their chances and an outline of who they could offer in return. Keep in mind, these situations are fluid and that things can and will change with time.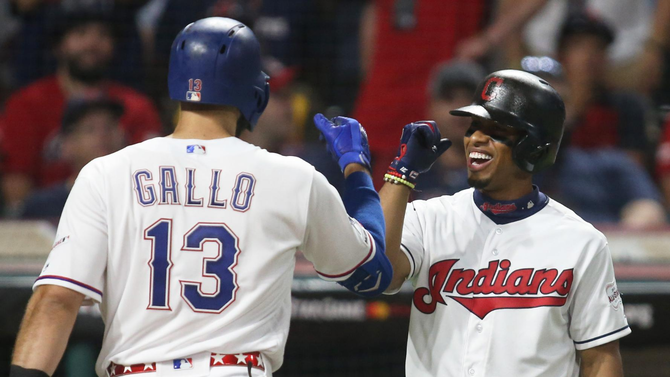 Texas Rangers
Why it would make sense: Modern baseball's team-building philosophy states that one should not acquire prime-aged talent until the club is ready to compete. The Rangers have operated in a counterculture manner in recent years: signing Lance Lynn and Mike Minor and trading for Corey Kluber were "win-now" maneuvers by a team who would've settled for "respectable-now" status in 2020. Adding Lindor would fit the same vein, albeit on a grander scale. This doesn't have to be a rental situation, either. The Rangers should have the means to reward him with his deserved contract, thereby entrenching him as the first centerpiece of the Globe Life Field era.
The holdup: The Rangers were really bad in 2020. In addition to having the second-worst record in the majors, they also had the worst run differential. Having Lindor would help, of course, but there's some indication Texas might go with the flow for once. League insiders confirmed to CBS Sports that the Rangers listened on Joey Gallo, among others, at the trade deadline. Assuming those talks are revisited this winter, the Rangers would be sending mixed signals to Lindor about their intent to compete now and later. Besides, you just know someone would make a comparison between Lindor and Alex Rodriguez, and nobody needs to have that conversation.
What they could offer: Heck, how about Gallo to solve some of Cleveland's offensive troubles? We're kidding, we're kidding. More realistically, Texas could offer some of their young, big-league-ready talent, like catcher Sam Huff, outfielder Leody Taveras, or infielder Anderson Tejada. The Rangers have a slew of arms they could send to Cleveland's pitching factory, and at some point they may need to resolve their glut of high-round collegiate infielders after using top-50 picks the past two drafts on Josh Jung, Davis Wendzel, and Justin Foscue.
San Francisco Giants
Why it would make sense: Farhan Zaidi has made the best of an odd predicament. The Giants haven't been good enough to reach the postseason in recent years, yet their old and expensive core has limited their add-on capabilities. Rather than scorch the earth, Zaidi has focused on marginal upgrades to make the most of what time this group has left, which isn't much longer. The contracts of Buster Posey, Brandon Belt, Brandon Crawford, and Johnny Cueto all expire after the 2021 season, meaning Zaidi should have the financial means to take a big swing. The Giants made a serious pursuit of Bryce Harper a few winters ago, so don't discount the chances of them doing something similar either this winter or next as they usher in a new era by the bay.
The holdup: It's one thing to offer a bank-breaking contract to a free agent; it's another to deal multiple players for a star who could leave at season's end. Zaidi hasn't had a chance to prove if he's willing to take that risk. He should think long and hard about it, though, because that scenario would leave the sans Francisco Giants in a shaky spot. (To be clear, we count that wordplay potential as a negative that Zaidi should try to avoid summoning if at all possible.)
What they could offer: Obviously Cleveland would love shortstop Marco Luciano, or outfielders Heliot Ramos and Alexander Canario. Zaidi might prefer to deal a recent first-round pick instead, be it catchers Joey Bart or Patrick Bailey, or outfielder Hunter Bishop. The whole thing seems unlikely regardless.
San Diego Padres
Why it would make sense: Unlike the other teams in this tier, the Padres are a legit contender. Adding Lindor would undoubtedly give them a better shot at dethroning the Dodgers, both in the National League West and in the National League overall. It doesn't hurt that A.J. Preller has demonstrated one of the league's largest appetites for bold moves, or that the Padres still possess an ample protest warchest — yes, even after all their dealing at this year's deadline.
The holdup: It's weird to type, but Lindor's appeal to the Padres might have peaked last winter. Fernando Tatis Jr. has improved at shortstop, minimizing the possibility that he gets shifted elsewhere on the diamond. Not that San Diego has a ton of open slots anymore anyway, thanks in no small part to the emergence of center fielder Trent Grisham and second baseman Jake Cronenworth. If the Padres really, really wanted to, they could find a way to make it work; from an assets allocation perspective, it makes more sense to just pursue someone else.
What they could offer: Too many talented youngsters, big-league-ready or not, to list.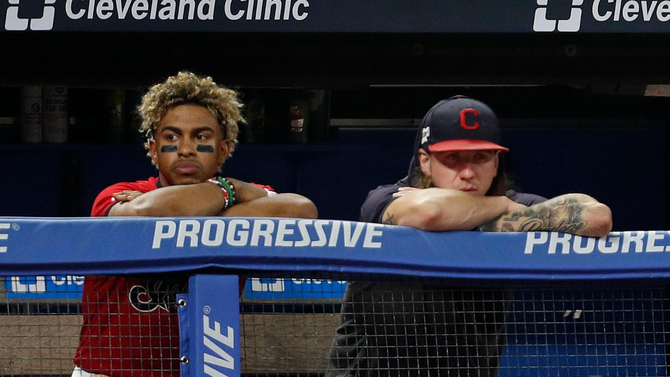 New York Mets
Why it would make sense: New owner Steve Cohen might wish to announce his presence by giving his general manager a blank check to make a splash. (League sources have identified Billy Owens, the Athletics' director of player personnel, as the favorite for the GM role.) Lindor would give the Mets another star, and he would push them closer toward contention.
The holdup: There's no guarantee Cohen will flex his financial might, at least not right away. Rather, he might play it safe so as to not attract heat from the commissioner's office during some lean financial years for other clubs. Even if Cohen plays the maverick role, his front office could identify a better way to improve the roster. Neither Amed Rosario nor Andres Gimenez are as good as Lindor is, but both are young and have shown potential.
What they could offer: Rosario and Gimenez, for starters. You'd figure that Brandon Nimmo's name could pop up, too. Otherwise, the Mets would have to build a package around a combination of Ronny Mauricio, Mark Vientos, Francisco Alvarez, and Matthew Allan.
New York Yankees
Why it would make sense: The Yankees are the Yankees, and it's easy to foresee a financial powerhouse like them taking advantage of other teams' conservative financial approach. From an on-the-field perspective, Gleyber Torres has proven to be a high-quality player except for his glove at shortstop. Adding Lindor would allow the Yankees to move Torres to second base, where he's better suited defensively. The Yankees would likely permit impending free agent DJ LeMahieu to walk in this scenario.
The holdup: The Yankees are the Yankees, but in Gerrit Cole and Giancarlo Stanton they already have two players who are combining to make more than $60 million. Would the Yankees want to add a third player, and another $30 million, to that amount? Maybe not. They might have a different evaluation of Torres' defensive ability (and potential) at shortstop, too.
What they could offer: Miguel Andujar and Clint Frazier are going to have their names mentioned in every trade scenario until they're actually moved. It's anyone's guess as to whether the Yankees would part with young starters Deivi Garcia or Clarke Schmidt. You'd have to think the answer is yes if it means they're serving as the key to a Lindor deal. Some in the industry have concerns about Jasson Dominguez's body, but that doesn't mean the Yankees do.
St. Louis Cardinals
Why it would make sense: The Cardinals are nearing an inflection point, at which time they'll have to transition away from the Yadier Molina, Matt Carpenter core toward whatever comes next. Lindor would help make that process as painless as possible.
The holdup: The Cardinals already have a competent shortstop, in Paul DeJong, and he's signed to a team-friendly contract through at least the 2023 season. The Cardinals might reason they'd be better off allocating their resources elsewhere. (Or, maybe, they'd just move DeJong to second.)
What they could offer: DeJong would probably appeal to Cleveland. Ditto for outfielder Dylan Carlson and third baseman Nolan Gorman. The Cardinals could also float left-handers Matthew Liberatore and Zack Thompson, and catcher Ivan Herrera.
Philadelphia Phillies
Why it would make sense: The Phillies are once again entering the winter hopeful that they can build a winner ahead of the spring. Incumbent shortstop Didi Gregorius was a good pickup, but he's heading for free agency again and should be in line for a multi-year deal that the Phillies might not be willing to hand out. Lindor would give the Phillies another star, perhaps replacing J.T. Realmuto as Bryce Harper's best buddy, and a long-term solution at the six.
The holdup: If the Phillies are willing to spend the money necessary to keep Lindor around, it stands to reason they would just give it to Realmuto instead; that way, the Phillies wouldn't have to give up youngsters and spend megabucks to move the needle. Maybe the Phillies live up to their "stupid money" promise and back up the Brinks truck to both. We doubt that.
What they could offer: Rookie tandem Spencer Howard and Alec Bohm would undoubtedly appeal to Cleveland. (League speculation had the Phillies willing to part with Bohm last winter as part of a Kris Bryant trade.) Elsewhere, the Phillies could try to bait their hook with shortstops Bryson Stott and Luis Garcia, righty Francisco Morales, or catcher Rafael Marchan.
Cincinnati Reds
Why it would make sense: The Reds finally tasted the postseason. Now, it's time to build a roster capable of winning a series. That means, among other things, finding a shortstop. Lindor was connected to the Reds last winter by league insiders who suggested that Cincinnati could build a package around Nick Senzel. That didn't come to pass just yet, but the connection still makes sense on paper. Something else that makes sense on paper: the amount of money saved from letting Trevor Bauer and Freddy Galvis walk is in line with what Lindor would be making.
The holdup: The Reds might be able to fit Lindor into their 2021 budget, but they might find it tougher to keep him for the long haul. Cincinnati has also traded a lot of young talent to get to this point, and they might resist dealing more prospects for another rental.
What they could offer: Senzel, obviously, along with catcher Tyler Stephenson, shortstop Jose Garcia, and third baseman Jonathan India. It would be fun to see Hunter Greene or Nick Lodolo in Cleveland's pitching development system, but there's no telling if Cincinnati would make them available.
Los Angeles Angels
Why it would make sense: The Angels, like the Phillies, are trying to get back into the postseason, lest they continue to waste Mike Trout's prime. Owner Arte Moreno is willing to spend when he feels the itch, and he has to be feeling the itch right about now. Whoever the Angels hire as GM, be it Dave Dombrowski or Jeff Luhnow or someone else, seems likely to be handed a generous budget. Lindor would give the Angels yet another star — as if that's been the problem — and would serve as an upgrade over free agent Andrelton Simmons.
The holdup: Moreno loves his stars, but does he love them enough to pay Trout, Anthony Rendon, and Lindor all at once? The Angels also don't have a great farm system, either, though that might not matter as much as it usually does considering the circumstances.
What they could offer: Outfielders Jo Adell and Brandon Marsh have been the most attractive pieces in the system for a while. It's at least conceivable that Adell's struggles convince the Angels that he isn't a foundational piece after all. Beyond them, Cleveland could ask for big-league pieces like David Fletcher, Griffin Canning, and Jaime Barria.
Source: www.cbssports.com
Author: R.J. Anderson
3 Signs You Should Steer Clear of the Stock Market Right Now
Investing in the stock market can be daunting for even the most experienced investors, especially when we're in the middle of a particularly volatile year.
While in many cases it's best to simply ride out the storm and continue investing through the ups and downs, in some situations, you're better off avoiding the stock market altogether. Here are three of them.
Image source: Getty Images.
An emergency fund is critical right now, especially with millions of Americans still unemployed due to the COVID-19 pandemic. But having an emergency stash of savings could also protect your investments by helping you avoid pulling your money out of the stock market.
Unexpected expenses will inevitably pop up, and if you don't have an emergency fund, you may be forced to tap your investments. However, that can be expensive, particularly if you're withdrawing from a 401(k) or traditional IRA, because you'll generally owe income taxes and a 10% penalty on the amount you take out of your account.
If you don't have at least three to six months' worth of savings stashed in an emergency fund, it's a good idea to focus on that goal before investing in the stock market.
Debt itself isn't necessarily a bad thing, particularly lower-interest debt such as a mortgage. But if you're saddled with loads of high-interest debt — like credit card debt — you may be doing more harm than good if you're investing rather than paying that down.
Credit card debt can be incredibly toxic, with some credit cards charging interest rates in excess of 20% per year. If you're paying 20% interest on your debt but only earning a, say, 7% annual return on your investments, you may actually be paying more in interest on your debt than you're earning on your investments.
You don't need to be completely debt-free before you invest, but if you're drowning in expensive debt, it may be wise to tackle that first.
The stock market has been experiencing another slump over the last several weeks, and nobody knows for sure whether another crash is looming on the horizon. If you're worried you may panic and sell all your investments at the first sign of trouble, you may want to hold off on investing for right now.
Panic-selling can be detrimental to your investments, because you could end up selling at the worst possible moment. Market downturns are among the worst times to sell because stock prices are at their lowest, so if you panic-sell when the market hits rock bottom, you could lose a substantial amount of money.
While the best course of action may be to simply invest now and then hold onto your investments until the market recovers, if you know it's going to be challenging to avoid panicking when the market takes a turn for the worse, right now may not be the best time to invest.
The stock market has always faced its fair share of ups and downs, but this year has been one of the rockiest on record. While investing right now might be a good idea for some people, it's not the best move for everyone. In some cases, you're better off focusing on other financial priorities and steering clear of the stock market.
Source: www.fool.com
Author: Katie Brockman