The upcoming election is, of course, big news. But there's more than one way to look at it. As a citizen and voter, you have your own preferences about the In front of Wednesday night's earnings and a growth narrative now on ice, Fastly stock investors have little incentive to buy shares. –Net Asset Value of $0.13 per unit as of September 30, 2020– Guernsey, Channel Islands , Oct. 29, 2020 (GLOBE NEWSWIRE) —  AP Alternative Assets,… ESG investing is popular now, but interest could fade with time. The way Democrats approach the powerful industry will be a key indicator of how aggressively they plan to take on corporate interests and address consumer woes.
The upcoming election is, of course, big news. But there's more than one way to look at it. As a citizen and voter, you have your own preferences about the issues and the candidates. But as an investor, should you be rooting for any particular outcome?
You might be surprised at how a major event can have such a minor impact on your long-term investment success. To understand why, consider the following four factors:
♦ Election results don't determine the market's success. A few different configurations can result from an election. One party could win the presidency, while the other could gain both chambers of Congress. Or one party could take the White House, but the two parties could split Congress, with one controlling the House of Representatives and the other gaining the Senate. Or one party could win it all. But here's the key point: In the past, under all these scenarios, the financial markets have done well at some times and not so well at others. In short, there's no one "right" political configuration that spells success or failure for investors.
♦ Different policies won't change our basic investment landscape. Of course, each presidential administration will push for its own policies, and the same is true for every new Congress. And some legislation will indeed affect investors in some ways. For example, tax rates on capital gains and dividends have changed many times in the past, and they may well change again. If they do, adjustments to your investment strategy may be appropriate. But in the bigger picture, we live in a democratic system that mostly limits the power of one administration or political party to radically overhaul the economy, which is primarily made up of consumer spending and business investment. For investors, this means the rules of the game, so to speak, will probably remain consistent no matter who's in charge in Washington.
♦ Market fundamentals are "non-partisan." Obviously, the pandemic has wreaked havoc on normalcy in many areas, including the economy. But, eventually, we will get past COVID-19, and when we do, the same fundamental factors that have always driven the economy and the markets – corporate profits, interest rates, consumer spending, innovation, productivity and so on – will do so again. And these fundamentals are non-partisan – they maintain their strength no matter what party controls the presidency or Congress.
♦ You're in control of your own investment choices. We may well experience some volatility in the markets before and after the election. But, in the long run you, rather than any external forces or election results, control your investment success. And that means you need to follow proven investment principles, such as owning investments that reflect your goals and risk tolerance, staying invested no matter which direction the markets are moving, and avoiding bad habits such as chasing after "hot" stocks that may not be suitable for your needs.
A presidential election is important for a number of reasons – but it probably won't greatly affect your investment success. Ultimately, staying on track to achieve what's most important to you means being aware of the factors that affect the financial markets, putting them in perspective and then making appropriate decisions that are aligned with your longer-term goals.
This article was written by Edward Jones for use by your local Edward Jones Financial Advisor.
Source: www.northwestgeorgianews.com
Author: Dewayne Bowen
Don't Expect Earnings to Save Fastly Stock
Following some hard-hitting backtracking, is Fastly (NYSE:FSLY) worth the risk of owning ahead of earnings? Let's see what's happening off and on the Fastly stock chart, then offer a stronger risk-adjusted determination on how to approach shares without becoming a third strike statistic. Let me explain.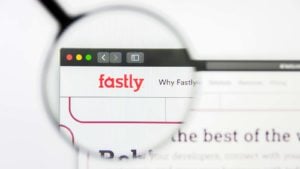 Are you looking for the next Amazon (NASDAQ:AMZN), Apple (NASDAQ:AAPL) or Netflix (NASDAQ:NFLX)? For more than a few growth investors, Fastly, an 'edge cloud' platform for developers to build, secure and deliver digital experiences, was certainly looking the part of Wall Street's new bulletproof kid on the block poised for spectacular, generational greatness.
But recently, FSLY suffered a cracking blow to its armor. Earlier this month shares plunged 27% in a single session after hitting record highs two days earlier. The problem? Fastly's management warned Q3 sales would come in lighter than previously forecast. The reduced guidance was attributed to weaker-than-expected traffic volume from its largest customer, China's ByteDance, which owns social media sensation and controversial national security threat TikTok.
By the numbers, FSLY trimmed estimates to a range of $70 to $71 million versus prior guidance of $73.5 to $75.5 million. On the surface it appears an overreaction, but the modest drop in forecasted revenues wasn't the worst of it.
Fastly also warned of reduced revenues from other customers removed from TikTok's contentious spotlight. And when you're priced for perfection like FSLY shares, bad things can happen quickly.
Bottom-line, being mired in consistent red ink and negative cash flow is never healthy. And Fastly has been so for more than a couple years. But when the stock also sports a large-cap valuation after climbing nearly 600% in 2020. and is celebrated like the second coming of Apple by momentum investors; that's a certain investment disaster. Especially when combined with negative sequential sales declines like the one facing FSLY.
And if that wasn't enough, the bad news kept coming.
October wasn't the company's first strike regarding softer guidance. In August, as the company released its second quarter results, management reduced its Q3 revenue outlook as well. Can management be trusted?
It's a question that has likely crossed the minds of investors. Causing more anxiety to this month's fallout, FSLY also elected to pull its full-year 2020 guidance and open the door to even greater uncertainty.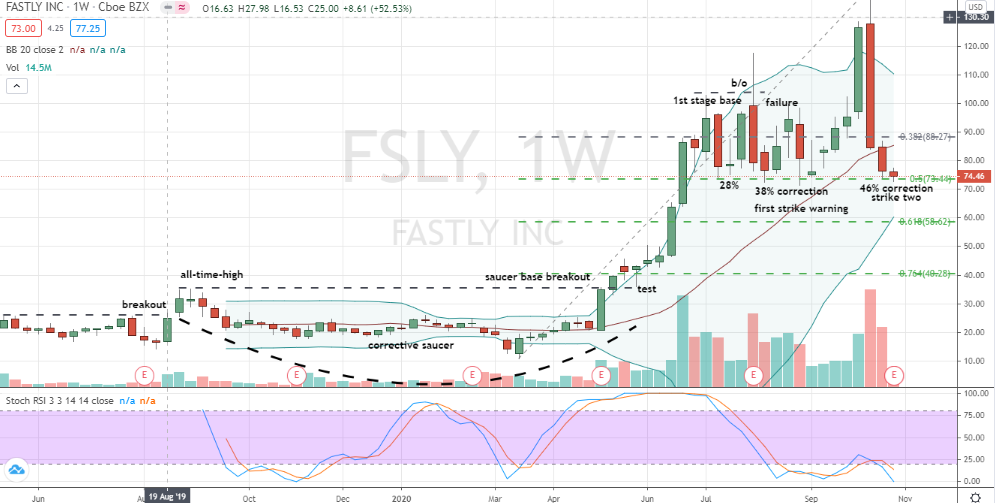 At the end of the day, Fastly can be summarized as a simple but often repeated case of Wall Street mistakenly overly-promoting the next Apple, Amazon or Netflix. And as a result, a 'good' growth story craters as it inevitably falls short of wildly ambitious, over-the-top short-term expectations.
Still, it's difficult to feel too sorry for many of Fastly's shareholders. Despite October's and August's painful gaps, which put decided monkey wrenches into traditional stop-losses, Fastly stock is still up more than 256% in 2020.
Looking forward, after two strikes can Fastly recover? In front of earnings I'd recommend erring on the side of caution. I wouldn't initiate a new purchase. However, a well-positioned holding with decent gains may want to collar shares going into the report and into 2021 for that matter.
Heading into Wednesday's report FSLY will have to earn back a bit of trust with investors. And reasonably, that could take a quarter or two but almost certainly it won't occur overnight. Moreover, with FSLY's October warning still very fresh, a bullish bottom or top-line surprise Wednesday evening is less likely.
Lastly, while the stock is somewhat technically appealing as FSLY's 50% year-to-date retracement level is challenged, there's no indication from stochastics of a low at hand. The catalysts to incite buyers right now aren't there.
Longer-term? FSLY is another story. My best guess is the stock stands a reasonably strong chance of resonating with investors sometime down the road. Barring a lower probability value grab opportunity if shares tumble in the report's aftermath, there's better opportunities going into 2021 than owning shares of Fastly.
On the date of publication, Chris Tyler does not hold, directly or indirectly, positions in any securities mentioned in this article.
Chris Tyler is a former floor-based, derivatives market maker on the American and Pacific exchanges. The information offered is based on his professional experience but strictly intended for educational purposes only. Any use of this information is 100% the responsibility of the individual. For additional market insights and related musings, follow Chris on Twitter @Options_CAT and StockTwits.
Source: investorplace.com
Author: By
Chris Tyler, InvestorPlace Contributor
AP Alternative Assets Releases Financial Results for the Three and Nine Months Ended September 30, 2020
–Net Asset Value of $0.13 per unit as of September 30, 2020–
Guernsey, Channel Islands , Oct. 29, 2020 (GLOBE NEWSWIRE) — AP Alternative Assets, L.P. ("AAA", Euronext Amsterdam: AAA) today released its financial results for three and nine months ended September 30, 2020. AAA invests its capital through, and is the sole limited partner of, AAA Investments, L.P., which is referred to as the "Investment Partnership."
Highlights
Net asset value at September 30, 2020 was $10.3 million, or $0.13 per unit, reflecting a net increase in net assets of approximately $1.0 million, or $0.01 per common unit during the three months ended September 30, 2020.
The increase in net asset value during the three months ended September 30, 2020 was driven by an increase in net assets from operations due to a realized gain on sale of 605,554 Athene shares by the Investment Partnership of $12.0, offset by the reversal of previously recognized unrealized gains of $(9.3) million.
Net Asset Value for AAA
At September 30, 2020, AAA had net assets of $10.3 million, including its share of the net assets of the Investment Partnership, as follows:
____________________________
(1) The remaining cash will be used be used to settle outstanding liabilities and expenses (including expenses relating to ultimately winding up AAA). After payment of these expenses the remaining cash of AAA (if any) will be distributed to AAA unitholders (unless the cash, on a per unit basis, is de minimis, in which case it is expected to be given to charity). This distribution which, based on information now available to AAA is currently estimated to be between USD 7 cents and 9 cents per AAA unit. A further announcement in this regard will be made at the relevant time. The net asset value also includes $0.8 million of prepaid management fees that will continue to be amortized over the life of the service period through December 31, 2020. If a decision is made to wind up AAA prior to the end of the service period, AAA will accelerate the amortization of the prepaid management fee.
Financial Report
AAA's interim report, which includes its unaudited financial statements and the unaudited consolidated financial statements of the Investment Partnership is available and can be downloaded free of charge at its website at: www.apolloalternativeassets.com.
Contact
Ann Dai (New York) +1 (212) 822 0678
Additional Information
A presentation will be available on the company's website at http://www.apolloalternativeassets.com/ReportsAndFilings/AdditionalDocuments.aspx in connection with this press release.
About AAA
AAA was established by Apollo Global Management, Inc. and its subsidiaries ("Apollo") and is a closed- end limited partnership established under the laws of Guernsey. Apollo is a leading global alternative investment manager with 30 years of experience investing across the capital structure of leveraged companies. AAA is managed by Apollo Alternative Assets, L.P. For more information about AAA, please visit www.apolloalternativeassets.com.
Forward-Looking Statements
This press release contains forward-looking statements. Forward-looking statements involve risks and uncertainties because they relate to future events and circumstances. Such statements are based on currently available operating, financial and competitive information and are subject to various risks and uncertainties that could cause actual results and developments to differ materially from the historical experience and expressed or implied expectations of AAA. Undue reliance should not be placed on such forward-looking statements. Forward-looking statements speak only as of the date on which they are made and AAA does not undertake to update its forward-looking statements unless required by law.
Financial Schedules Follow
Financial Schedule I
Financial Schedule II
As of September 30,
2020 (unaudited)
As of December 31,
2019
Financial Schedule III
Financial Schedule IV
Attachment
AAAEarningsReleaseQ320.pdf
St. Peter Port, GUERNSEY
Source: www.globenewswire.com
Author: AP Alternative Assets
A Contrarian Look At Petroleum And ESG Investing
Being a contrarian (think skeptic on steroids, or skeptic with analysis), I always shake my head when I see that a new investment fashion gaining traction, such as this Financial Times headline, "Petroleum group sets up ESG centre as financing dries up in shift from fossil fuels". https://www.ft.com/content/bbfa4f16-a0fd-4c9d-864b-ccddd23c5af1?shareType=nongift
But there is a huge difference between fads like "power ties," where your sartorial choice was thought to indicate your managerial ability, and waves of sentiment about investment decisions, which have real consequences. And I don't mean just the latest political movement on campuses: Think of the money that poured into the U.S. shale production, because shale was 'where it's at' and investors (and some companies) were worried about being left behind in the 'next big thing.'
Some years ago, I published an article titled (if memory serves) "Fashion is for Madison Avenue, not Wall Street," making the argument that many in the investment community are too often swayed by short-term fads and fashions, pressuring corporations to adopt the flavor of the month, as it were. I particularly noted (many times, including my book The Peak Oil Scare and the Coming Oil Flood #shameless self-promotion) the way the oil industry was pressured in the 1980s to diversify away from a 'sunset' industry (petroleum) into 'sunrise' industries, such as photovoltaics. (Not sure how Mobil's purchase of a department store fit into that binary choice.)
The vast majority of such investments went badly, usually written off after a few years, and Wall Street then decided that 'core business' was the best strategy, also known as 'stick to your knitting.' When oil prices soared in the early 2000s, some oil industry CEOs applied the lesson of the 1970s and argued that a price cycle was under way, not a secular change in the market environment and they resisted raising investment levels to avoid driving up costs (as happened in the 1970s). That stance largely crumbled under the pressure of the investment community, pundits and others who, in their best 'this time for sure' thinking argued that oil had changed, the easy oil was gone, peak oil was looming and the floor price was $100 a barrel. (For those who haven't seen it before, it was suggested in 2012 that I might be an idiot for thinking the oil price could go below $100 a barrel for any length of time; it is about an hour along in this video.)
The latest fad is to pressure pension funds, investment banks, and others to insist that companies adhere to ESG guidelines, that is, Environmental, Social and Corporate Governance. In theory, this would preclude investments in fossil fuels (companies or projects), but the reality is that one investor's prohibition is another's opportunity. So, it is not clear that this will be either lasting or significant enough to affect the industry's access to capital.
Ethical capitalism is nothing new, even if it seems as if it hasn't been popular of late. (See the movie "Wall Street.") Elizabeth Heyrick's new book, Not Made by Slaves, Ethical Capitalism in the Age of Abolition cited an 1824 abolitionist pamphlet saying, "We are all guilty…of supporting and perpetuating slavery…because we furnish the stimulant to all this injustice, rapacity and cruelty by PURCHASING ITS PRODUCE." Essentially, the same attitude informs the idea that fossil fuels should be eschewed by consumers or at least investors, although few would suggest slavery and greenhouse gas emissions are comparable evils.
But how to separate flash-in-the-pan fads from underlying social trends? In the first place, there is a huge difference between ideas like 'quality circles' and 'ethical investing'. The former, although it refers to an important aspect of business (quality), saw a spike in attention because books and consultants promoted the idea specifically for a while. The latter is in theory a constant of corporate behavior, but in practice, the emphasis is often elsewhere (profits/returns).
The figure below shows a number of ideas or theories that experienced a brief surge of attention (using Google Trends, which begins tracking in early 2004) before fading. Some, like 'virtual company,' were just ideas that people found attractive for a time but ultimately lost interest in (although some might still practice any given approach). Other trends, such as 'peak oil' and 'resource nationalism' spiked with high oil prices and faded afterwards, showing the causal connection.
Mentions of Business Concepts (100=largest number)
But some ideas might be more lasting than just a brief fad. The graphs below shows Google trends for 'divestment,' 'stakeholder,' and 'ESG investing.' The persistence of attention on the concept 'stakeholder' versus 'shareholder' interests makes sense, since it reflects a long-standing split between workers and investors, to describe it simplistically. Stakeholders will not go away and the rise in interest in the subject reflects the growing inequality in many societies; it could fade (see the 1950s) but will never disappear.
Social Trends in Investing (100=highest mention on Google)
So, does the rise of interest in 'ESG investing' represent a fad or a secular trend? It would seem to be mixed, at least in relation to fossil fuels. It appears highly unlikely that the global climate will cool in the next few years, turning the public's attention away from climate change, the way anti-nuclear sentiment came and went in the 1980s. On the other hand, it is conceivable that the huge pandemic-related debt overhang will discourage investment in more expensive fuels and technologies, most especially electric vehicles.
Rather like the concept of 'quality,' companies should always strive to behave ethically even if 'ESG investing,' fades in the public mind (or at least for investors). But it hardly seems likely that ESG investment principles will limit capital for all fossil fuels any more than organic farming ended conventional farming. And as Professor Heyrick notes, the 19th century movement attempting to boycott goods made by slaves had a minimal affect on that practice. The question for the analogy is, what constitutes a Civil War-level effort to solve the problem of climate change
Source: www.forbes.com
Author: Michael Lynch
Biden, Democrats vow to rein in financial data collectors, citing breakdowns
Leading the charge to revamp credit reporting are House Financial Services Chairwoman Maxine Waters (D-Calif.) and Sen. Sherrod Brown (D-Ohio), who is in line to head the Senate Banking Committee if Democrats win back Congress. The liberal lawmakers want comprehensive changes to rules governing the industry, starting with a temporary suspension of negative credit reporting as part of coronavirus relief legislation. They've gotten a boost from Biden, who is calling for the creation of a government-run credit reporting agency to compete against the private firms.
"The next Congress must enact bold, comprehensive legislation to reform a credit reporting industry that has failed working families and that perpetuates systemic racism and economic inequality," Brown told POLITICO. "And that includes taking up Joe Biden's proposal for a public credit registry."
The way Democrats approach the powerful industry will be a key indicator of how aggressively they plan to take on corporate interests and address consumer woes. It's poised to be a major lobbying fight, with banks also opposed to big changes to credit reporting.
"We've been complaining about problems with the credit bureaus for decades now," said Chi Chi Wu, staff attorney at the National Consumer Law Center. "It's time for reform."
The credit reporting industry is preparing for battle. Despite the heightened scrutiny that followed a massive data breach at Equifax in 2017 — information on 147 million consumers was potentially compromised — the firms have beaten back meaningful reforms. Their representatives in Washington argue that suppressing data would erode trust in the consumer reports and have substantial effects on how lenders dole out credit.
"If you take us out of the system or make it so we're significantly less functional, the only real result is significantly raising costs," said Francis Creighton, who represents the firms as president and CEO of the Consumer Data Industry Association. "We provide a service that results in cheaper rates and ease of application."
But there are growing signs that liberal and moderate Democrats will join forces to take on an industry that has been a big source of angst for consumers. Credit reporting has triggered more than 178,000 complaints to the Consumer Financial Protection Bureau since the beginning of March, according to an agency database, making it the top subject of grievances. A 2012 Federal Trade Commission study found that 26 percent of consumers were able to find a potentially material error in their credit reports.
Rep. Josh Gottheimer of New Jersey, a centrist Democrat who was endorsed this year by the U.S. Chamber of Commerce in his reelection bid, is among those pushing legislation that credit reporting firms have resisted. His bill, which the House passed in June, would require the three companies to create an online portal that would provide consumers with free, unlimited credit reports and scores.
"It needs fixing," Gottheimer said in an interview. "Right now, it's an oligopoly."
Equifax, Experian and TransUnion act as powerful gatekeepers in the financial lives of millions of Americans who have little say in the matter. The companies' real partners and customers are banks and other creditors, which provide consumer account data to the so-called credit bureaus. The reporting firms then provide the credit files to lenders and insurers to vet potential customers. Employers also sometimes use the information to screen hires.
Financial institutions are obligated to report accurate information to the reporting companies but critics say they often don't — and then fail to reliably correct faulty data.
The credit reporting firms agreed to implement more consumer protections as part of a 2015 settlement with New York's attorney general, who said the system suffered from inaccuracy "and often from outright injustice." But watchdogs say problems have persisted.
A National Consumer Law Center report released last year found that the credit bureaus and the companies that supply them with information "still have serious problems in ensuring the accuracy of credit reports." The group cited incidents where consumers discovered their files were "mixed" with information from other people. Others struggled to dispute errors from identity theft. Some were even shocked to find themselves reported as deceased.
Another set of concerns focus on aspects of the credit reporting system that fuel racial inequities. The worry is not just that credit reports reflect the underlying wealth gap between Black and white Americans but also that the prevalent use of that data perpetuates the disparities, further disadvantaging those suffering from economic discrimination.
The Biden campaign argues that creating a government-run credit reporting agency would help minimize racial disparities by ensuring that algorithms used for credit scores don't have a discriminatory impact and by accepting non-traditional sources of data, like rental history and utility bills, to establish credit history.
During her nearly two years as chairwoman of the Financial Services Committee, Waters has ushered through the House a series of broad changes to how credit reporting firms handle consumer data. The legislation that her committee produced would give consumers new rights to appeal information in their reports, shorten the amount of time that adverse information could stay on reports and restrict the ability of employers to use credit reports in hiring decisions.
The proposals died in the Senate, but Democrats want to resurrect them if they're in control of Congress next year.
"This pandemic, which has further exposed the deeply entrenched inequities in our economic system, will have consequences that extend far beyond the public health," said Ricardo Sánchez, a spokesperson for Rep. Ayanna Pressley (D-Mass.), who sponsored the legislation. "In this country, your credit score is your reputation, and without necessary reforms, like those included in [Pressley's] bill, our credit reporting system will continue to needlessly punish hardworking people and families."
For Waters and Brown, the first fight may be over credit reporting during the pandemic. Both have pushed for legislation that would halt the reporting of negative information as consumers struggle to pay their bills amid an economic lockdown. Lawmakers have failed to reach a deal on a new package, and Brown said a moratorium on negative credit reporting is needed "now more than ever."
"Millions of people are out of work, millions more are worried about whether they're going to be out of work, and Mitch McConnell refused to make a deal that would help people pay the bills," Sen. Elizabeth Warren (D-Mass.) told POLITICO. "We need to help people bounce back from this crisis and that should include hitting stop on negative credit reporting so that Americans' credit is protected even though Senate Republicans refuse to act."
Opponents say average credit scores have held steady during the pandemic, thanks in part to federal assistance and accommodations made by creditors. The average FICO credit score in July was 711, up from 706 a year earlier. The relief bill that Congress passed in March — the CARES Act — requires that banks report consumer accounts as "current" if they've agreed to give borrowers a break.
But Rep. Brad Sherman (D-Calif.) said consumer credit scores "can often lag behind in reflecting economic realities."
"I fear the trend of rising credit scores may not continue, especially in the absence of additional fiscal stimulus," Sherman said. "So, there is still a strong argument for making sure that consumers are protected during the current crisis."
Democrats will likely face resistance not only from the credit reporting firms but also lenders who say they don't want gaps in data that determine potential creditworthiness.
"Consumers can dispute information on their credit reports but legislation to block certain information will ultimately hurt borrowers, weaken the underwriting process and increase the cost of credit for every consumer," Consumer Bankers Association spokesperson Nick Simpson said.
Republican lawmakers are signaling that they won't go along, either, highlighting the pressure Senate Democrats could face to eliminate the legislative filibuster so they can swiftly rewrite laws without GOP obstruction.
"It's better that we actually strive to have accuracy in our credit ratings," Sen. Pat Toomey of Pennsylvania, who is in line to be the top Republican on the Banking Committee next year, said in an interview.
Brown, who would be the first Democrat to lead the committee since 2015, is vowing to have the fight.
"As disappointing as it is that Republicans refuse to protect consumers' credit scores from negative information during the pandemic, Republicans have also done nothing to rein in credit reporting corporations in the three years since Equifax's negligence allowed hackers to steal the personal information of more than a hundred million Americans," he said. "This cannot continue."
Source: www.politico.com
Author: By ZACHARY WARMBRODT
10/28/2020 12:40 PM EDT
Link Copied