Cryptocurrencies latest news and history organized by date that contains 1000000+ news archives. Click here to read what world was saying about cryptocurrencies. The Australian Dollar seemed relatively unfazed by local inflation data as traders look ahead to the upcoming FOMC interest rate decision. A1 Payment, a subsidiary of A1 Telekom Austria, said Monday users can now make payments using cryptocurrencies including bitcoin, ether and dash on its cashless payments app. On its website, the firm said that regardless of the cryptocurrency used, payments would be converted to euros in real time so retailers would receive payment in fiat. The addition of cryptocurrencies to A1's… Ray Dalio believes that a "capital war" between the US and China could have devastating implications on the dollar, which could potentially impact Bitcoin.
Bitcoin News Roundup for July 28, 2020
Litecoin short-term Price Analysis: 28 July
Developers Release Validator Launchpad for Ethereum 2.0 Final Testnet
Crypto hedge fund Tetras Capital known for shorting ETH is shutting down – report
$12B Advisory Group CEO: BTC is Safe Haven Asset Amid Political Tension
ChainLink's (LINK) Hopes Might Lie With its Previous ATH around $5
A US citizen pleads guilty for operating an illegal Bitcoin ATM.
Bitfinex hackers moved about 2,550 BTC, as Bitcoin geared to $11K
Bitcoin's (BTC) Renewed Dominance Puts a Dent on Altseason
Bitcoin Breakout Above $11K Should Lead to All-Time High: Analyst
Barter Trade (BART) Token Pre-Sale 100% Sold Out
Charles Hoskinson lays down August plans for Cardano (ADA)
Digital Bank Revolut Adding Support for Stellar (XLM)
150K ETH ($47M) Already Sent to ETH 2.0 Testnet Validator Address
Market Analysis Report (28 Jul 2020)
Cryptocurrency Exchange BitHera Opens up for BHC STAKING PROGRAM
Litecoin price rises above $50 after 3 months
Bitcoin Price Touched $11,400, Altcoin Season Over?
LocalBitcoins further tightens compliance via Elliptic's blockchain monitoring tools
Top Analyst Tone Vays Says Rapid Bitcoin (BTC) Rise to New All-Time Highs Likely If Crypto King Overcomes One Final Hurdle
P2P Exchange LocalBitcoins Adds Crypto Surveillance Tools From Elliptic
Swiss SIX Exchange Lists Actively Managed Bitcoin ETP
Wall Street Sees Massive Rally: Amazon and Apple Lead Tech Higher
Ethereum Correcting Gains But 100 SMA Could Trigger Fresh Increase
China's BSN Aims to Integrate With 40 Public Chains Within a Year
Staking on Ethereum 2.0 Takes First Step With Test System for Validators
Bitcoin Price Managed to Rally Over $11,300, Reaching Its Year's High
Republicans Unveil Second Round of COVID-19 Stimulus Plan, Final Decision by July 31
Bitcoin trading platforms note increase in trade volume, amid new Bitcoin run
Peer-to-peer crypto exchange LocalBitcoins adds two blockchain-tracing tools from analytics company Elliptic.
What to Expect from Bitcoin After Fed's Two-Day Policy Meeting
Ignorance and Greed Sustain Cryptocurrency Scams in Nigeria
Synthetix SNX Token Now Listed on OKEx
Firm Uses Ethereum to Tokenize Sustainable Infrastructure in Fight Against Climate Change
Bitcoin's price peaked at $11,300. But is the rally over?
BitMEX CEO Feels Pity for Those Not Long Bitcoin After BTC Surges Above $11,400
Australian State Treasury Proposes 'Flexible' Regulatory Reform for Blockchain
USD, Global Stocks Appear Shaky While Bitcoin and Gold Soar; Decoupling at last?
GAVI Vaccine Alliance Says $40 Would Be Maximum Price for COVID-19 Vaccine
Israel's Stock Exchange Launches Blockchain Platform for Securities Lending
When Bitcoin broke $11,000, Bakkt volumes set record high
What Is Bitcoin Cash and Way to Get It?
Nearly 1 Million BTC Held By Cybercriminals
Twitter 'God Mode' panel used to spy on Beyoncé before Bitcoin hack
Blockchain project Polkadot raises $43 million in a private token sale
ChainLink's Hopes Might Lie With its Previous ATH around $5
Should Bitcoin Have Trading Halts or Circuit Breakers?
Maker becomes first DeFi platform to lock over $1 billion, but concerns remain
Bitcoin Will Hit $28K and Correct, Then Hit Six Figures — Max Keiser
How NEM Is Leading The Adoption Of Private Enterprise Blockchain Without Compromising The Decentralization Of Its Public Chain
Pfizer Reports Q2 Earnings Results amid Its Work on COVID-19 Vaccine, PFE Stock Up 2%
Former Greek finance minister: Bitcoin unfit to replace money
MRNA Stock Jumps 9% as Moderna Gets $472 Million for COVID-19 Vaccine Research
Beyond.Insure: Bringing Next-Gen Insurance Technology to the World
High Demand for U.S. IPO Listings Sets Bar High for Traditional Stock Market
Bitcoin Price Analysis: How High Can BTC Go After the $10K Breakout?
LocalBitcoins adopts Elliptics crypto monitoring tools to tighten against criminals
China's Blockchain-based Service Network will integrate 40 public blockchains over the next 12 months.
The Graph gets closer to helping developers extract Ethereum data
These 3 Signs Indicate Bitcoin Could Drop After 20% Explosion to $11.5k
Cardano, Monero, BAT Price Analysis: 28 July
Memories of London's Devcon 1, Ethereum's 'Woodstock' Moment
Trader Who Said Bitcoin Would Hit $3ks Isn't Sure Ethereum Is Bullish
It's Obvious Why Meghan's New Book Is Irking Royals William & Kate
High ETH Fees are Bullish for Ethereum – Crypto Analyst
Ethereum Is Still King, but DeFi on Other Blockchains Is Gathering Steam
First Mover: The Dollar Drop May Have Helped Push Bitcoin Past $11K
Man in Florida Got $3.9 Million in PPP Check and Purchases New Lamborghini
Blockchain audit service brings security to China's blockchain industry
Bitcoin Futures Hit New Highs as BTC Price Taps 11-Month Peak
IOSG Ventures Teams Up With Avalanche Blockchain Network
Who are Ethereum's co-founders and where are they now?
JP Morgan's Latest Gold Warning Puts Bitcoin At Risk of Dipping Below $10K
One Billion, Two Billion, Three Billion, Four? DeFi's Knocking on TradFi's Door
Bitcoin Supply Profit Reaches New High As BTC Hits $11K
Mastercard Exec Accused of Money Laundering Cover-Up at Bank With Ties to Wirecard
Bakkt Reports Record Single-Day Volume for its Bitcoin Futures Market
Austrian A1 Telekom Announces Crypto Payments with Bitcoin, Ethereum and Dash
Hangzhou Encourages Enterprises to Actively Carry out the CBDC settlement Pilot
China's TON Spin-Off Launches Testnet and Token Airdrop
Bitcoin Bears on the Prowl as BTC Options Hit All-Time High
Bitcoin and Ethereum Rise to New Yearly Highs
Ethereum Price Analysis: ETH Following Strong Uptrend Above $300
Bitcoin derivatives peak as users turn greedy
Open interest in CME bitcoin futures hits an all-time high of $724 million
Bitcoin Net Flow to Exchanges At 3-Month High
Popular Crypto Analyst Peter Brandt Says Bitcoin Pointing Towards All-Time High, XRP Could Follow
Bitcoin Price Can Hit $28K, Says Max Keiser, as BTC Crossed $11K Mark
Thailand Has Now Licensed 13 Cryptocurrency Service Providers
Bitcoin Cash Breaches 3-Month Resistance and Retains Support
Cellebrite Launches Crypto Tracer Solution to Track Illicit Transactions
Bitcoin Futures Volume Surges 186% as Price Hits $11K
GOOGL Stock Up 1.4%, Google to Build Undersea Cable between U.S. and Europe
Finalized Testnet for ETH 2.0 to Launch on August 4
Max Keiser predicts bitcoin is headed for six digits after a correction near $30,000.
Cardano (ADA) price dips despite confirmation of imminent Shelley hard fork
Ellen DeGeneres' Toxic Workplace is Finally Under Investigation
Dow Teeters After 6th-Biggest Stock Sparks Fear of 'K-Shaped' Recovery
HEIDI Solves Modern Capitalism Problems
Why Bitcoin-Like Scarcity Would Be a Disaster for the Dollar
Tether (USDT) Flows to Exchanges at 8-Month High: Bitcoin FOMO Starting?
Synthetix Dissolves Foundation, Decentralizes into 3 DAOs
Crypto investment app Abra now offers interest-bearing accounts
Open the Floodgates: US Customers to See More Crypto Accessibility
Swiss Exchange Lists World's First Active Bitcoin ETP
Tron (TRX) Price Analysis: Strong Surge Likely Above $0.02
Why 2020 Is the Year of Tether
Mati Greenspan's Quantum Economics Partners With Major Indian Crypto Media Group CoinGape
Bitcoin and Ethereum Are Worth $3 Trillion Says Ark Invest
Ripple launches the P2P payment platform Payburner based on XRP.
With Bitcoin ATMs, CoinFlip Is Banking The Unbanked
One of the Largest Bitcoin Whales on Record Just Transferred $156,000,000 in Crypto
FiCAS Launches World's First Actively Managed Bitcoin ETP on Swiss SIX Exchange
Fireblocks Claims Exchange Program Enables Zero-Confirmation Crypto Deposits
Mainframe's Latest Blockchain Protocol Acquisition to Enable DeFi Bond System
CryptoGames: Delve into the glorious world of Online Gambling!
DeFi bonds enter the market as Mainframe acquires Sablier
Ethereum [ETH] Unaffected by Gas Limit Increase by Miners: Research
Bitcoin hacked from Bitfinex, worth $28 million, starts moving
Bitcoin Options Trading: The Best Choice For Three Types Of People
Is China Driving Bitcoin's Rise?
Deribit Reports Daily Record $539M of Bitcoin Options Traded, More Than Double Prior High
Goldman Sachs boosts gold price target, says the U.S. dollar's reserve status is at risk
Almost 95% of Bitcoin Supply Flips Profitable as BTC Price Hits $11.4K
Bitcoin retakes $200 billion market cap in sudden uptick
Americans Bitcoin investment to rise with stimulus fund
Bitcoin's post-halving surge to $10,000 is not like the others
China and US Must Learn From One Another and Collaborate on CBDC
$27 Million Worth of Bitcoin From the 2016 Bitfinex Hack Were Mysteriously Moved
Can Cryptocurrency Be A Viable Option for Retail Business Use?
We Owe Megan Thee Stallion a Gigantic Apology
EU Outlines Tech Specs for Nodes in Its Blockchain Services Testnet
Bitcoin price breaks a key resistance line, next $13,800?
Is Bitcoin Mining Legal in India? Miners Still Don't Know
DeFi protocol Synthetix is now being governed by a trio of DAOs
Digital Intelligence Firm Cellebrite Launches Crypto Tracing Tool Powered by CipherTrace
Tel Aviv Exchange Sets Launch Date for Blockchain Securities Platform
Litecoin [LTC] Joins The Party As Coin Surges By 15% In The Last 24 Hours
A1 Telekom Austria Adds Bitcoin to Payment Service for Thousands of Retailers
Expectations for Even Further Bitcoin Gains Keep Lid on Futures Contracts Liquidations
Ethereum Price Analysis: ETH Stalls Below $320 Following Bitcoin's Recent Gains
Flashloans Rise to $150 Million a Day
XRP needs to rally over 1,500% to reach its all-time high of $3.50
Foundation Devices Enters The Sovereign Hardware Game With Passport Bitcoin Wallet
Lufthansa Booted Out of DAX Stock Index After 32 Years
Bitcoin Retakes $11k — Further Reinforcing Analysts Take That $20,000 Is In Sight
MIT Lightning Creator Unveils First 'Demonstration' of Bitcoin Scaling Tech
89% of Bitcoin is profitable but miners are not taking the bait
CFTC Chair: 'A Large Part' of Financial System Could End Up in Blockchain Format
Bitcoin whale moves $156M as price breaches $11k level
Crypto Traders Discuss Bitcoin Price Direction After $11.4K BTC Rally
Blockchain Bites: Bitcoin's New ETP, Ethereum's 'Woodstock Moment' and Silvergate's SEN Zen
Open Interest in Ether Futures Hits $1 Billion All-Time High
Of Course Meghan Markle & Prince Harry Ignored Charles' Warning
Gold trading volumes surge on cryptocurrency markets
Marathon Patent closes stock offering for $6.9M in proceeds
Soaring DeFi Usage Drives Ethereum Contract Calls to New Record
Bitcoin's Realized Price Action Shows Full Recovery From Black Thursday Crash
Goldman Sachs Warns US Dollar Risks Losing World Reserve Currency Status, Gold and Bitcoin Soar
Three Reasons Why Bitcoin [BTC] Bulls are Not Yet Tired
Bitcoin Bull Market Trends on Weibo
Cardano (ADA): Everything Need to Know About the Shelley Hard Fork
Stablecoin Adoption Skyrockets in Rural South Korean Province
Bitcoin Is on the Verge of Striking $11,000
Santander's Ripple-Powered Payments Platform Hits Half a Billion Dollars in Volume
Analyst: Tesla Stock Could Crash 40% – But Don't You Dare Short It
Did Kim Kardashian Shed Crocodile Tears at 'Emotional' Kanye Reunion?
Augur Launches v2 Improved Ecosystem While REP Prepares to Rebound
LocalBitcoins aims to root out illicit use of its Bitcoin exchange
Synthetix is now controlled by three DAOs
Cardano's Shelley Hard Fork is Happening Tomorrow, No Interruption Expected
Coinfloor Is Riding A Bullish Bitcoin Wave With Baby Boomers
Goldman says dollar may lose reserve status. Is Bitcoin the answer?
Dorsey & Co Were Aware of Security Issues With Twitter Users Since 2015
Bitcoin's Latest Rally May Have Staying Power, Exchange Flows Suggest
Eth2 researchers unveil validator 'launchpad' ahead of next month's Medalla testnet launch
Blockchain Analysis Firm Chainalysis Launches Free Website for Tracking Crypto Markets
Proof-of-Stake Chains Team Up to Prove DeFi Is Bigger Than Ethereum
Ethereum Foundation releases testnet staking tool as ETH2 draws close
Bitcoin Cash, VeChain, Dogecoin Price Analysis: 28 July
Russia's Central Bank Keeps Insisting That Crypto Is 'Criminal'
Bitcoin'in Rallisi Başlamadan Bitti Mi?
Ripple'dan Milyonlarca XRP'lik Hareketlilik: XRP'ye Neler Oluyor?
Dev Banka Altın Fiyat Tahminini Yükseltti: Kemerleri Bağlayın
Bakkt Bitcoin Vadelilerinde Yeni Rekor Kırdı!
ABD'nin "Parası" Bitiyor: Dijital Dolar Gelebilir
Chromia Coin Nedir?
Ethereum Yatırımcılarını Endişelendiren Tehlike Artmaya Devam Ediyor
İlker Canikligil Ne Kadar Bitcoin'i Olduğunu Açıkladı
Yunanistan'ın Eski Maliye Bakanından Bitcoin Tahmini
CME Group'tan Yeni Bitcoin Rekoru
Bitcoin Bir Senede 10 Kat Kazandırır mı?
Bitcoin 28 Bin Dolara Çıkabilir mi? Max Keiser Yanıtladı
Binance Haberi Band Protocol (BAND) Fiyatını Harekete Geçirdi
Localbitcoins Yasa Dışı İşlem Takibinde Elliptic ile İşbirliği Yapacak
Bakkt'ın Bitcoin Vadelilerinde Yeni Bir Rekor!
Bitcoin Fiyatı Kaç Dolar Oldu, Yükselmeye Devam Edecek mi?
Here's Why the Dow Failed to Escape from Its Rut Today
DeFi Reinvented the ICO, It Flopped: Assessing the IDO
Injective Protocol raises $2.6 million to fund work on decentralized derivatives exchange
Community Behind Privacy-Focused Smart Contract Forges Ahead After Settlement
Swiss Exchange SIX Lists Actively Managed Bitcoin Exchange-Traded Product
Ripple's Japanese Partner SBI Sets Up Its Token Platform on Corda Blockchain
Ethereum Futures Hit $1 Billion As Forecasts Show Positive Interest in the Decentralized Platform
Tether Exchange Inflow Reached 8-Month High as Bitcoin Rallied to $11K
What Crypto Lender Celsius Isn't Telling Its Depositors
Tel Aviv Stock Exchange (TASE) Launches Blockchain Based Platform for Securities Lending
Bitcoin Banking Breakthrough Is Bigger Deal Than Most in Crypto Industry Understand, Says Caitlin Long
Bit Farms Mining Firm Is Straddled with Tons of Debt
Ethereum long-term Price Analysis: 28 July
How Real Is Bitcoin's Rally? 8 Interpretations of Bitcoin's Massive Surge
The Housing Market Is Starting to Cool Down – and It Could Get Worse
Fed Extends Lending Measures as Market Fears Mount & Traders Party
Whales hold steady: On-exchange Bitcoin supply stagnates despite rally past $11k
The future of Robinhood's crypto products is in doubt amid recent headwinds
'Rich Dad, Poor Dad' Author Robert Kiyosaki Dumps Gold, Says He's Now Loading Up On Bitcoin
Only 13 crypto exchanges provide 'trusted' trading volume: report
Market Wrap: Bitcoin's Price and Ether's Dominance Sit at 2020 Highs
Ethereum gas price and risks mainly driven by DeFi
Regulatory Clarity Leads to Surge in Institutional Crypto Investors
Grayscale AUM Surge $500M In A Week, Bitcoin Shares in the Lead
Illegal Bitcoin ATM operator in America plead guilty, to bag 30 years jail term
CMS Holdings co-founders say DeFi claimed trader attention before bitcoin's volatility spike
Major Investment Bank Recommends Bitcoin Over Gold
AMFEIX Threatens Users Who Share Coverage That Criticizes the Company
Facebook's Zuckerberg and Telegram's Durov Posture as Defenders Against Foreign Tech Invasions
A trend of hackers demanding privacy-focused cryptocurrencies as payment may be forming
Bitcoin futures volume soars to $40 billion, highest since March crash
Bitcoin SV, Dash, Ethereum Classic Price Analysis: 28 July
How Grayscale Investments Sells Bitcoin to Financial Advisors
DeFi flash loans skyrocket to more than $130 million per day
Altcoins Are Falling, Giving BTC More Room to Grow
Mainstream People Coming to Bitcoin, Digital Assets Data CEO Says
EA's New Multiplayer Game Rocket Arena Is a Total Failure
Tokens are equity in Internet-native businesses
Bulls Control Bitcoin Price Even as Funding Rates Reach Record Highs
Coinbase Sees More Institutional Investors Buying Bitcoin in H1
The new Augur promises to be faster and simpler — and denominated in dollars
Litecoin price rises above $55, what's next?
5 Years After Launch, Predictions Market Platform Augur Releases Version 2
Bitcoin Will Smash Through $100,000 on This Date, With Select Altcoins Set to Outpace BTC, Predicts Analyst Nicholas Merten
A fund manager's three winners – if inflation takes off
$39M of Bitcoin Stolen in 2016 Bitfinex Hack Is on the Move
Crypto Chartbook: The Whys – Bitcoin $10,000
Bakkt Futures Volume Hits $122 million, as Bitcoin Reached New 11-Month High
Bitcoin's Current Breakout Sets It up for $28,000, Headed for Six Figures – Max Keiser
HEX Plasters UK with Ads Boasting of 11,500% Returns
Messari: DeFi Can Continue to Grow as 'Useless' Top 30 Coins Wither
Bitcoin Price Analysis: BTC/USD Reversal To $10,400 Impends Following Unsustainable Sharp Ascending Channel
Augur Deploys V2 Upgrade, Integrates Features From DeFi
Ethereum Overbought, ETH Bound for a Correction
Vitalik Says DeFi Users Are 'Underestimating Smart Contract Risk'
Institutions Showing More Interest in Bitcoin Following BTC's Price Surge, Says Digital Asset Data CEO
Ripple Price Forecast: XRP/USD New Bullish Setup Leaves Bitcoin and Ethereum In the Dust
Ethereum Price Creates GPU Shortage, Some Manufacturers Blame Nvidia
Cartesi Coin Nedir?
Source: coinprofitnews.com
AUD/USD Rate Unfazed by Australia CPI with Fed Rate Decision on Tap
The Australian Dollar initially dipped as inflation data showed the local economy had entered deflation in the second quarter of 2020.
Stalling commodity prices may weigh on regional risk assets as the GSCI commodity index struggles to break key resistance.
The Australian Dollar slid lower after quarterly inflation data showed the Australian economy had fallen into deflation in the second quarter of 2020.
Although exceeding market expectations of a 2% drop, the consumer price index (CPI) fell 1.9% in the three months through June, driven by a collapse in oil prices and supportive intervention from the government.
The quarterly trimmed mean gauge declined 0.1% resulting in a yearly increase of 1.2%, undershooting expectations of a rise of 1.4%.
This release should do little to sway the stance of the Reserve Bank of Australia as the central bank "determined that it would not increase the cash rate target until progress is made towards full employment and it is confident that inflation will be sustainably within the 2-3 percent target band".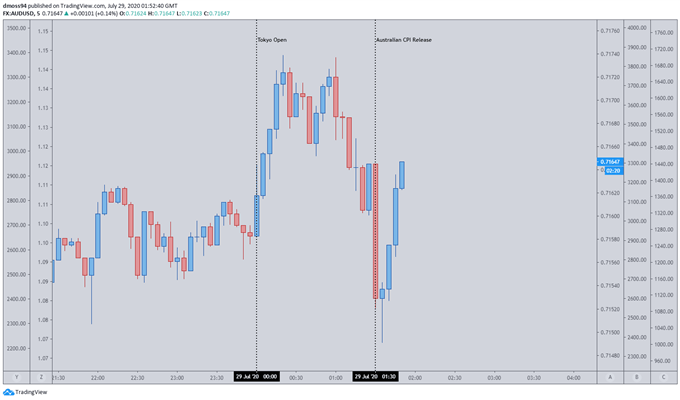 AUD/USD daily chart created using TradingView
The Reserve Bank of Australia's stance on negative interest rates, rising commodity prices and successful suppression of the coronavirus outbreak locally served as major drivers of the trade-sensitive Australian Dollar's rally to fresh yearly highs.
However, case numbers have surged in Victoria, Australia's second most populous state, forcing Premier Daniel Andrews to reimpose 'stage-three' lockdown restrictions on July 7.
So far, these restrictions have failed to limit the spread of the highly infectious virus and may lead to an extension of the economically devastating restrictions, as Andrews flagged that if cases "continue to go up and up [a] six-week shutdown will not be for six weeks".
With current restrictions estimated to cost the local government $1 billion a week and the state accounting for "about a quarter of the national economy", Treasurer Josh Frydenberg believes the inability to 'flatten the curve' of infections is a "serious impediment to the nation's recovery, not just Victoria".
Therefore, regional investors should continue to monitor local health developments, with a potential extension of lockdown measures perhaps triggering a surge of risk aversion and weighing on the performance of the Australia dollar.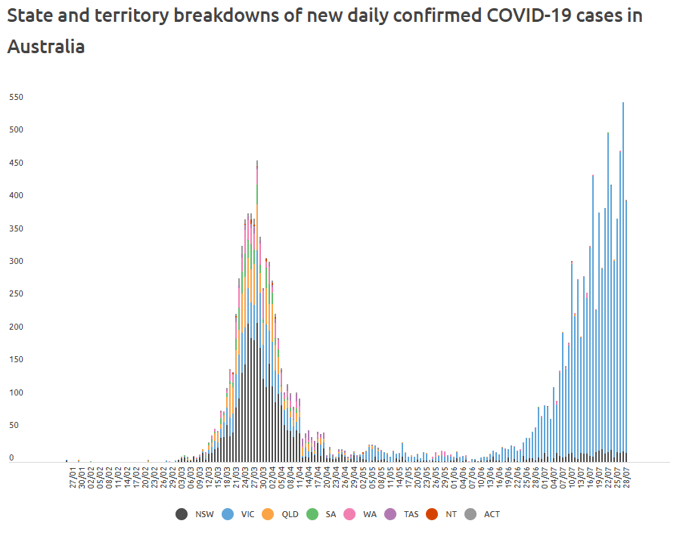 Source – Covid19Data
Furthermore, weakness seen in the Goldman Sachs Commodity Index (GSCI) could anchor regional risk assets as price struggles to break above key resistance.
Granted, an explosive surge in precious metal prices seems to have steadied the ship for local equity investors, with gold climbing to fresh record highs and silver breaking above the $26/oz mark for the first time in seven years.
However, the price of copper – known as a proxy for global growth – has notably stalled in recent days amid escalating tensions between the "Five Eyes" alliance and China which threaten to derail global trade relations.

Data Source – Bloomberg
With that in mind, traders may keep an eye on the performance of the GSCI index as it attempts to fill the March breakaway gap (346.80).
Inability to do so could result in a sharp correction lower, potentially coinciding with a rapid discounting of the commodity-sensitive Australian Dollar and ASX 200 index.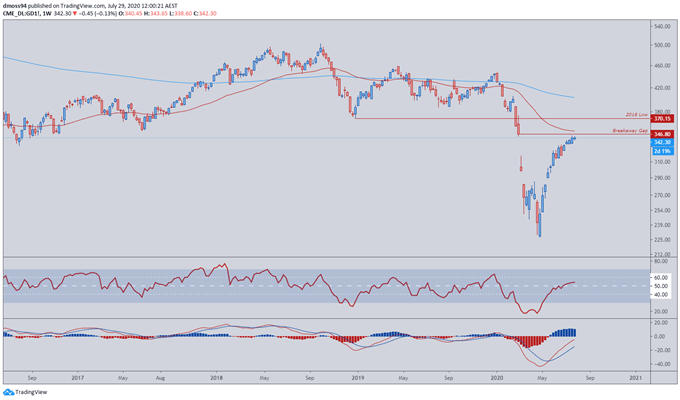 S&P GSCI index created using TradingView
Developments with China Continue to be Monitored
Looking ahead, traders should continue to monitor developments between Australia and China, its largest trading partner, as vitriolic rhetoric could escalate into targeted tariff impositions.
With Foreign Ministry spokesperson Wang Wenbin condemning the "wrong actions of Canada, Australia, and the UK in politicising juidicial cooperation with Hong Kong", retaliatory escalation looks to be a likely outcome.
To that end, a breakdown in trade relations could end the Australian Dollar's tremendous 4-month rally and potentially trigger a period of sustained risk aversion.
— Written by Daniel Moss, Analyst for DailyFX
Follow me on Twitter @DanielGMoss
Source: www.dailyfx.com
Author: Daniel Moss
A1 Payment, a subsidiary of A1 Telekom Austria announced that users can now make payments using cryptocurrencies including #Bitcoin , #Ethereum and #Dash
A1 Payment, a subsidiary of A1 Telekom Austria, said Monday users can now make payments using cryptocurrencies including bitcoin, ether and dash on its cashless payments app.
On its website, the firm said that regardless of the cryptocurrency used, payments would be converted to euros in real time so retailers would receive payment in fiat.
The addition of cryptocurrencies to A1's payment platform will enable about 2,500 merchants to accept digital currencies. The moves follows A1's decision last year to integrate services WeChat Pay and AliPay onto its platform.
Partly controlled by the Austrian state, A1 Telekom had announced a trial of cryptocurrency payments in a pilot program last year. That announcement noted that industries with close contact with tourists and business travelers were hurt by a backlog in the acceptance of digital currencies as travelers couldn't pay with BTC, AliPay or WeChat Pay.
According to Reuters, A1 Telekom's revenue declined by 2.4% to 1.1 billion euros in Q2. The report also said the firm plans to cut some of its planned investments for the year, including investment in 5G.
A1 Payments did not……….
Please read Full story at:
Source: www.dash.org
How The US-China Capital War a Billionaire Warns Of Could Benefit Bitcoin
Economist Ray Dalio is warning the world of a potential "capital war" brewing between the United States and China. He believes, that it could have devastating implications on the dollar, which could potentially impact Bitcoin.
In such a scenario, how does a capital war between the two feuding global superpowers benefit the first-ever cryptocurrency?
There are several ways that countries can go to war. There can be a war of words, sanction showdowns, and even outright military firepower. But there's one not so obvious way that two countries can deal devastating financial blows to one another, that economic expert Ray Dalio is warning of.
According to the billionaire investor, the ongoing tensions between the United States and China could soon erupt into a "capital war."
"There's a trade war, there's a technology war, there is a geopolitical war and there could be a capital war," Dalio explained to Fox correspondents on an airing of Sunday Morning Futures.
Since early 2019, the two countries have been embroiled in a trade war, that resulted in hard assets like gold and Bitcoin beginning to pick up pace. Investors who saw the writing on the wall, that a major economic shakeup was coming, began loading up on safe haven assets that year.
A capital war would only escalate things further between two countries, and further fuel the uptrends that the precious metal and cryptocurrency have been on.
Dalio says that the United States is acting as its own "worst enemy," due to the ongoing money printing and mismanaged monetary policy. Deficits are skyrocketing by the trillions this year due to the pandemic relief efforts.
He believes that if the United States and China get into a capital war where one forbids investments in the other region, it could have "big implications" for the dollar.
Dalio further claims he's worried about the "soundness" of money currently. The dollar is no longer sound money, and the Fed pledging to print another trillion at least as part of today's stimulus package is proof.
Bitcoin is as sound of money as it gets, hard-capped at just 21 million BTC to ever exist. Mathematical code keeps it that way, and no third-parties can intervene. It is for this very reason that Bitcoin could benefit enormously from a capital war.
If one country prevents the other from investing in a portion of the global market in an attempt to weaken the other, it could prompt a flight from the fiat of these feuding countries into a non-sovereign asset like gold or Bitcoin.
Gold has been soaring for that very reason, and Bitcoin has recently started to catch up.
BTCUSD: Bitcoin Breaks out ahead of second US stimulus reveal | Source: TradingView
Beyond the capital war, a currency war could also be brewing. The United States is late to the game in developing a digital dollar, while China is preparing to roll out a digital currency of its own.
Here too, Bitcoin as a non-sovereign asset bound to no country or central authority gives the asset benefits in a world where two economic superpowers cannot see eye to eye.
Rather than let either of these two dominate the monetary supply moving forward, Bitcoin could become the next replacement for the global reserve currency.
And any of the scenarios that Dalio warns of, could be a catalyst for such a change to take place.
Source: www.newsbtc.com
Author: Tony Spilotro