Nigeria's Foreign Currency Crisis Boon for Bitcoin: Country Tops Wallet Downloads Ahead of the USNigeria's weakening naira currency, as well as the shortage of The Australian Dollar may rise following the RBA rate decision amid signs of economic stabilization and resilient risk appetite despite still-precarious fundamentals. The world's perception around money is changing, and that is largely down the emergence of cryptocurrencies. Since the first Bitcoin mine block was mined in 2009, cryptocurrencies with a wide variety of names have come to fruition. It's only going to get bigger, too. It's hard to compare the cryptocurrency world to anything, but a […] Along with the growing distinctions between cryptocurrencies such as utility tokens and security tokens, non-fungible tokens (NFTs) are also becoming popular. What is a non-fungible token and what benefits does it offer?
Nigeria's Foreign Currency Crisis Boon for Bitcoin: Country Tops Wallet Downloads Ahead of the US
Grayscale's Litecoin and Bitcoin Cash Trusts Trade for Tremendous Premiums
IRS Prioritizes Cryptocurrency, Now First Question on 1040 Tax Form
Stock Trader Dave Portnoy Dives Into Bitcoin, Only to Panic-Sell After Chainlink Plunges
12 Bitcoin Cash-Fueled Flipstarter Campaigns Raise $1 Million
Iran Shuts Down 1,100 Illegal Bitcoin Miners; Whistleblowers Rewarded $2,400
Re-Mining Simulation Shows Satoshi Used a Single High-End PC to Mine 1.1M Bitcoin
New Demand for Cryptocurrencies: Trading on Bitcoin Cash KYC-Free Exchange With Blind Escrow
Brazilian Crypto Companies to Self-Regulate: Target a $100 Billion Market by Year-End
IMF Publishes Cryptocurrency Explainer, Saying It 'Could Be the Next Step in the Evolution of Money'
Bitmex Restricts Ontario Residents as Mandated by Canadian Regulator
Corporate Crypto Reserve Status: Software Firm Snappa Swaps 40% Cash Reserves for Bitcoin
The Bitcoin Network Now Consumes 7 Nuclear Plants Worth of Power
Venezuela Blocks Opposition From Disbursing $18 Million To Health Workers via Bitcoin Exchange Airtm
P2P Cryptocurrency Exchanges in Africa Pivot: Nigeria and Kenya the Target Markets
Analysts Predict US Presidential Election Outcome Could Collapse Dollar, Boost Bitcoin and Gold
Increase Your Profit Potential With Margin Trading
Riot Blockchain Buys 8,000 of Bitmain's Latest Bitcoin Miners, Company Targets 1.5 EH/s by 2021
Aave Protocol Outpaces Maker With $1.4B Locked, Defi Project Granted UK Electronic Money License
Developers Plan to Compete in Bitcoin Cash-Fueled Hackathon 'BCH Devcon III'
Hyperinflation and Currency Collapse Fears After Zambian President Fires Central Bank Governor
Official Notice Says Cheap Electricity to End for Inner Mongolian Bitcoin Miners
IRS Sends Fresh Round of Tax Warning Letters to Cryptocurrency Owners
Report: Russia Remains a 'Key Market for Crypto,' Commands the 3rd Largest Bitcoin Hashrate in the World
Crypto Exchange FTX Buys Blockfolio for $150 Million in Effort To Expand Retail Presence
Korean Police Seize Crypto Exchange Coinbit Over Allegations of $84 Million in Wash Trades
Dash Nigeria Takes Digital Currency Education Campaign to Regulators and Key Institutions
Capturing Petahash: Marathon Obtains 3,300 Bitcoin Mining Rigs, Acquires Fastblock for $22 Million
Source: bitcoinslate.com
Author: admin
Australian Dollar May Rise on RBA, Economic Outlook, Strong Risk Appetite
Australian Dollar may rise on RBA rate decision and economic stabilization
Resilient risk appetite, support from central banks may amplify AUD's gains
Having said that, escalating tension with China could curb the Aussie's rise
At the last RBA rate decision on August 4, officials chose to hold the overnight cash rate at 0.25 percent and maintained that same yield target for 3-year sovereigns. About two weeks later, officials said they are prepared to adjust the stimulus package if the circumstances warranted it. Policymakers added that additional fiscal and monetary support may be necessary for some time.
Having said that, RBA Governor Phillipe Lowe stated that "The Australian economy is going through a very difficult period and is experiencing the biggest contraction since the 1930's. As difficult as this is, the downturn is not as severe as earlier expected and a recovery is now underway in most of Australia". To see the full text, visit the RBA site here.
Consequently, if these unexpected signs – albeit uneven and "bumpy" – of economic improvement continue to manifest, the urgency to introduce additional stimulus may wane. This may then push AUD higher if investors focus on swift recovery expectations. Having said that, heightened geopolitical tensions between Australia and China could cap the currency's gains if rhetoric mutates from words to written policy.
Economic Stabilization
As the statement by RBA Governor Phillipe Lowe states: "The outlook remains highly uncertain. The recovery is expected to be only gradual and its shape is dependent on containment of the virus". For Australia, this is a somewhat gloomy message as the country re-imposes aggressive lockdown measures to contain a flare-up of Covid-19.
Having said that, domestic viral uncertainty may be offset may renewed risk appetite and signs of global stabilization. The Citi Group Economic Surprised Index shows that economic data on a global scale has been outperforming relative to economists' expectations at the highest rate ever recorded. This suggests that analysts initially perhaps overestimated the severity of the recession.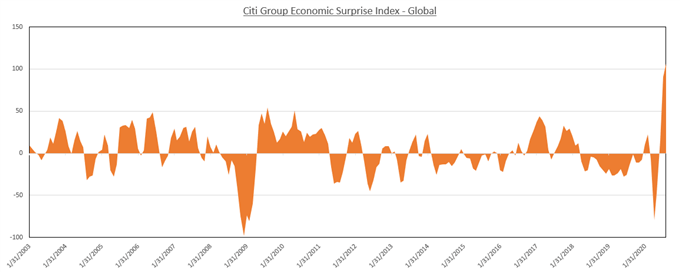 For a cycle-sensitive currency that is tied to an outward-facing economy, early signs of improvement are re-assuring for countries that are anchored to the global growth outlook. Consequently, if economic data this week – particularly the cascade of PMI reports coming out of developed and emerging markets – reinforces this notion of improvement, the Australian Dollar may rise.
As a positive knock-on effect, economic stabilization – along with aggressive support by central banks – buttresses risk appetite adds another gust of wind to AUD's sails. Overlaying Deutsche Bank's Australian Dollar currency index with an AUD inflation swap zero coupon (10Y) shows price growth expectations rising in tandem.

What this underscores is an underlying expectations that future economic activity will rise, and with it, price growth. As noted earlier, a change of tone in the RBA's sense of urgency may magnify AUD's gains, particularly if economic data domestically and in China – Australia's largest trading partner – shows a brighter outlook.
— Written by Dimitri Zabelin, Currency Analyst for DailyFX.com
To contact Dimitri, use the comments section below or @ZabelinDimitri on Twitter
Source: www.dailyfx.com
Author: Dimitri Zabelin
The most popular cryptocurrencies in 2020
The world's perception around money is changing, and that is largely down the emergence of cryptocurrencies. Since the first Bitcoin mine block was mined in 2009, cryptocurrencies with a wide variety of names have come to fruition. It's only going to get bigger, too.
It's hard to compare the cryptocurrency world to anything, but a similarity between it and the gaming sphere potentially makes sense, especially when it comes to mobile phone games. The options for mobile phone gamers were incredibly limited in the early days. Snake, puzzle games and the like were the only creations. Likewise, with cryptocurrencies, the main few were the only reliable ones out there.
Now, with mobile phone gaming, console-quality titles are released, games are a lot more advanced, and creations offering progressive jackpots like Mega Moolah Slot have stronger competition. Likewise, Bitcoin is not the sole cryptocurrency dominating the market in today's world, with numerous cryptocurrencies winning the public round in recent times, therefore creating a more comprehensive and detailed cryptocurrency world. Both gaming on a phone and cryptocurrencies have shown remarkable growth over the last ten years or so.
But what are the most popular cryptocurrencies at the moment? Litecoin has been hogging the limelight, but what other cryptocurrencies are worth investing in apart from Bitcoin? Here's a look at some of the most popular cryptocurrencies in 2020.
Ethereum (ETH)
Similar to Bitcoin, Ethereum uses a blockchain, but it has a different currency called Ether. Managed by an open network of users, the biggest difference between Ether and Bitcoin is in the way that Ether has its smart contracts, where a user gets paid depending on whether or not they meet certain conditions. The benefits of these type of contracts tend to include no third parties in transactions, quicker transactions, and transactions which get verified by hundreds of other users.
Litecoin (LTC)
The aforementioned Litecoin has been gathering real momentum recently. Litecoin is another cryptocurrency which is similar to Bitcoin, with its blockchain, public ledger, and miners who verify transactions. It does have three other features which separate it out from many other cryptocurrencies, though. Litecoin has a fast processing speed, a larger array of currency to choose from, as well as having easier to crack algorithms.
(Image via https://twitter.com/Francebitcoins)
Ripple (XRP)
Another popular cryptocurrency in the last year, Ripple is known for providing lighting fast transactions. A transaction using Ripple can take as little as four seconds, which is a lot faster compared to other cryptocurrencies. Alongside this, Ripple can be exchanged in any currency. Ripple is a cost-effective and quick way to send money all around the world, it has notable investors behind it such as Google Ventures, and it has the option of being scalable thanks to its speed.
Bitcoin Cash (BCH)
Bitcoin isn't flawless, which is why Bitcoin Cash was introduced to improve Bitcoin's scalability and ultimately make its transaction speeds faster, which it subsequently has done. Bitcoin Cash increased each block size from 1 megabyte (MB) to 8 MBs which had a positive effect on the overall transaction speed and has enabled it to grow in popularity in recent times. The likes of PayPal and Visa are expected to come under pressure from Bitcoin Cash thanks to its ability to reduce transaction fees and its ability to handle a larger amount of transactions.
EOS (EOS)
Designed to help developers create decentralised applications, EOS is known as the "Ethereum Killer" thanks to its ability to process transactions just for validation for nothing. Launched in 2017, EOS used Ethereum blockchain-based ERC20 tokens for its ICO, although that isn't the case anymore. Still, EOS is growing.
Source: cryptomoneyteam.co
Author: By TeamMMG
What are Non-Fungible Tokens?
Along with the growing distinctions between cryptocurrencies such as utility tokens and security tokens, non-fungible tokens (NFTs) are also becoming popular. What is a non-fungible token and what benefits does it offer?
In order to understand what a non-fungible token is, we should understand what it means for something to be fungible. The property of fungibility is the ability of something to be interchangeable with something else of the same type. For example, Bitcoins are an example of a fungible asset. If you were to trade one Bitcoin for another, the Bitcoin you had before and the Bitcoin you had after would have the same utility. You would be able to spend either one in exactly the same way. Each Bitcoin is equal in value and specification.
Fungibility is pretty easy to understand since that's what fiat currency and most cryptocurrencies are. That's what we're used to. So how can we understand what a non-fungible asset is like?
For a simplistic example, consider that you've purchased a white mobile phone. When you get home, you discover there's a problem with it. When you take it back to the shop to replace it, they are out of white mobile phones of that same model. While a phone is a phone and each phone shares a certain level of functionality and utility, a white phone of one model is not interchangeable with a gold phone. For you personally, it may make no difference. But the specification of the two phones is not the same. The gold phone and the white phone may differ in price. Perhaps you are exchanging it for your spouse. He or she may not consider a gold phone an equivalent exchange at all. For an asset to be fungible, assets of the same type must be the same in utility and specification.
Non-fungible tokens contain identification information in their smart contracts. This information distinguishes one NFT from another. Since this information differs for each NFT, the tokens cannot be exchanged one for another in an equivalent way.
Because non-fungible tokens have unique properties, they can represent virtual and real-world assets. Digital assets within games can be represented by NFTs and NFTs can be used to represent ownership in these digital assets.
NFTs are also useful for representing intellectual property such as images or digital art. By linking tokens to the images, they can be bought and sold just like physical assets. Smart contracts have the ability to record details linking the token to digital or physical objects. The identity of the owner and a vast amount of metadata can be recorded for the token. This can provide an immutable means of proving ownership of both digital and physical objects.
Ethereum has a non-fungible token standard, ERC-721. Other cryptocurrencies like NEO, TRON and EOS now also boast NFT standards.
The promise of NFTs with relation to physical objects lies in the fact that the ownership of many physical objects is not easily transferred. You don't give someone a building or a car. You give them a deed or a title to them, respectively. As the world tries to leave paper behind, representing physical objects through digital means would be a very efficient way to organize and manage the ownership of physical objects, particularly ones that are large enough for their ownership to be represented by documents and those which are vulnerable to loss or being misplaced.
Non-fungible tokens are not sold on standard cryptocurrency exchanges, as they are not like-for-like assets and each token is unique. Digital marketplaces like Openbazaar and Decentraland's LAND marketplace do allow the buying and selling of NFTs.
The Census Note is a cold wallet hardware device with the form factor of a payment card. This compact design makes it extremely portable, allowing it to be carried right alongside all your other payment cards.
The Census Note will soon enable the storage of non-fungible tokens (NFTs). This brings all the simplicity and ease-of-use offered by the Census Note together with the power of NFTs.
Fungibility is the property of an asset to be interchangeable with other assets of the same type. Bitcoin and fiat currency are examples of fungible assets. Non-fungible tokens have unique properties in terms of specification or value. This uniqueness makes them impossible to trade on a one-for-one basis. But they do offer a way to represent digital assets in a way that gives them tangibility and allows them to represent physical objects in a digital form.
The Census Note will soon support non-fungible tokens. This new support expands the capability of the Census Note and brings together a convenient form factor, ease of use and the exciting potential for NFTs.
Source: blog.census.cx
Author: Census Open Finance